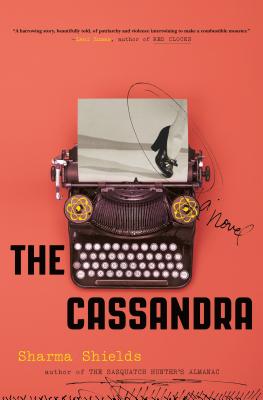 The Cassandra
A Novel
Hardcover

* Individual store prices may vary.
Other Editions of This Title:
Digital Audiobook (2/11/2019)
Paperback (1/21/2020)
Description
The Cassandra follows a woman who goes to work in a top secret research facility during WWII, only to be tormented by visions of what the mission will mean for humankind.

Mildred Groves is an unusual young woman. Gifted and cursed with the ability to see the future, Mildred runs away from home to take a secretary position at the Hanford Research Center in the early 1940s. Hanford, a massive construction camp on the banks of the Columbia River in remote South Central Washington, exists to test and manufacture a mysterious product that will aid the war effort. Only the top generals and scientists know that this product is processed plutonium, for use in the first atomic bombs.

Mildred is delighted, at first, to be part of something larger than herself after a lifetime spent as an outsider. But her new life takes a dark turn when she starts to have prophetic dreams about what will become of humankind if the project is successful. As the men she works for come closer to achieving their goals, her visions intensify to a nightmarish pitch, and she eventually risks everything to question those in power, putting her own physical and mental health in jeopardy. Inspired by the classic Greek myth, this 20th century reimagining of Cassandra's story is based on a real WWII compound that the author researched meticulously. A timely novel about patriarchy and militancy, The Cassandra uses both legend and history to look deep into man's capacity for destruction, and the resolve and compassion it takes to challenge the powerful.
Praise For The Cassandra: A Novel…
"Quirky, funny, dark. Not like anything else." —Margaret Atwood

"It's difficult to imagine a myth riper for harvest than that of Cassandra, the tragic Greek figure who uttered prophecies no one believed. She was, to begin with, a woman, and that is what Sharma Shields, in her biting second novel, sinks her sharp teeth into the deepest. . . .The dream scenes. . . .provide necessary, sickening contrast to the spit-and-polish patriotism via talking coyotes, deformed fetuses and other grotesqueries. . . .But nothing is more troubling or more brilliant than Mildred's horrifying reaction to a trauma that implicates all of us so forcefully that it's easy to believe Shields is the one blessed — or cursed — with visions of impending ruin." —Daniel Kraus, The New York Times Book Review

"Provocative, beautifully rendered...With this novel, Shields has crafted a clever, fierce parable about the blindness of those entranced by the powers of violence—that those people are mostly men should come as little surprise." —Nylon, Best Books of February

"Balancing thorough research and mythic lyricism, [The Cassandra] is a timely warning of what
happens when warnings go unheeded." —The Millions "Most-Anticipated: The Great First-Half 2019 Book Preview"

"[A] galvanizing variation on the ancient Greek tale of a seer doomed always to be right, yet never to be believed. Shields . . . offers satirically comedic scenes and satisfyingly venomous takedowns of the patriarchy, welcome flashes of light in this otherwise harrowing dive into the darkest depths of hubris and apocalyptic destruction. A uniquely audacious approach to the nuclear nightmare." —Booklist (starred review)

"Lyrical. . . Well-researched. . . .Shields' reworking of the classic myth—about a young woman whose warnings about a future she alone can see are ignored—is filled with grotesque and violent images and episodes of keening sorrow. Shields delivers what her heroine cannot: a warning, impossible to ignore, about the costs of blind adherence to ideology." —Kirkus

"[An] alluring, phantasmagoric story. . . .With a plucky, charismatic narrator and vivid scenes incorporating the history of a real WWII facility, Shield's novel digs into the destructive arrogance of war." —Publishers Weekly

"The Cassandra is a magnificent exploration of the consequences—both incredible and devastating—of human ingenuity and human intuition. This novel is full of magic and hope, even while it brings up to the light some of our darkest past." —Ramona Ausubel, author of Sons and Daughters of Ease and Plenty and Awayland

"The Cassandra is a fantastic achievement of unflinching honesty, psychic power, and sustained empathy. Sharma Shields's fearless reckoning with American might at the beginning of the nuclear age closes the distance between victor and victim, historical detail and mythic truth. This fevered novel's seer will infect you with her visions, but her moral candor will work on you long after the dream is over." —Smith Henderson, author of Fourth of July Creek

"The Cassandra feels powerfully—chillingly—relevant to our own political moment, even as it unfolds against the bleak splendor of the 1940s American West. It's a harrowing story, beautifully told, of patriarchy and violence intertwining to make a combustible monster; and of the woman who speaks the truth about this monster, only to be dismissed as unhinged." —Leni Zumas, author of Red Clocks


"A stunning fable of hubris, complicity, and nuclear genesis, set against the raw backdrop of the wartime northwest. Sharma Shields illuminates the grotesquerie of humanity's progress and offers up an elegy for a damned world." —Megan Kruse, author of Call Me Home


"Sharma Shields is one of our finest literary fabulists and The Cassandra is further proof – a brilliantly tightening knot of dread, a phantasmagoria of nightmares and daytime horrors that glows with powerful insights about the nation's reckless nuclear history and its corrosive chauvinism." —Shawn Vestal, author of Godforsaken Idaho
Henry Holt and Co., 9781250197412, 304pp.
Publication Date: February 12, 2019
About the Author
Sharma Shields holds an MFA from the University of Montana. She is the author of the short story collection Favorite Monster, winner of the 2011 Autumn House Fiction Prize, and the novel The Sasquatch Hunters' Almanac, winner of the Washington State Book Award. Her work has appeared in The Kenyon Review, The Iowa Review, Electric Literature, and more. Shields has worked in independent bookstores and public libraries throughout Washington State. She lives in Spokane with her husband and children.
or
Not Currently Available for Direct Purchase