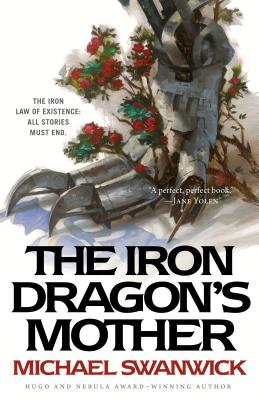 The Iron Dragon's Mother (Hardcover)
Tor Books, 9781250198259, 368pp.
Publication Date: June 25, 2019
Other Editions of This Title:
MP3 CD (6/25/2019)
Compact Disc (6/25/2019)
* Individual store prices may vary.
Description
Award-winning author Michael Swanwick returns to the gritty, post-industrial faerie world of his New York Times Notable Book The Iron Dragon's Daughter with the standalone adventure fantasy The Iron Dragon's Mother.
Caitlin of House Sans Merci is the young half-human pilot of a sentient mechanical dragon. Returning from her first soul-stealing raid, she discovers an unwanted hitchhiker.
When Caitlin is framed for the murder of her brother, to save herself she must disappear into Industrialized Faerie, looking for the one person who can clear her.
Unfortunately, the stakes are higher than she knows. Her deeds will change her world forever.
About the Author
Michael Swanwick is the winner of five Hugo Awards for his short fiction. His several novels include the Nebula-winning Stations of the Tide, the time-travel novel Bones of the Earth, and the "industrial fantasy" novels The Iron Dragon's Daughter and The Dragons of Babel. He lives in Philadelphia.
Praise For The Iron Dragon's Mother…
Praise for The Iron Dragon's Mother

"Twisted in the right way, with tart and tricksy language you can swirl around in your mouth like good wine, it is a perfect, perfect book."—Jane Yolen
"Discworld meets Faust. They do not like each other. Philip Pullman picks up the pieces."—Kirkus (starred review)
"This epic is full of carefully crafted lands, characters, and creatures, and readers will savor each page."—Publishers Weekly
"Filled with treats and surprises, like a box full of bonbons and firecrackers. Prepare to be delighted and horrified, tickled and amazed."—Eileen Gunn
"Michael Swanwick's stories are woven with an artisan's skill, his adventures with a pilot's sense for the heights, a marksman's aim, and a poet's ear. I've loved his work for decades and am always excited to see something new from him."—Fran Wilde
"Enter this new novel set in his modern, deeply disrupted Faerie. . . . You will eventually emerge from these pages, but you'll wish you didn't have to. You'll wish you could keep reading forever."—Nisi Shawl, author of Everfair
Praise for Michael Swanwick
"[Swanwick's] towering creativity seems so effortless . . . so effortless, and so immense."—Gene Wolfe
"A writer who fearlessly branches out beyond the safe confines of a genre's roots, while permitting those very roots to anchor him in the tradition."—Starlog
"Swanwick's wildly imaginative and beautifully written short stories have been, for several years, one of the primary joys of the field."—Karen Joy Fowler, Washington Post Book World

"One of contemporary sf's greatest short-story writers."—Interzone
"A reputation for radically deconstructing the hoariest of old cliches in science fiction and turning them into something bright, shiny, and new."—Jonathan Strahan, Locus