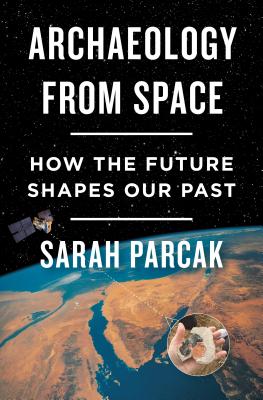 Archaeology from Space
How the Future Shapes Our Past
Hardcover

* Individual store prices may vary.
Other Editions of This Title:
Digital Audiobook (7/8/2019)
Paperback (11/17/2020)
Description
Winner of Archaeological Institute of America's Felicia A. Holton Book Award • Winner of the Phi Beta Kappa Prize for Science • An Amazon Best Science Book of 2019 • A Science Friday Best Science Book of 2019 • A Kirkus Reviews Best Nonfiction Book of 2019 • A Science News Best Book of 2019 • Nature's Top Ten Books of 2019

"A crash course in the amazing new science of space archaeology that only Sarah Parcak can give. This book will awaken the explorer in all of us." ?Chris Anderson, Head of TED

National Geographic Explorer and TED Prize-winner Dr. Sarah Parcak gives readers a personal tour of the evolution, major discoveries, and future potential of the young field of satellite archaeology. From surprise advancements after the declassification of spy photography, to a new map of the mythical Egyptian city of Tanis, she shares her field's biggest discoveries, revealing why space archaeology is not only exciting, but urgently essential to the preservation of the world's ancient treasures.

Parcak has worked in twelve countries and four continents, using multispectral and high-resolution satellite imagery to identify thousands of previously unknown settlements, roads, fortresses, palaces, tombs, and even potential pyramids. From there, her stories take us back in time and across borders, into the day-to-day lives of ancient humans whose traits and genes we share. And she shows us that if we heed the lessons of the past, we can shape a vibrant future.

Includes Illustrations
Praise For Archaeology from Space: How the Future Shapes Our Past…
A Science Friday Best Science Book of 2019
A Kirkus Reviews Best Nonfiction Book of 2019
Nature's top ten books of 2019
The Maine Edge's 2019 Recommended Reads

"A crash course in the amazing new science of space archaeology that only Sarah Parcak can give. This book will awaken the explorer in all of us." —Chris Anderson, Head of TED

"A renowned space archaeologist gives readers an insider's look at her field, which is basically Indiana Jones meets cutting-edge satellite technology. It's every bit as exciting as it sounds… In this fascinating adventure memoir… Parcak has a lot of great stories to tell, and she tells them with clarity, enthusiasm, and humor… Exciting and futuristic, this book elicits that anything-is-possible feeling—a must-read." —Kirkus Reviews, *starred review*

"Her writing is full of evocative anecdotes and personal insights gleaned from years of experience in dusty trenches as well as behind the computer screen, poring over satellite images... Throughout the book, Parcak's love for her work and the people she studies is evident, and her enthusiasm is contagious. From Vikings in Iceland and Canada to amphitheaters in Italy and back to her first love, pharaonic Egypt, she brings both the present and the past to life." —Science Magazine

"Parcak's book provides a revelatory look at an exciting new field." —Publishers Weekly

"This book is so much more than the memoir of a dedicated archaeologist—it's an open invitation for all of us to become explorers. She has pioneered crowd source archaeology, and shows how we can join her on the adventures of discovery that we've always dreamed about." —Peter Jackson, Academy Award-winning director

"This is a fascinating glimpse into a young field just as its technological possibilities are exploding…By panning out, we perceive what's invisible on the ground: features that relate not just to the physical landscape, but to the history of humanity, and our relationship with Earth." —Nature

"Parcak's love for her field and her deep wonder and excitement come through on every page...Clear, accessible and fascinating, peppered with witty asides and informative photos, Archaeology From Space is an excellent introduction to an exciting subfield that's still flying under the (satellite) radar." —Shelf Awareness, *starred review*

"Archaeology from Space presents a lively and engaging narrative about not only what it's like to be an archaeologist, but how archaeologists use the data they gather to understand the ancient world." —Forbes.com

"Parcak is an extremely engaging writer and has done a lot of very interesting stuff....Parcak shares enough of herself to entrance anyone who shares her Indiana Jones dreams, while elucidating the exciting new field of satellite archaeology. This is a thoroughly delightful and downright fascinating work of popular science." —Booklist

"I once had the privilege of accompanying Sarah Parcak on an archaeological dig in Lisht, Egypt. It was an adventure straight out of the movies. In Archaeology From Space, Parcak takes readers on a similar adventure, at once down to earth and out of this world. With wit and breezy elegance, she takes you around the world, back in time and out into space. She's a time traveler and a captivating writer." —Bill Whitaker, 60 Minutes

"Sarah Parcak is a scientist, an historian, and an explorer—but above all, she is a writer. Her work illuminates our past, and in so doing, helps us to understand our future. Lively, generous, and inspiring." —Jennifer Finney Boylan, author of She's Not There and Long Black Veil

"What can wonder do? Everything. That's what the book is about, really. It's about a kid who was inspired by her grandfather and Indiana Jones and the great women of archaeology to grow up brash and questioning, to win the TED Prize and bust glass ceilings to pioneer ways to identify unexplored archaeological sites from satellites." —John Archibald, for AL.com

"Divining clues about what's hidden beneath the earth from satellites high above, Parcak takes the reader on a worldwide adventure through our shared and ancient past. With delightful wit, infectious wonder, and a big dose of wisdom about where we're headed, she offers anyone with a computer the chance to become a virtual Indiana Jones." —Juli Berwald, author of Spineless: The Science of Jellyfish and the Art of Growing a Backbone

"Warm, impassioned and funny....Her passion for her work is omnipresent, leaping from every page with an enthusiasm that is undeniably infectious...it's not just a smart book or a thoughtful book or an informative book. It's a FUN book. It's a book that will prove enlightening to all manner of reader, but perhaps most of all, it's a book that one could see being the catalyst that sparks a young person's passion, whether it be space archaeology or some other scientific endeavor." —The Maine Edge

"Parcak's career has sent her zooming around the globe, and in Archaeology from Space, her many fascinating discoveries and colorful stories are rendered in lively, conversational language — though they are always backed up with painstakingly fact-checked notes and citations." —Bangor Daily News

"Part memoir, part pop-history, Sarah Parcak's writing bursts with enthusiasm and illuminates her pioneering research that seems more like science fiction than the hard science it is. Reading this book makes me want to become a space archaeologist!" —Steve Brusatte, University of Edinburgh paleontologist and author of the New York Times bestseller The Rise and Fall of the Dinosaurs

"Fun and informative, full of interesting nuggets and personal anecdotes from the brightest star in space archaeology, this is a book unlike any other. Highly recommended!" —Eric Cline, author of 1177 BC
Henry Holt and Co., 9781250198280, 288pp.
Publication Date: July 9, 2019
About the Author
Sarah Parcak is a professor of anthropology at the University of Alabama at Birmingham, CEO of GlobalXplorer, and director of the Joint Mission to Lisht (Egypt). Her remote sensing work has been the focus of three BBC specials covering Egypt, ancient Rome, and the Vikings. She is a Fellow in the Society of Antiquaries, a 2014 TED Senior Fellow, the winner of the 2016 TED Prize, and a National Geographic Fellow.
or
Not Currently Available for Direct Purchase