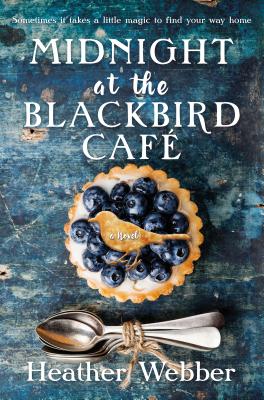 Midnight at the Blackbird Cafe
A Novel
Paperback

* Individual store prices may vary.
Other Editions of This Title:
Digital Audiobook (7/15/2019)
Hardcover (7/16/2019)
CD-Audio (7/16/2019)
Description
THE USA TODAY BESTSELLER Heather Webber's Midnight at the Blackbird Cafe is a captivating blend of magical realism, heartwarming romance, and small-town Southern charm.

Nestled in the mountain shadows of Alabama lies the little town of Wicklow. It is here that Anna Kate has returned to bury her beloved Granny Zee, owner of the Blackbird Café.

It was supposed to be a quick trip to close the café and settle her grandmother's estate, but despite her best intentions to avoid forming ties or even getting to know her father's side of the family, Anna Kate finds herself inexplicably drawn to the quirky Southern town her mother ran away from so many years ago, and the mysterious blackbird pie everybody can't stop talking about.

As the truth about her past slowly becomes clear, Anna Kate will need to decide if this lone blackbird will finally be able to take her broken wings and fly.
Praise For Midnight at the Blackbird Cafe: A Novel…
"Full of family secrets, undeniable charm and that particular touch of magic so often found in the South, MIDNIGHT AT THE BLACKBIRD CAFE is a heartfelt and redemptive tale of a daughter looking to move forward in the place her mother couldn't wait to leave behind. Heather Webber creates a town as dynamic and real as her characters—and a story so compelling that it will stay on readers' minds long after the final page. I savored every word." —Kristy Woodson Harvey, national bestselling author of Slightly South of Simple

"Midnight at the Blackbird Cafe is an enchanting gem of a novel, brimming with charming characters, heartwarming connections, old secrets, and a southern setting that makes you want to move there. As refreshing as a glass of blackberry tea, this is truly magical realism at its best!"--Karen White, New York Times bestselling author

"Family, fate, and magic intertwine in this endearing Southern tale of long-held secrets, homemade pie, and building one's future from the remains of the past. A tantalizing, delicious delight, through and through. Heather Webber writes with so much detail and imagination that I'll be craving some Blackbird Cafe pie—and the comfort that comes with it—for a long time to come." -- Kristin Harmel, international bestselling author of The Room on Rue Amélie and The Sweetness of Forgetting
Forge Books, 9781250198617, 336pp.
Publication Date: January 7, 2020
About the Author
HEATHER WEBBER is the national bestselling author of more than thirty novels--including Midnight at the Blackbird Cafe, the Lucy Valentine novels, and the Nina Quinn Mysteries--and has been twice nominated for an Agatha Award. She loves to spend time with her family, read, drink too much coffee and tea, birdwatch, crochet, watch cooking competition and home improvement shows, crochet, and bake. Heather lives in southwestern Ohio and is hard at work on her next book.
1. As this story begins, Anna Kate has put her life on hold to move to Wicklow, Alabama. She's been uprooted from everything familiar and has settled in a small, two-stoplight town where she knows no one. Though she initially has regrets about the move, she is determined to stay put. Have you ever been in a similar situation? If so, how did you adjust to your new surroundings?
2. Natalie wants to become an independent, strong woman, but she is embarrassed and ashamed that she still needs financial assistance from her parents. Doc tells her that asking for help is a sign of strength not weakness. Have you ever been in a position where you needed help and asked for it? Could you relate to Natalie's emotions? Do you agree with Doc?
3. Anna Kate comes to recognize that she's been heavily influenced by her mother's memories of the Lindens. When it becomes clear that Eden's recollections may not tell the whole story, Anna Kate sets out to form her own opinions about her father's side of the family. Have you ever been influenced by someone only to realize that person was wrong? How did you correct the situation?
4. Anna Kate goes out of her way to help Summer secure college funds by selling T-shirts and Summer's father's blackberry tea, and also helps them ready their property to use as a B&B. Why do you think Anna Kate was compelled to help this young woman she barely knew?
5. Natalie is dead-set against Ollie taking swimming lessons but eventually bends under Seelie's demands. Initially, Natalie believes her mother is being controlling and doesn't understand her pain, but do you think deep-down she recognized that Seelie was trying to protect Ollie? If you were Natalie, would you have balked at swimming lessons as well?
6. Mr. Lazenby regularly eats a piece of blackbird pie in order to connect with his dearly-departed wife, but Faylene decided to stop eating the pie in order to move on from the loss of her husband. If you could eat a piece of blackbird pie to communicate with a deceased loved one, would you? Why or why not?
7. There are many colorful characters in this book. Which of them reminds you most of yourself? How so? Who would you like to be friends with?
8. Anna Kate made a promise to her mother and ultimately broke it. Do you agree with Natalie that some promises are made to be broken? Have you ever broken a promise? How did you feel afterwards?
9. If you were casting a movie based on this book, which actors would you choose for the major roles in the story?
10. Early on Anna Kate says of Bow and Jena: "While they seemed to know everything about me and Mom, they tended to reveal their past to me much like they cooked. A dash of this, a dollop of that. A light-handed sprinkling of history. They were in their middle fifties and both had worked here for decades, coming on board after my mom left town. Their job titles were a bit vague, but it seemed to me that they were everything." At what point in the book did you realize there was more to Bow and Jena than met the eye? How did their meddling affect the story? Do you think without their influence that the novel would have had the same outcome?
11. Cam tells Natalie that sometimes people lie to protect the ones they love. Have you ever lied to protect someone? Do you regret it? Or do you stand by the decision?
12. Anna Kate eventually realizes that she needs the Wicklow community as much as it needs her. Do you think there was one single turning point in the story where this became clear to her or was it a series of events?
13. The author acknowledges this book was born from an obsession with the Beatles' song "Blackbird." The line "Take these broken wings and learn to fly" shaped nearly every character in different ways. How do you think this lyric relates to Anna Kate, Natalie, Seelie, Summer, and Aubin? How were they broken? How did they learn to fly?