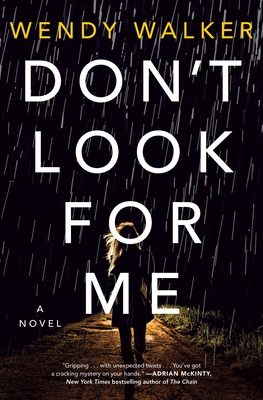 Don't Look for Me
A Novel
Hardcover

* Individual store prices may vary.
Other Editions of This Title:
CD-Audio (9/15/2020)
Paperback, Large Print (10/28/2020)
Description
A New York Public Library Best Book of the Year
A twisty, hair-raising tale. Newsweek
"A fast-paced psychological drama." GMA.com
Compulsively readable. PopSugar
"Reinforces Walkers place at the top of the genre." Publishers Weekly (starred review)
"Addictive." A.J. Finn, New York Times bestselling author of The Woman in the Window
"Gripping." Adrian McGinty, New York Times bestselling author of The Chain

They said she walked away. But what really happened to Molly Clarke?
From the bestselling author of All Is Not Forgotten comes a compelling and emotionally powerful story of a daughter's desperate search to find her mother before it's too late.

They called it a walk away. The car abandoned miles from home. The note found at a nearby hotel. The shattered family. It happens all the time. Women disappear, desperate to start over. But what really happened to Molly Clarke?

The night Molly disappeared began with a storm, running out of gas, and a man offering her a ride to safety. But when the doors lock shut, Molly begins to suspect she has made a terrible mistake.

A new lead brings Mollys daughter, Nicole, back to the small, desolate town where her mother was last seen to renew the desperate search. The locals are sympathetic and eager to help. The innkeeper. The bartender. Even the police. Until secrets begin to reveal themselves and Nicole comes closer to the truth about that nightand the danger surrounding her.
Praise For Don't Look for Me: A Novel…
Praise for Dont Look for Me:

A New York Public Library Best Book of the Year
One of Must-Read Fall Fiction & Non-fiction to Escape the Chaos of 2020Newsweek
One of 10 Twisty New Thrillers & Mysteries to Read This SeptemberPopSugar
One of "13 New Thrillers That Will Make You Lose Sleep This Fall" Buzzfeed
One of 15 Mystery & Thriller Audiobooks Thatll Send Chills Down Your SpinePopSugar

[A] twisty, hair-raising tale.Newsweek

"[A] fast-paced, twisty psychological drama. GMA.com

Compulsively readable.PopSugar

"Distinctive, well-developed characters complement the skillfully paced plot. This moving look at the bond between a mother and her children reinforces Walkers place at the top of the genre." Publishers Weekly (starred review)

"Dont Look For Me is a claustrophobic, anxiety-inducing psychological thriller that will keep you up past your bedtime. It explores the complex relationships between mothers and daughters through relatable, flawed characters, while keeping up a nail-biting pace right until the shocking ending." Buzzfeed

"This awe-inspiring psychological thriller is not to be missed. OK! Magazine

"Wendy Walkers novels are addictive. Like, controlled-substance addictive. And Dont Look for Me, a thriller as intense and relentless as the metallic rain slashing across its jacket, ranks (as of this writing, at least) as Walkers reigning champ: a book that blood-samples her earlier work the poignant drama of All Is Not Forgotten, the ambition of Emma in the Night, the narrative daring of The Night Before and swirls them into a bold new mixture, both potent and complex. "A.J. Finn, New York Times bestselling author of The Woman in the Window

"Don't Look for Me is a gripping psychological thriller from Wendy Walker with unexpected twists and an enjoyable momentum. Throw in the fact that it's set in that strange country around Route 7 in far western Massachusetts and you've got a cracking mystery on your hands." Adrian McGinty, New York Times bestselling author of The Chain

"Wendy Walker has done it again, created a nail-biter thatll keep you up all night. But Dont Look for Me is so much more than a twisty thriller. Its a heartbreaking portrait of a family coping with grief and an insightful study of guilt and blame, gaslighting and agency. If you love fast-paced page-turners with relatable, flawed characters, look no further!" Angie Kim, bestselling author of Miracle Creek

Wendy Walker hits it out of the park once again in her newest psychological suspense Dont Look for Me, a riveting and intimate story of unimaginable loss which raises the question: When youve already done the unthinkable, can there be any chance of redemption? Sharp, nuanced, utterly real and absolutely terrifying, this beautifully written and emotionally powerful novel is Walker at her best. I didnt simply read this bookI devoured it! Karen Dionne, author of the #1 international bestseller The Marsh Kings Daughter

Wow! I hate to be repetitive butWOW! Wendy Walker always writes amazing books but Dont Look for Me may be her finest novel yet. Its unsettling in the very best way and truly riveting. Samantha Downing, author of the #1 International Bestseller, My Lovely Wife

"Wendy Walkers Dont Look for Me is a pulse-pounding, thrill ride of a novel with heart. Centered around a family that has already endured unspeakable tragedy, the story explores the strength of familial bonds and our capacity for forgivenessall while keeping the reader on the edge of her seat, quickly turning pages until the exciting conclusion. I couldnt put it down!" Kathleen Barber

"Dont Look for Me is a master class in psychological suspense. Deftly written, perfectly plotted and peopled with nuanced, complex characters, this superb thriller is Walker's best to date. I'll be thinking about this book - with its head-spinning twists and perfect denouement - for months to come." Cristina Alger Wang

Praise for Wendy Walker:

"Walker excels at exploiting multiple timelines and ample misdirection to maximize the suspense of her twist-filled tale." Publisher's Weekly

"Walker's clever misdirection paves the way to a truly chilling finale, and she has plenty of insightful things to say about the blame placed on women by society and themselves for the idiotic, careless, and sometimes downright evil things men do. Twisty and propulsive." Kirkus

"Skillfully manipulating tension and using breathless pacing, Walker keeps that question in the air until the final twist unmasks secrets about Laura's disappearance and the murder in her past." Booklist

"Secrets, lies, and time jumps will keep readers on their toes." Library Journal

"I raced through The Night Before, another page-turning cracker from Wendy Walker. You're in for a treat!." B.A. Paris, New York Times bestselling author of Behind Closed Doors

"A dazzling hall-of-mirrors thriller: ferociously smart, furiously paced, and best of all honest-to-goodness surprising. All hail Wendy Walker." AJ Finn, #1 New York Times bestselling author of The Woman in the Window
St. Martin's Press, 9781250198709, 352pp.
Publication Date: September 15, 2020
About the Author
WENDY WALKER is the author of the psychological suspense novels All is Not Forgotten, Emma In The Night,The Night Before, and Don't Look For Me. Her novels have been translated into 23 foreign languages and have topped bestseller lists both nationally and abroad. They have been featured on The Today Show, The Reese Witherspoon Book Club, and The Book of the Month Club and have been optioned for television and film. Prior to her writing career, Wendy practiced both corporate and family law, having earned her J.D. from Georgetown University Law Center and her undergraduate degree from Brown University. Wendy also worked as a financial analyst at Goldman, Sachs & Co. Wendy is currently finishing her next thriller and managing a busy household in Connecticut.