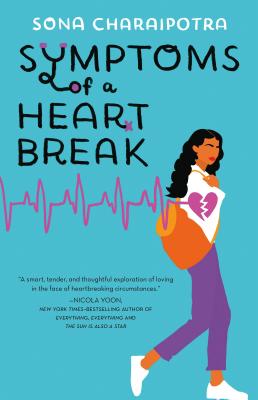 Symptoms of a Heartbreak (Hardcover)
Imprint, 9781250199102, 336pp.
Publication Date: July 2, 2019
Other Editions of This Title:
Paperback (7/7/2020)
* Individual store prices may vary.
Description
"A rom-com with heart." —People
"Informative and thought-provoking. Charaipotra... delicately balances the haunting realities of grief and despair with a nuanced lightness and warmth." —Entertainment Weekly
"Charaipotra masterfully delivers a rich, multi-layered story, sprinkled with news articles, texts, and sarcastic diagnoses that are well worth the reading." —NPR
The youngest doctor in America, an Indian-American teen makes her rounds—and falls head over heels—in Sona Charaipotra's contemporary romantic comedy.
Fresh from med school, sixteen-year-old medical prodigy Saira arrives for her first day at her new job: treating children with cancer. She's always had to balance family and friendships with her celebrity as the Girl Genius—but she's never had to prove herself to skeptical adult co-workers while adjusting to real life-and-death stakes. And working in the same hospital as her mother certainly isn't making things any easier.
But life gets complicated when Saira finds herself falling in love with a patient: a cute teen boy who's been diagnosed with cancer. And when she risks her brand new career to try to improve his chances, it could cost her everything.
It turns out "heartbreak" is the one thing she still doesn't know how to treat.
In her solo debut, Sona Charaipotra brings us a compelling #ownvoices protagonist who's not afraid to chase what she wants. Symptoms of a Heartbreak goes from romantic comedy highs to tearjerker lows and is the ultimate cure-all for young adult readers needing an infusion of something heartfelt.
An Imprint Book
About the Author
The author of the YA medical dramedy Symptoms of a Heartbreak, Sona Charaipotra is not a doctor — much to her pediatrician parents' chagrin. They were really hoping she'd grow up to take over their practice one day. Instead, she became a writer, working as a celebrity reporter at People and (the dearly departed) TeenPeople magazines, and contributing to publications from the New York Times to TeenVogue. These days, she uses her Masters in screenwriting from NYU and her MFA in creative writing from the New School to poke plot holes in her favorite teen TV shows, like Riverdale — for work of course. She's the co-founder of CAKE Literary, a boutique book packaging company with a decidedly diverse bent, and the co-author (with Dhonielle Clayton) of the YA dance dramas Tiny Pretty Things and Shiny Broken Pieces, as well as the psychological thriller The Rumor Game. She's a proud We Need Diverse Books team member.
Praise For Symptoms of a Heartbreak…
"A rom-com with heart." —People
"Informative and thought-provoking. Charaipotra... delicately balances the haunting realities of grief and despair with a nuanced lightness and warmth." —Entertainment Weekly
"Charaipotra masterfully delivers a rich, multi-layered story, sprinkled with news articles, texts, and sarcastic diagnoses that are well worth the reading." —NPR
"Fans of YA contemporary don't want to miss this one." —Buzzfeed

"Doogie Howser, M.D. meets The Fault in Our Stars in this tender romcom." —Teen Vogue

"A smart, tender and thoughtful exploration of loving in the face of heartbreaking circumstances."
—Nicola Yoon, #1 New York Times–bestselling author of Everything Everything and The Sun Is Also a Star
"Saira's antics as a female, Indian American Doogie Howser kept me glued to the edge of my seat from the first page to the last. Symptoms of a Heartbreak is the summer rom-com to add to your list!"
—Sandhya Menon, New York Times–bestselling author of When Dimple Met Rishi
"Tender, insightful, and full of hope. Readers will fall in love with Girl Genius Saira, who is fierce, brilliant, flawed, and utterly relatable. Her journey reminds us that the human heart is fragile but has strength beyond measure. Doctor's Orders: Read Symptoms of a Heartbreak STAT."
—Samira Ahmed, New York Times–bestselling author of Love, Hate & Other Filters and Internment
"Equal parts compelling and charming, this pitch-perfect rom-com is just what the doctor ordered! Symptoms of a Heartbreak is absolutely unputdownable."
—Julie Murphy, #1 New York Times–bestselling author of Dumplin'
"Symptoms of a Heartbreak is the book I always wanted, and desperately needed, when I was growing up. Sona proves that she's a master storyteller who has gifted readers with unforgettable characters, a page-turning conflict, and a story that will stay in your heart long after it's over."
—Nisha Sharma, author of My So-Called Bollywood Life
"Saira's extended Indian-American family adds lively warmth to the medical drama." —Publishers Weekly
"A charming debut... offering rich, nuanced portrayals of Indian American family and professional life." —Kirkus Reviews

"A warm, bitingly funny rom-com about finding your feet." —Booklist
"Grey's Anatomy meets When Dimple Met Rishi in this medical romance centered around America's youngest doctor... Give to fans of romance and medical dramas such as John Green's The Fault in Our Stars." —School Library Journal