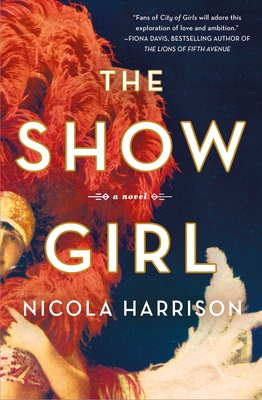 The Show Girl
A Novel
Hardcover

* Individual store prices may vary.
Other Editions of This Title:
Digital Audiobook (8/9/2021)
Paperback (6/21/2022)
Description
Nicola Harrison's The Show Girl gives a glimpse of the glamorous world of the Ziegfeld Follies, through the eyes of a young midwestern woman who comes to New York City to find her destiny as a Ziegfeld Follies star.

"Fans of Elizabeth Gilbert's City of Girls will drink this up." --Booklist

It's 1927 when Olive McCormick moves from Minneapolis to New York City determined to become a star in the Ziegfeld Follies. Extremely talented as a singer and dancer, it takes every bit of perseverance to finally make it on stage. And once she does, all the glamour and excitement is everything she imagined and more—even worth all the sacrifices she has had to make along the way.

Then she meets Archie Carmichael. Handsome, wealthy—the only man she's ever met who seems to accept her modern ways—her independent nature and passion for success. But once she accepts his proposal of marriage he starts to change his tune, and Olive must decide if she is willing to reveal a devastating secret and sacrifice the life she loves for the man she loves.
Praise For The Show Girl: A Novel…
"Nicola Harrison brings the exciting world of 1927 New York City to life in The Show Girl." -PopSugar

"Full of surprises and romance, Harrison's novel keeps readers turning the pages...Fans of Elizabeth Gilbert's City of Girls will drink this up." —Booklist

"Lush and evocative...she'll keep readers turning the pages." --Publishers Weekly

"Harrison creates a heady mix of history, drama and romance in a seductive novel guaranteed to transport the reader to a different place and time." –Karen White, New York Times bestselling author of All the Way We Say Goodbye

"In The Show Girl, author Nicola Harrison paints her characters with such a precise brush and sympathetic strokes that they live long after the last page." –Betsy Carter, bestselling author of Lost Souls at The Neptune Inn

"Nicola Harrison brilliantly captures the last gasp of the roaring twenties in this indelible story of love and ambition." –Jamie Brenner, author of Blush

"Harrison beautifully portrays the trials and tribulations of a Ziegfeld Follies dancer in her new novel, which is brimming with juicy details of Roaring Twenties New York City. Fans of City of Girls will adore this exploration of love and ambition." –Fiona Davis, New York Times bestselling author of The Lions of Fifth Avenue

"Harrison has created a heroine so complex and endearing, so utterly fearless and full of life, that readers will not be able to forget her. THE SHOW GIRL is a story as intricate and dazzling as one of Ziegfeld's legendary revues." –Lynda Cohen Loigman, USA Today bestselling author of The Two-Family House and The Wartime Sisters

"A delicious and entertaining exploration of the life of a Ziegfield girl with Harrison's trademark ability to plunge the reader deep into the experiences of her characters. The Show Girl is a fast-paced and engaging read that will leave readers giving a standing ovation to Olive and to all women who choose to live life on their own terms." –Susie Orman Schnall, author of The Subway Girls and We Came Here to Shine

"Harrison has written an energetic, propulsive, delightful book." -Amy Poeppel, author of Small Admissions

St. Martin's Press, 9781250200150, 400pp.
Publication Date: August 10, 2021
About the Author
Born in England, Nicola Harrison moved to CA where she received a BA in Literature at UCLA before moving to NYC and earning an MFA in creative writing at Stony Brook. She is a member of The Writers Room, has short stories published in The Southampton Review and Glimmer Train and articles in Los Angeles Magazine and Orange Coast Magazine. She was the fashion and style staff writer for Forbes, had a weekly column at Lucky Magazine and is the founder of a personal styling business, Harrison Style.


The Show Girl takes place in the 1920s, when some young women (flappers) were rebelling against the Victorian ways of their parents and exploring their newfound freedom. Would you have wanted to come of age during the Roaring Twenties? Why or why not?




From page 1 Olive is ambitious, determined, and unwilling to let anything stand in her way. Did you relate to or admire that quality in her or did it make her an unsympathetic character? How did your perception of Olive change throughout the book?




What did you think about the choices Olive made, specifically with regard to her daughter? Would you have done things differently? What lessons do you think she learned in the end?




Olive's relationship with her parents was strained. Was she justified in demanding her right to work as a performer, or did she cause her parents heartache for nothing? What were your feelings about Olive's parents at the beginning of the book, and did your feelings about them change?




How did you feel about Archie when he was first introduced compared with later in the novel, when he began to feel differently about starting a family? Did you find him overbearing or did you sympathize with him?




From the stage-door johnnies and show girls in Manhattan's theater district to the bohemians and artists in the Village and the wealthy "camp" owners in the Adirondacks, Olive and Archie mingled in many social circles. Which group would you have been most interested to spend time with and why?




Sometimes friends are found in the most unlikely places. How did Olive's friendships with Ruthie and Alberto shape her in new ways? Which other friendships stood out to you?




The unique mix of style and sophistication in the Ziegfeld Follies forever transformed the Broadway musical. How much did you know about Florenz Ziegfeld's shows prior to reading The Show Girl? Does it make you think differently about any shows you've seen?




Ziegfeld's show girls were advertised as "the most beautiful women in the world." Their bodies were celebrated and their sexuality was liberated, but all that glitz and glam often came at a cost. Many of these young women made sacrifices and compromises in order to enjoy the spotlight. How has our society changed, then versus now?




Despite Prohibition being in effect from 1920 to 1933, booze abounds in this book! Are you the type of person who would have played by the rules if you'd lived in the '20s or would you have frequented the speakeasies?




Olive lived with a huge secret looming over her. What do you think would have happened if she'd gone ahead and married Archie without telling him about her past? Would they have lived happily ever after?




Endings almost always lead to a lively discussion. What do you think will happen next for Olive and her new family?