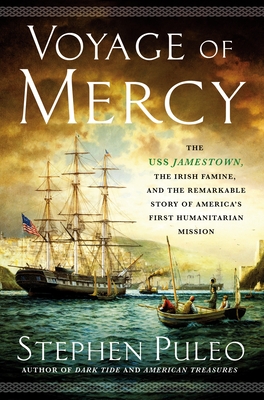 Voyage of Mercy
The USS Jamestown, the Irish Famine, and the Remarkable Story of America's First Humanitarian Mission
Hardcover

* Individual store prices may vary.
Other Editions of This Title:
Digital Audiobook (3/2/2020)
Paperback (5/18/2021)
Description
"Puleo has found a new way to tell the story with this well-researched and splendidly written chronicle of the Jamestown, its captain, and an Irish priest who ministered to the starving in Cork city…Puleo's tale, despite the hardship to come, surely is a tribute to the better angels of America's nature, and in that sense, it couldn't be more timely." —The Wall Street Journal

The remarkable story of the mission that inspired a nation to donate massive relief to Ireland during the potato famine and began America's tradition of providing humanitarian aid around the world

More than 5,000 ships left Ireland during the great potato famine in the late 1840s, transporting the starving and the destitute away from their stricken homeland. The first vessel to sail in the other direction, to help the millions unable to escape, was the USS Jamestown, a converted warship, which left Boston in March 1847 loaded with precious food for Ireland.

In an unprecedented move by Congress, the warship had been placed in civilian hands, stripped of its guns, and committed to the peaceful delivery of food, clothing, and supplies in a mission that would launch America's first full-blown humanitarian relief effort.

Captain Robert Bennet Forbes and the crew of the USS Jamestown embarked on a voyage that began a massive eighteen-month demonstration of soaring goodwill against the backdrop of unfathomable despair—one nation's struggle to survive, and another's effort to provide a lifeline. The Jamestown mission captured hearts and minds on both sides of the Atlantic, of the wealthy and the hardscrabble poor, of poets and politicians. Forbes' undertaking inspired a nationwide outpouring of relief that was unprecedented in size and scope, the first instance of an entire nation extending a hand to a foreign neighbor for purely humanitarian reasons. It showed the world that national generosity and brotherhood were not signs of weakness, but displays of quiet strength and moral certitude.

In Voyage of Mercy, Stephen Puleo tells the incredible story of the famine, the Jamestown voyage, and the commitment of thousands of ordinary Americans to offer relief to Ireland, a groundswell that provided the collaborative blueprint for future relief efforts, and established the United States as the leader in international aid. The USS Jamestown's heroic voyage showed how the ramifications of a single decision can be measured not in days, but in decades.
Praise For Voyage of Mercy: The USS Jamestown, the Irish Famine, and the Remarkable Story of America's First Humanitarian Mission…
"A moving historic tribute." —New York Post

"An enthralling history of the Irish famine and the United States' first humanitarian project: sending a ship of supplies to help alleviate Irish suffering." —Shelf Awareness

"An inspiring and resonant story." —National Catholic Reporter

"Puleo (American Treasures, 2016) makes this history compelling, and tells further American aid stories across the decades through the Berlin Airlift of 1948. Puleo's deep research is evident in an erudite bibliographic essay." —Booklist (starred review)

"An uplifting historical account of humanitarianism with lessons in this increasingly isolationist time." —Kirkus Reviews

"Voyage of Mercy is a fascinating and moving tale of America as we wish it would always be—kind, generous, and humane to people who are in dire need of help, wherever they may live. Puleo is a master storyteller who seamlessly weaves together the personal and the political in this enthralling narrative of the United States' philanthropic and humanitarian roots. In today's fractious and divisive world, this book is a tonic to the soul, and a potent reminder that we are at our best when we follow the 'better angels of our nature'." —Eric Jay Dolin, author of Black Flags, Blue Waters and Leviathan

"Voyage of Mercy is why we read. It's history as it should be written. It reads like a terrific, page-turning novel, with characters who live and breathe and struggle and yearn, with grand dramatic moments, with settings so vividly described in a world so impeccably researched that you think you're there, with powerful themes that will resonate long after you've finished reading. It's Stephen Puleo's best book and a voyage that every reader should take." —William Martin, New York Times bestselling author of Back Bay and Bound for Gold
St. Martin's Press, 9781250200471, 336pp.
Publication Date: March 3, 2020
About the Author
STEPHEN PULEO is the author of several books, including Dark Tide (Beacon, 2003); Due to Enemy Action (Lyons Press, 2005); and The Caning (Westholme, 2012). Formerly an award-winning newspaper reporter, he is a contributor to American History magazine, among other publications. He holds a master's degree in history and has taught history at Suffolk University in Boston. He resides in Massachusetts with his wife, Kate.
or
Not Currently Available for Direct Purchase