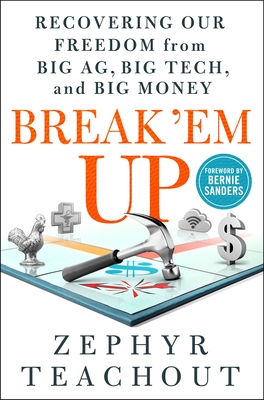 Break 'Em Up
Recovering Our Freedom from Big Ag, Big Tech, and Big Money
Hardcover

* Individual store prices may vary.
Other Editions of This Title:
Digital Audiobook (7/27/2020)
CD-Audio (7/28/2020)
Description
"[We need] a grassroots, bottom-up movement that understands the challenge in front of us, and then organizes against monopoly power in communities across this country. This book is a blueprint for that organizing. In these pages, you will learn how monopolies and oligopolies have taken over almost every aspect of American life, and you will also learn about what can be done to stop that trend before it is too late."
—From the foreword by Bernie Sanders.

A passionate attack on the monopolies that are throttling American democracy.

Every facet of American life is being overtaken by big platform monopolists like Facebook, Google, and Bayer (which has merged with the former agricultural giant Monsanto), resulting in a greater concentration of wealth and power than we've seen since the Gilded Age. They are evolving into political entities that often have more influence than the actual government, bending state and federal legislatures to their will and even creating arbitration courts that circumvent the US justice system. How can we recover our freedom from these giants? Anti-corruption scholar and activist Zephyr Teachout has the answer: Break 'Em Up.

This book is a clarion call for liberals and leftists looking to find a common cause. Teachout makes a compelling case that monopolies are the root cause of many of the issues that today's progressives care about; they drive economic inequality, harm the planet, limit the political power of average citizens, and historically-disenfranchised groups bear the brunt of their shameful and irresponsible business practices. In order to build a better future, we must eradicate monopolies from the private sector and create new safeguards that prevent new ones from seizing power.

Through her expert analysis of monopolies in several sectors and their impact on courts, journalism, inequality, and politics, Teachout offers a concrete path toward thwarting these enemies of working Americans and reclaiming our democracy before it's too late.
Praise For Break 'Em Up: Recovering Our Freedom from Big Ag, Big Tech, and Big Money…
"Break 'Em Up is a shocking guide book to these corporate Dark Ages, these frightening times when private power seems to grow ever more centralized and the ordinary world we live in feels like it is dissolving. Thankfully, it is also a road map to the exit. Read it and let's get ourselves out of this awful place." —Thomas Frank, author of Listen, Liberal

"Zephyr Teachout is a prophet of the resurgent left. With polemical zeal and elegant prose she diagnoses the great economic illness of our time—and shows how a cure is within our reach. This is the essential manifesto for the rejuvenation of American democracy." —Franklin Foer, author of World Without Mind

"Bracing; powerful and inspiring. Teachout, in this riveting read, demonstrates that private power is simply power, and limiting its abuse is essential to human thriving." —Tim Wu, author of The Curse of Bigness

"A passionate and persuasive case for a revitalized antitrust movement to strengthen democracy and improve the lives of middle- and working-class Americans…Teachout delivers a forceful, clearly articulated vision of 'moral markets' built on freedom, choice, and human dignity. Progressives will heed this clarion call for reform." —Publishers Weekly (starred)

"A graceful, witty, terrifying book—essential to understanding how monopoly threatens American democracy. Teachout was one of the first to grasp the magnitude of the crisis of concentrated private power in America, and she now drives the debate forward again. Break 'Em Up will challenge all easy assumptions about how to fix our nation, in ways that will arm you for the fight ahead." —Barry C. Lynn, author of Liberty from All Masters

"Wide-ranging, well-organized chapters are full of unsettling tidbits … Teachout confidently wields energetic, urgent prose and stark research, adeptly blending subtopics including law and technology. Deserves wide attention in our current political landscape." —Kirkus
All Points Books, 9781250200891, 320pp.
Publication Date: July 28, 2020
About the Author
ZEPHYR TEACHOUT is an attorney, political activist, and anti-trust and corruption expert. A rising star on the left, her campaign for New York Attorney General in 2018 was endorsed by Bernie Sanders, the New York Times, and others. She was part of the team of lawyers that sued Donald Trump for allegedly violating the emoluments clause of the Constitution. Teachout sits on the board of directors of the Open Markets Institute, and teaches law at Fordham University. She lives in Clinton, NY.

BERNIE SANDERS was a Democratic candidate for President of the United States. He is serving his third term in the U.S. Senate. Sanders previously served as mayor of Vermont's largest city for eight years before defeating an incumbent Republican to be the sole congressperson for the state in the U.S. House of Representatives. He lives in Burlington, Vermont with his wife Jane and has four children and seven grandchildren.
or
Not Currently Available for Direct Purchase