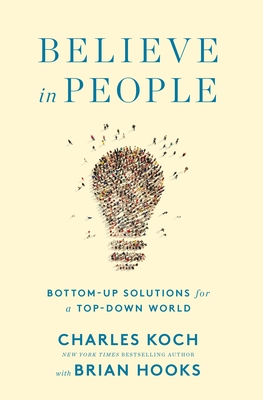 Believe in People
Bottom-Up Solutions for a Top-Down World
Hardcover

* Individual store prices may vary.
Other Editions of This Title:
Digital Audiobook (11/16/2020)
CD-Audio (11/17/2020)
Description
A surprising take on how you can help tackle the really big problems in society–from one of America's most successful entrepreneurs.

People are looking for a better way. Towering barriers are holding millions of people back, and the institutions that should help everyone rise are not doing the job. Crumbling communities. One-size fits all education. Businesses that rig the economy. Public policy that stifles opportunity and emboldens the extremes. As a result, this country is quickly heading toward a two-tiered society.

Today's challenges call for nothing short of a paradigm shift – away from a top-down approach that sees people as problems to be managed, toward bottom-up solutions that empower everyone to realize their potential and foster a more inclusive society.

Such a shift starts by asking: What would it mean to truly believe in people?

Businessman and philanthropist Charles Koch has devoted his life to answering that question. Learn what he's discovered during his 60-year career to help you apply the principles of empowerment in your life, in your business, and in society.

By learning from the social movements and applying the principles that have enabled social progress throughout history, Koch has achieved more than he dreamed possible – building one of the world's most successful companies and founding Stand Together, one of America's most innovative philanthropic communities. Stand Together CEO Brian Hooks and Koch show how the only way to solve the really big problems – from poverty and addiction to harmful business practices and destructive public policy – is for each and every one of us to find and take action in our unique role as part of the solution.

Full of compelling examples of what works – including several first-person accounts from individuals whose lives have been transformed – Koch and Hooks' refreshing approach promotes partnership instead of partisanship and speaks to people from different perspectives and all walks of life. They show that no injustice is too tough to overcome if you share a deep belief in people, are willing to unite with anyone to do right, and work to empower others from the bottom up.
Praise For Believe in People: Bottom-Up Solutions for a Top-Down World…
"Forget everything you thought you knew about Charles Koch and read this book. Charles and Brian offer a clear path to success for anyone who wants to make a difference. An unrelenting picture of optimism that's a roadmap for solving our country's biggest problems."
—Marc Andreessen, Co-Founder and General Partner, Andreessen Horowitz

"Believe in People is a wise, thoughtful, and optimistic book. At its heart, it is a book about listening—to the quiet voice inside each of us that whispers truths about finding our highest calling and discovering our best selves. A timely and important read."
—David Isay, Founder, StoryCorps

"Charles Koch's vision for a better America and his call to action for a new bottom-up movement make Believe in People a compelling and provocative read."
—Michael Lomax, President and CEO, UNCF

"Believe in People is Charles Koch's most personal book, most substantive book, and best book—all wrapped up into one. Heartily recommended."
—Tyler Cowen, Holbert L. Harris Chair in Economics and Chairman, Mercatus Center at George Mason University

"Believe in People is a historical roadmap of inspiring people to inspire others. We all need a hero to follow and a game plan for success, awareness, and change. This is the DNA of who Charles Koch is! Lifting others when you rise."
—Nancy Lieberman, Basketball Hall of Famer, Nancy Lieberman Charities Founder

"In many ways, Believe in People is one of the best arguments for the value of workplace diversity. Charles Koch and Brian Hooks make the case for the greater power of social change driven by a diversity of every kind of perspective. What makes it different from other, similar approaches, is that this one is based, ultimately, on letting go. It is based on creating systems that allow for ingenuity to flourish and support the risktaking that leads to substantive change."
—Alberto Ibargüen, President & CEO, John S. and James L. Knight Foundation

"Charles Koch's dismay about the crippling consequences of partisanship and the nostrums of politicians, businesspeople, and philanthropists is matched by his abiding faith in the way individuals can change our country for the better. Believe in People brims with the humility and humanity of a lifetime spent leading and learning."
—Michael Moritz, Partner, Sequoia Capital

"Believe in People is more than a snappy title to an extraordinary book; it's a challenge to anyone who has ever tried to improve their own life, the lives of their loved ones, the lives of strangers, or the lives of all those with whom we share the planet. This is not, however, a self-help book or a collection of bromides and platitudes—this is a deeply personal account of one man's remarkable determination to live the best life he can, by remaining true to the values his parents instilled into his very hard head, at a very young age. Believe in People is a survival guide for the social entrepreneur in all of us—a manifesto for do-goodery—written by one of the greatest philanthropists to ever live, at a time in history like no other. I recommend you read it, and then, as time allows, live it."
—Mike Rowe, Executive Producer, Host, and CEO of the mikeroweWORKS Foundation

"The best news in this book is summed up in Charles Koch's own words: 'My North Star is a society in which every person can realize their potential.'"
—Vernon Smith, Nobel Prize-Winning Economist and George L. Argyros Endowed Chair in Finance and Economics, Chapman University

"Charles Koch is truly one of our great Americans, a man determined to make the world a better place. He is my friend. I know him as a searcher, a kind man, not content to sit back and enjoy the fruits of his personal journey. Instead, he felt it essential to encourage others to find their individual passions and what it is they love and do well. Encouragement like this can change the paradigm of people's lives, therefore empowering them to recognize the same in the next person. We all have something to offer, and the message such as in this book can be the spark that changes lives. We all want to know how Charles Koch did it. The answer lies within these pages."
—Suzanne Somers, Actor, Entrepreneur, Entertainer, and New York Times Bestselling Author

"Believe in People offers a unique look at how the fundamental features of entrepreneurship, and inspiring and investing in individuals who are passionate about solving problems creatively, are essential to overcoming long-standing economic and social challenges in the U.S. (and abroad). Charles Koch shares stories from his own life as we all as those of other people and organizations that took risks, empowered from the bottom up, forged partnerships with unlikely partners, and used sound business practices to tackle entrenched problems. Charles offers a roadmap for how we each can harness the power of entrepreneurship and individual contribution to build more resilient communities and find real solutions to many of the problems we confront in America today. In the process, Charles shares lessons from which we all can learn and a means to achieve solutions-focused engagement with each other going forward."
—Tony Welters, Executive Chairman, BlackIvy Group and Chairman Emeritus, New York University School of Law

"If you don't believe in people, what do you believe in? This is a provocative book for the moment. Highly recommended."
—Ryan Holiday, #1 New York Times Bestselling Author of The Obstacle is The Way and The Daily Stoic

"Believe in People is a book for anyone looking to make a difference by becoming the best version of themselves. Paying it Forward is the best self-gratification one can get while creating real change for humanity!"
—Cortez Bryant, Co-CEO of Blueprint Group and COO of Young Money Entertainment

"Believe in People is a celebration of the inherent dignity of every person – and a roadmap to move society closer to that ideal. In these difficult and unpredictable times, Charles and Brian not only see an expansive and inclusive future, but illuminate the path to get there."
—Jonathan Greenblatt, CEO, Anti-Defamation League
St. Martin's Press, 9781250200969, 320pp.
Publication Date: November 17, 2020
About the Author
CHARLES KOCH is chairman and CEO of Koch Industries, one of the largest privately held American companies. An influential philanthropist for more than 50 years, he supports education, a community of organizations addressing persistent poverty, and public policy research focused on developing effective solutions to social problems. He has founded numerous non-profit organizations, including Stand Together. He holds two masters degrees in nuclear and chemical engineering from MIT and lives in Wichita, Kansas with his wife Liz.

BRIAN HOOKS is chairman and CEO of Stand Together, a philanthropic community that works with more than 700 business leaders and philanthropists to empower people to realize their unique potential and help every person rise. He is also president of the Charles Koch Foundation and previously served as executive director and COO of the Mercatus Center at George Mason University. A graduate of the University of Michigan, he lives in Alexandria, Virginia, with his wife, Christine, and their daughter.