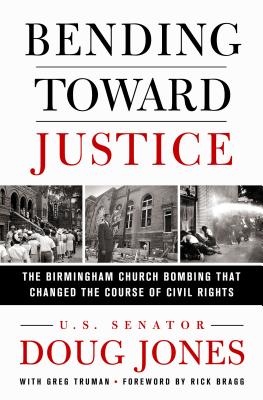 Bending Toward Justice
The Birmingham Church Bombing that Changed the Course of Civil Rights
Hardcover

* Individual store prices may vary.
Other Editions of This Title:
Digital Audiobook (3/4/2019)
Description
The story of the decades-long fight to bring justice to the victims of the 16th Street Baptist Church bombing, culminating in Sen. Doug Jones' prosecution of the last living bombers.

On September 15, 1963, the 16th Street Baptist Church in Birmingham, Alabama was bombed. The blast killed four young girls and injured twenty-two others. The FBI suspected four particularly radical Ku Klux Klan members. Yet due to reluctant witnesses, a lack of physical evidence, and pervasive racial prejudice the case was closed without any indictments.

But as Martin Luther King, Jr. famously expressed it, "the arc of the moral universe is long, but it bends toward justice." Years later, Alabama Attorney General William Baxley reopened the case, ultimately convicting one of the bombers in 1977. Another suspect passed away in 1994, and US Attorney Doug Jones tried and convicted the final two in 2001 and 2002, representing the correction of an outrageous miscarriage of justice nearly forty years in the making. Jones himself went on to win election as Alabama's first Democratic Senator since 1992 in a dramatic race against Republican challenger Roy Moore.

Bending Toward Justice is a dramatic and compulsively readable account of a key moment in our long national struggle for equality, related by an author who played a major role in these events. A distinguished work of legal and personal history, the book is destined to take its place as a canonical civil rights history.
Praise For Bending Toward Justice: The Birmingham Church Bombing that Changed the Course of Civil Rights…
"For 40 years, justice had gone undone in the brutal murder of four young girls in the Sixteenth Street Baptist Church. Forty years of pain and hurt for the families of those young girls and their community. Forty years of the Klan laughing at justice, getting away with the act of a coward. Doug Jones said no more. Justice had to be done. Those young girls deserved it. Their families deserved it. The community needed it. It took courage, commitment, and persistence. And—maybe most of all—heart." —former vice president Joe Biden

"This book describes the painful sacrifice that was required, and may be called for again, for us to move toward true democracy in America. Facing the truth of our dark past with honesty and humility is the only way this nation can heal these deep wounds. But knowing the truth Jones shares in this book can set this nation free to earnestly build a more perfect union." —Rep. John Lewis

"Doug Jones has proven himself adept at getting right with history against tall odds, whether it's in his prosecution of the 16th Street Baptist Church bombing case or his election to the U. S. Senate. Bending Toward Justice is his riveting inside account of arguably the most important cold case prosecution in civil rights history, and a crucial contribution to our understanding of where we are—and he is—today." —Diane McWhorter, author of the Pulitzer Prize-winning Carry Me Home: Birmingham, Alabama—The Climactic Battle of the Civil Rights Revolution

"Lively...The bulk of this compelling account focuses on that extraordinary trial and 2001 conviction. A useful firsthand account of a series of civil rights landmarks, with some additional analysis of our current political climate." —Kirkus Review

"A deeply affecting portrait of the devastation wrought by the 16th Street Church bombing and the enduring blight and bitterness it left in the black community." —Booklist Review

"This book ought to be studied by national Democrats looking to rescue populist idealism from its Trumpian captivity." —Howell Raines, New York Times Book Review

"This poignant and powerful story tracks changes in Southern life since the 1960s, uncovering hard truths to correct America's moral compass with an understanding of the need for activism and political discourse to achieve social justice." —Thomas J. Davis, Library Journal Review
All Points Books, 9781250201447, 384pp.
Publication Date: March 5, 2019
About the Author
DOUG JONES is a US Senator who has made finding common ground a hallmark of his tenure. In 2017, he became the first Democrat to win a Senate election in Alabama since 1992. As U.S. Attorney for the Northern District of Alabama from 1997 to 2001, JONES prosecuted two former Ku Klux Klan members for their roles in the racially-motivated 1963 16th Street Baptist Church Bombing that took the lives of four girls. He also secured an indictment against Centennial Olympic Park bomber Eric Rudolph.
or
Not Currently Available for Direct Purchase