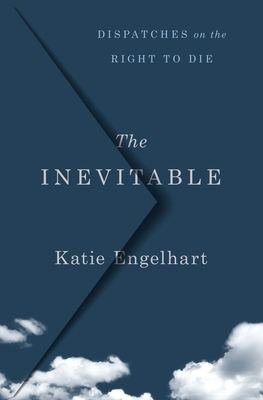 The Inevitable
Dispatches on the Right to Die
Hardcover

* Individual store prices may vary.
Other Editions of This Title:
Digital Audiobook (4/12/2021)
Paperback (8/9/2022)
MP3 CD (4/13/2021)
Compact Disc (4/13/2021)
Description
"A remarkably nuanced, empathetic, and well-crafted work of journalism, [The Inevitable] explores what might be called the right-to-die underground, a world of people who wonder why a medical system that can do so much to try to extend their lives can do so little to help them end those lives in a peaceful and painless way."—Brooke Jarvis, The New Yorker

More states and countries are passing right-to-die laws that allow the sick and suffering to end their lives at pre-planned moments, with the help of physicians. But even where these laws exist, they leave many people behind. The Inevitable moves beyond margins of the law to the people who are meticulously planning their final hours—far from medical offices, legislative chambers, hospital ethics committees, and polite conversation. It also shines a light on the people who help them: loved ones and, sometimes, clandestine groups on the Internet that together form the "euthanasia underground."

Katie Engelhart, a veteran journalist, focuses on six people representing different aspects of the right to die debate. Two are doctors: a California physician who runs a boutique assisted death clinic and has written more lethal prescriptions than anyone else in the U.S.; an Australian named Philip Nitschke who lost his medical license for teaching people how to end their lives painlessly and peacefully at "DIY Death" workshops. The other four chapters belong to people who said they wanted to die because they were suffering unbearably—of old age, chronic illness, dementia, and mental anguish—and saw suicide as their only option.

Spanning North America, Europe, and Australia, The Inevitable offers a deeply reported and fearless look at a morally tangled subject. It introduces readers to ordinary people who are fighting to find dignity and authenticity in the final hours of their lives.
Praise For The Inevitable: Dispatches on the Right to Die…
"A remarkably nuanced, empathetic, and well-crafted work of journalism ... Engelhart gives eloquent voice to different sides of the intricate arguments."—Brooke Jarvis, The New Yorker

"Katie Engelhart's deeply researched and beautifully reported book raises familiar quandaries. Do people have a right to die on their own terms?"—The Economist

"An essential, vulnerable book…Like much great narrative journalism, The Inevitable powerfully justifies its form when mapping how people relate to each other outside dominant systems—in this case, how end-of-life care can exist away from, or in opposition to, big medicine."—Elena Saavedra Buckley, Los Angeles Review of Books

"[A] searching, compassionate narrative…Evenhandedly and without undue criticism, Engelhart brings forth the counterarguments...but she offers enough convincing evidence about the efficacy and ethical standing of the right-to-die movement that many readers will be persuaded of its value to society."—Kirkus Review

"A must-read for anyone concerned about quality of life at the end of life."—Library Journal (starred)

"Through exhaustive reporting, Engelhart unflinchingly captures unsettling exit scenes that force readers to think about whether people must fulfill a 'duty to live' or whether they should be able to choose what they consider to be 'dignity in dying.'"—Booklist

"Engelhart ably sets out the case for the right to choose when to die. I find it hard to imagine how a decent and rational person could resist it." —Richard Dawkins, author of The Selfish Gene

"The Inevitable challenges us to keep looking and asking hard questions, even if we are uncomfortable... I couldn't stop reading."—Anne–Marie Slaughter, author of Unfinished Business

"Katie Engelhart's writing is honest, bold, unsparing. I've never read anything like this."—Ali Velshi, host of MSNBC's "Velshi"

"This is an extraordinarily moving book that will change forever the way we think about the longing for death."—Larissa MacFarquhar, author of Strangers Drowning: Impossible Idealism, Drastic Choices, and the Urge to Help
St. Martin's Press, 9781250201461, 352pp.
Publication Date: March 2, 2021
About the Author
KATIE ENGELHART is a reporter and documentary film producer from Toronto and based in New York City. She is also a National Fellow at New America. Engelhart has worked as a correspondent for VICE News, based in London, and NBC News, in New York. Her writing has appeared far and wide. Formerly, she was a graduate student of history and philosophy at Oxford University. The Inevitable is her first book.