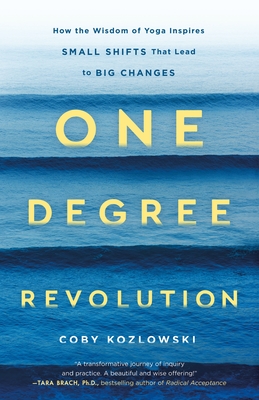 One Degree Revolution
How Small Shifts Lead to Big Changes
Hardcover

* Individual store prices may vary.
Other Editions of This Title:
Digital Audiobook (1/6/2020)
Paperback (7/13/2021)
Description
Innovative, accessible, and easily implemented, One Degree Revolution is acclaimed yoga educator and leadership coach Coby Kozlowski's holistic program for self-inquiry and personal transformation. Her philosophy is deeply connected to living yoga—not just doing yoga. In fact, readers don't need to have ever attended a yoga class to dive into this book: her thoughtful teachings are for anybody interested in learning to navigate the waves of life more skillfully and gracefully.

Imagine sailing a boat with a course set for a lifetime. If that route changes by just one navigational degree, what would happen to the journey? How far from the original trajectory would we be in one year? Five years? Ten years? Twenty years? Well, we would end up in a totally different place. In much the same way, we can change the course of our life by making a one degree shift. In other words, we don't have to change everything about ourselves or our world to make a difference.

Coby inspires readers to dig deep, to ask powerful questions and to dive into the insights, experiments, and inquiries of living yoga: how can I best be with life? How can the teachings of yoga direct us to see the most aligned choices, let go of past hurts, and discover deep and meaningful connections? And what are the most skillful ways we can learn to savor all that life presents? These yoga philosophies are infused with practical strategies for creating the life you truly want and having a positive impact on the world.

One Degree Revolution will guide readers to:
-access infinite personal possibilities
-celebrate their authentic selves and start listening to their calling
-find meaning and purpose
-learn to let go and trust the unfolding of life
-value taking a pause and making a fresh start when needed
-challenge long-held beliefs and foster transformational change
-get comfortable with being uncomfortable, and
-develop their community

One degree at a time.
Praise For One Degree Revolution: How Small Shifts Lead to Big Changes…
"One Degree Revolution is a transformative journey of inquiry and practice. One small step at a time, Coby guides us in living with our hearts wide open. A beautiful and wise offering!"—Tara Brach, Ph.D., bestselling author of Radical Acceptance

"Coby Kozlowski gives us a much needed new level of understanding yoga beyond our physical practices. One Degree Revolution shows us the route of a deep journey with simple actions that leads to a wide impact. Her sharing is wise, practical, and a beautiful companion to the soul." —Zainab Salbi, founder of Women for Women International and national bestselling author of Freedom Is an Inside Job

"One Degree Revolution is a smart blend of timeless yogic wisdom and guidance for the next generation of seekers. It provides a roadmap to greatness––greater fulfillment and freedom. Readers will appreciate the easy-to-follow prompts that are designed to facilitate a heightened awareness of how to live joyfully, purposefully, as you move through the world."—Yogarupa Rod Stryker, author of The Four Desires, founder of ParaYoga and creator of the app, Sanctuary

"Coby takes yoga to the next level without leaving anyone behind. This is accessible spirituality at its best."
—Kathryn Budig, international yoga teacher and bestselling author of Aim True

"Coby is showing us how to enter into dialogue with all the different parts of ourselves, including our wounds, and emerge stronger, celebrating life again. Our own sense of inquiry and wonder is how we tread this path. This is a path that Coby herself has had to walk, and she is showing us the techniques she used."
—Lorin Roche, PhD., author of The Radiance Sutras

"Coby Kozlowski's excellent new book is absolutely packed with sensible, effective, right-sized strategies for change. And the best thing is this: she feeds them up to us in edible morsels. Kozlowski is an astute observer of human nature, and this makes her an excellent guide through the often obscure by-ways of deep and lasting human transformation. Dip into any page of this book, and you will find a nugget of gold. I guarantee it! After my first read of the book, my most sustained impression was of the sheer abundance of its offerings."—Stephen Cope, bestselling author of The Great Work of Your Life and Soul Friends

"In One Degree Revolution, we are taken on a beautiful and lucid journey. This book provides the reader with the dynamic axiom of pairing intention with attention: the first radical step of self-inquiry and self-transformation. Filled with warmth, heart, and yogic-Zen wisdom, it is a guiding light towards full self-awakening."—Ronald A. Alexander, Ph.D., author of Wise Mind Open Mind, and Founder, Open Mind Training Institute

"It is clear Coby Kozlowski practices what she preaches. Her words convey yogic embodiment with an encouraging, nonjudgmental approach. Through inspirational wisdom and simple one-degree shifts, this informative book teaches us simple ways to uncover our best selves and live more in tune with our purpose. Highly recommended!"—Shonda Moralis, author of Breathe, Empower, Achieve
St. Martin's Essentials, 9781250201751, 304pp.
Publication Date: January 7, 2020
About the Author
COBY KOZLOWSKI is a speaker, life coach trainer and contemporary yoga and meditation educator. She has appeared on the covers of Yoga Journal and Mantra Wellness Magazine and was named as "one of the seven yoga teachers who have changed the practice."

Coby is a senior faculty member and presenter at Kripalu Center for Yoga & Health and Esalen Institute. She received her master's degree in transformative leadership.

Visit Coby's website to learn more.
or
Not Currently Available for Direct Purchase