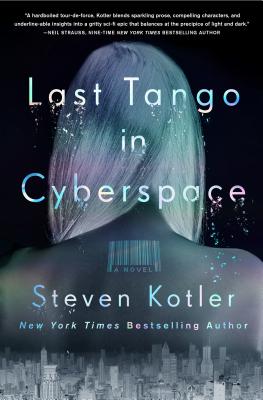 Last Tango in Cyberspace (Hardcover)
A Novel
St. Martin's Press, 9781250202079, 336pp.
Publication Date: May 14, 2019
Other Editions of This Title:
Digital Audiobook (5/13/2019)
* Individual store prices may vary.
Description
It was a new skill…
One that might change the world.
What could a person do who could track empathy?
His friends call him Lion, he is the first of his kind. Some describe it as emotional foresight, but
really, he can see cultural trends before they emerge. What he didn't expect was for Big
Pharma to come calling.
In 2025, technology has made massive leaps forward.
Not every group wants to use it for good.
Artic Pharmaceuticals has a new drug and a bad idea. They call on Lion, because he is the key to
getting the formula they need. But when he starts to sense their hidden agenda, will they take
drastic action?
Then Lion discovers a decapitated human head...
Is he being hunted?
Can he stop a global disaster?
You'll love this edge-of-your seat cyberpunk thriller, because it will keep you turning the pages
late into the night.
Get it now.
About the Author
STEVEN KOTLER is a New York Times bestselling author, award-winning journalist, and Founder and Executive Director of the Flow Research Collective. His books include Stealing Fire, The Rise of Superman, West of Jesus, andA Small Furry Prayer. His work has been translated into over 40 languages and appeared in over 100 publications, including the New York Times Magazine, Wall Street Journal, TIME, Wired, Atlantic Monthly, and Forbes.
Praise For Last Tango in Cyberspace: A Novel…
"Like a cyberpunk version of Dirk Gently's Holistic Detective Agency, combining associative thought, coincidences, randomness, philosophy, and a case of social outcasts into a very peculiar, yet very immersive, reading experience. It combines the paranoia of Philip K. Dick with the social consciousness of Octavia Butler and the cagey forecasting of Robert J. Sawyer....A marvelously unique novel." — San Francisco Book Review (four stars)
"Both thriller and sf, the latest from Kotler is sure to please....A fascinating read. Highly recommend." —Library Journal (starred review)
"This near-future technothriller is a breezy around-the-world romp for ex-journalist and "empathy-tracker" Lion Zorn.... a fun story with plenty of SF media references for fans to enjoy." —Publishers Weekly

"Kotler crafts an intriguing blend of detective story and social critique.... [He] creates a vivid picture of near-future earth... readers who dig in will find a story that is, at its core, an insightful view on how empathy can connect us to each other and to the living beings that share this planet." —Booklist
"Astounding! I love any book that teaches me about the future and Kotler's Last Tango is the best I've read in a very long time. Incredibly insightful, wildly entertaining, and nearly impossible to put down." —Peter Diamandis, New York Times bestselling author
"Dazzling! A luminous, diamond-bright thriller of the near future. Sparkling with empathy, packed with wit, and overflowing with catch-your-breath insights into the human condition. I wish I'd written this myself." —Ramez Naam, Philip K Dick Award-winning author
"With a sharp cyberpunk mind and an empaths' soul, Last Tango gives us a believable near-future and a story you won't be able to stop reading. I inhaled in one gulp. Bravo!" —R.U. Sirius, writer, editor, talk show host, musician, and co-founder of Mondo 2000
"Some books give you a peek into what the future may hold, but Last Tango holds you down, tapes your eyes open, and blasts the doors off. More fun than used to be legal in many states." —Joshua Klein, Hacker, Host of National Geographic's The Link, Author, and Consultant
"A hardboiled tour-de-force, Kotler's Last Tango blends sparkling prose, compelling characters, and underline-able insights into a gritty sci-fi epic that balances at the precipice of light and dark." —Neil Strauss, nine-time New York Times bestselling author