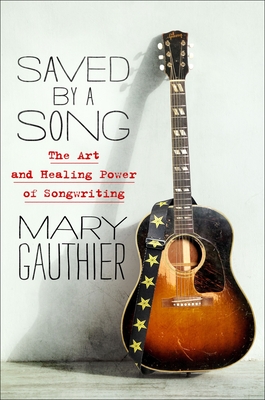 Saved by a Song
The Art and Healing Power of Songwriting
Hardcover

* Individual store prices may vary.
Description
"A handbook for compassion... a Must-Read Music Book."
—Rolling Stone Country

"Generous and big-hearted, Gauthier has stories to tell and worthwhile advice to share." —Wally Lamb, author of I Know This Much Is True

"Gauthier has an uncanny ability to combine songwriting craft with a seeker's vulnerability and a sage's wisdom." —Amy Ray, Indigo Girls

From the Grammy nominated folk singer and songwriter, an inspiring exploration of creativity and the redemptive power of song

Mary Gauthier was twelve years old when she was given her Aunt Jenny's old guitar and taught herself to play with a Mel Bay basic guitar workbook. Music offered her a window to a world where others felt the way she did. Songs became lifelines to her, and she longed to write her own, one day.

Then, for a decade, while struggling with addiction, Gauthier put her dream away and her call to songwriting faded. It wasn't until she got sober and went to an open mic with a friend did she realize that she not only still wanted to write songs, she needed to. Today, Gauthier is a decorated musical artist, with numerous awards and recognition for her songwriting, including a Grammy nomination.

In Saved by a Song, Mary Gauthier pulls the curtain back on the artistry of songwriting. Part memoir, part philosophy of art, part nuts and bolts of songwriting, her book celebrates the redemptive power of song to inspire and bring seemingly different kinds of people together.
Praise For Saved by a Song: The Art and Healing Power of Songwriting…
ONE OF BookPage's MOST ANTICIPATED BOOKS OF 2021
ONE OF The Bluegrass Situation's 16 SUMMER READS

"Gauthier has moved on from being the patient to being the healer using her craft to help others... fascinating." —Houston Press

"A songwriter who dares to confront the dark places in her soul... Goes deep" —The Advocate

"Reads like an intensely personal diary that's also full of songwriting inspiration and tips." —Boston Globe

"I sobbed like a small baby reading Mary's new book. I want to underline every page and send a copy to everyone I know...[SAVED BY A SONG] will be your true north for navigating life's difficult moments." —Cindy Howes, FolkAlly.com

"Think Anne Lamott meets Julia Cameron meets Patti Smith… Anyone who can still write from the heart about writing from the heart after being in the music business as long as Gauthier has is the real deal. Her book invites seasoned artists to deeper authenticity, new artists to deeper craft and all readers to deeper self-reflection." —BookPage

"Compelling... Gauthier has never been the kind of writer to shy away from difficult subjects...It's no surprise that her book expresses the same level of candor." —Nashville Scene

"A songwriter who dares to confront the dark places in her soul... Goes deep" —The Advocate

"Thoroughly revelatory." —Bay Area Reporter

"[An] intimate, riveting memoir...Her lyrics dig deeply into the human condition." —Library Journal

"Unveils how a master managed many of her most memorable pieces, like a magician revealing all of her tricks....A powerful memoir." —Kirkus (Starred)

"Mary's songwriting speaks to the tender aspects of our humanness. Her vignettes span the emotional landscape, and leave us feeling deeply seen and understood. We need her voice in times like these more than we ever have." —Brandi Carlile

"Bravely illustrates the artistry and redemptive power of creativity...If you're needing a glimmer of hope... pick up Saved By A Song." —Grateful Web

"Mary Gauthier has come through her own long dark night of the soul knowing, as she says in one of her songs, we could all use a little mercy. It seems to me we could all use a whole lot more of Mary too." —Emmylou Harris

"I remember exactly where I was the first time I heard a Mary Gauthier tune. That's the kind of songwriter she is." —Sarah Silverman

"A thoughtful meditation by one of the finest practitioners around on what makes a song matter and the hard lessons she's learned...This is a treasure of a book as well as a love letter to songs and songwriters and the people who listen to them." —Booklist (Starred)

"A treatise on making art." —BUST

"Beautiful, often ragged, song and verse from a high place." —Robert Plant

"Anyone familiar with the brilliant songs of lesbian singer/songwriter Mary Gauthier won't be at all surprised to learn that she also has an undeniable gift for writing prose. Her first book, Saved By a Song... is as personal and revealing as her music." —OutSmart Magazine
St. Martin's Essentials, 9781250202116, 256pp.
Publication Date: July 6, 2021
About the Author
The Associated Press named Mary Gauthier one of the best songwriters of her generation. Her album Rifles & Rosary Beads was nominated for a Grammy award for Best Folk Album and Record of the Year by the Americana Music Association. Her songs have been recorded by dozens of artists, including Boy George, Blake Shelton, Tim McGraw, Bettye Lavette, Kathy Mattea, Amy Helm and Candi Staton. Saved by a Song is her first book. She lives in Nashville.