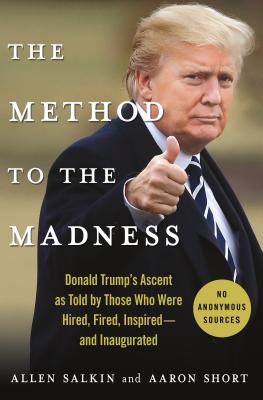 The Method to the Madness
Donald Trump's Ascent as Told by Those Who Were Hired, Fired, Inspired--and Inaugurated
Hardcover

* Individual store prices may vary.
Other Editions of This Title:
Digital Audiobook (7/8/2019)
CD-Audio (7/9/2019)
Description
A Rosetta Stone for understanding Donald Trump's style, mindset, and every action, made up of over one hundred interviews with his closest associates and adversaries over the last 15 years.

To his critics, Donald Trump is an impulsive, undisciplined crackpot who accidentally lucked into the presidency. But in The Method to the Madness, reporters Allen Salkin and Aaron Short reveal that nothing could be further from the truth. This objective, nonpartisan oral history shows that Trump had carefully planned his bid for the presidency since he launched what many considered to be a joke candidacy in 1999.

Between 2000 and 2015, when he announced his candidacy in the lobby of Trump Tower, he was able to identify an unserved political constituency, hone a persuasive message that appealed to their needs, and deliver it effectively, despite intense media opposition.

Through candid conversations with more than 100 subjects close to the President, Salkin and Short make the case that Donald Trump's ostensibly erratic approach to politics is consistent with his carefully honed personal and professional style of information gathering, opinion seed-planting, and conclusion sharing. His business, media, and political dealings from this era serve as a guide for understanding the man, his mindset, and his every action.

The Method to the Madness is an accessible and unbiased oral history that brings readers into the private rooms where decisions are made, confidences are broken, strong words fly, and not all eye-witnesses see the same scene in quite the same way. Full of scoops both large and small, this is the first book to bring Trump, the politician, into focus.
Praise For The Method to the Madness: Donald Trump's Ascent as Told by Those Who Were Hired, Fired, Inspired--and Inaugurated…
"In this entertaining oral history, reporters [Allen] Salkin and [Aaron] Short ask readers to accept an unconventional conclusion: that Donald Trump's rise to the presidency was 'diligently' planned...a rollicking, insightful look at the political crucible in which the Trump presidency was forged." —Publishers Weekly

"Two journalists team up, conduct more than 100 interviews with key figures in (and out of) Camp Trump, and conclude his decision to run for president was far from impulsive...A more positive view of Donald Trump than most Americans have." —Kirkus Review

"Veteran journalists Salkin and Short conducted candid and revelatory oral history interviews...With his 2020 re-election campaign underway, those who dismiss Trump as a one-hit wonder would do well to know the seriousness with which he pursued the previous campaign." —Carol Haggas, Booklist Review

"A stunning portrait of Trump." —Gersh Kuntzman, The Daily Beast

"The Method to the Madness offers clear insight into the strengths, weaknesses and inner drive of the most unusual man ever to occupy the White House." —Aram Bakshian, Washington Times

"The Method to the Madness is a warning to anybody and all prospective Democratic opponents to President Trump: don't underestimate this guy, he's formidable...the list of Trump insiders who cooperated with this book is truly remarkable." —Michael Medved, MedHead podcast host

"We're all telling the wrong story about Trump...The Method to the Madness ultimately does a solid job of telling a new story about our 45th president. Salkin and Short have fashioned a persuasive narrative from a chorus of voices, and in many ways their account of Trump as unorthodox gamesman makes vastly more sense than Trump as lucky idiot." —Maria Browning, LA Review of Books
All Points Books, 9781250202802, 352pp.
Publication Date: July 9, 2019
About the Author
ALLEN SALKIN has reported on media, business and culture for Vanity Fair and the New York Times, among others.

Aaron Short is a Brooklyn-based journalist whose work has appeared in the New York Post, Daily Beast, and Vice among others. He has reported on Donald Trump's political aspirations for over a decade.