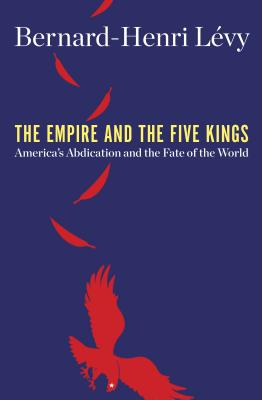 The Empire and the Five Kings
America's Abdication and the Fate of the World
Hardcover

* Individual store prices may vary.
Other Editions of This Title:
Digital Audiobook (4/22/2019)
Paperback (2/4/2020)
MP3 CD (4/23/2019)
Compact Disc (4/23/2019)
Description
One of the West's leading intellectuals offers a provocative look at America's withdrawal from world leadership and the rising powers who seek to fill the vacuum left behind.

The United States was once the hope of the world, a beacon of freedom and the defender of liberal democracy. Nations and peoples on all continents looked to America to stand up for the values that created the Western worldand to oppose autocracy and repression. Even when America did not live up to its ideals, it still recognized their importance, at home and abroad.

But as Bernard-Henri Lévy lays bare in this powerful and disturbing analysis of the world today, America is retreating from its traditional leadership role, and in its place have come five ambitious powers, former empires eager to assert their primacy and influence. Lévy shows how these five—Russia, China, Turkey, Iran, and Sunni radical Islamism—are taking steps to undermine the liberal values that have been a hallmark of Western civilization.

The Empire and the Five Kings is a cri de coeur that draws upon lessons from history and the eternal touchstones of human culture to reveal the stakes facing the West as America retreats from its leadership role, a process that did not begin with Donald Trump's presidency and is not likely to end with him. The crisis is one whose roots can be found as far back as antiquity and whose resolution will require the West to find a new way forward if its principles and values are to survive.

As seen on Real Time with Bill Maher (2/22/2019) and Fareed Zakaria GPS (2/17/2019).
Praise For The Empire and the Five Kings: America's Abdication and the Fate of the World…
"Often arresting, always heartfelt prose. This is a brave book . . . we need Mr. Lévy's voice." —Martin Peretz, The Wall Street Journal

"An erudite and impassioned call for the West to retake the lead in championing liberty."—Kirkus Reviews

"Striking. . . Lévy's analysis of the internet landscape and its impact on truth is deeply insightful." —Publishers Weekly

"The Empire and the Five Kings is that rare book that few write anymore, and few even know how to. It is the product of a truly literate mind of the sort that has virtually gone extinct in this postliterate digital age." —Robert D. Kaplan, author of The Return of Marco Polo's World: War, Strategy, and American Interests in the Twenty-first Century

"Bernard-Henri Lévy puts his deep firsthand knowledge of the world together with his extraordinary gift for horizontal thinking—leaping easily from epoch to epoch and from one philosophical idea to the next—to offer a startling and persuasive picture of this moment of decisive historical transition." —Adam Gopnik, author of Paris to the Moon and At the Strangers' Gate

"At the heart of Bernard-Henri Lévy's passionate essay is his anger at the betrayal of the Kurds. He spirals out from there to offer a strongly felt portrait of our contemporary reality in which the 'empire of nothing,' the West that has lost its way, risks being superseded by new powers, the 'five kings, pathetic yet daunting, cartoonish yet terrible.' A challenging analysis, at once scholarly and readable." —Salman Rushdie

"In this exquisite gem of a book, Bernard-Henri Levy offers a poetic plea for moral courage and clear thinking in these dark times. He is an international treasure." —Robert Kagan, author of Of Paradise and Power and The Jungle Grows Back: America and Our Imperiled World

"A characteristically trenchant and poignant polemic that is part cri-de-coeur, part battle cry . . . The Empire and the Five Kings represents an important, learned assessment of the mounting challenges facing the United States in confronting an increasingly multipolar world order." —The Federalist
Henry Holt and Co., 9781250203014, 272pp.
Publication Date: February 12, 2019
About the Author
Bernard-Henri Lévy is a philosopher, activist, filmmaker and author of over thirty books including The Genius of Judaism, American Vertigo, Barbarism with a Human Face, and Who Killed Daniel Pearl? His writing has appeared extensively in publications throughout Europe and the United States. His documentaries include Peshmerga, The Battle of Mosul, The Oath of Tobruk and Bosna! Lévy is co-founder of the antiracist group SOS Racisme and has served on diplomatic missions for the French government.
or
Not Currently Available for Direct Purchase