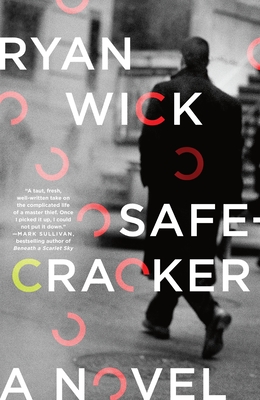 Safecracker (Hardcover)
A Novel
Thomas Dunne Books, 9781250203717, 320pp.
Publication Date: June 2, 2020
* Individual store prices may vary.
Description
In this wicked debut, safecracker Michael Maven must pull off the most dangerous theft of his long career—or his friends and family will be killed.
Safecracker Michael Maven's latest job should be simple: steal a rare coin from a New York apartment. Except the coin's owner comes home with a beautiful woman, who murders him, nearly murders Maven, and takes the coin herself, and then Maven's life gets really complicated: the woman's boss, a sadistic drug lord, forces him to take on a far more dangerous job.
If Maven fails to crack the safe of a rival cartel boss in Miami, his friends and family will die. If he succeeds, he might. Which means he not only has to somehow pull off an impossible heist, but also outwit two crime bosses as well as his reluctant new partner – the woman who started it all.
Ryan Wick hits the right combination in Safecracker, unlocking a fast-paced, action-packed, cinematic thriller.
About the Author
RYAN WICK is an author, award-winning director, screenwriter and Filipino martial arts instructor. A member of both the Mystery Writers of America and the International Thriller Writers, when he isn't hunkered down inside his apartment in New York writing, Ryan enjoys traveling the world and scuba diving beneath it. Safecracker is his first novel. Currently, he is hard at work on the next novel in the Michael Maven series and has no plans on stopping anytime soon.
Praise For Safecracker: A Novel…
"Ryan Wick's Safecracker is a high stakes thriller that kept me reading through the night until my kids tapped me on the shoulder and told me it was time for breakfast. A knockout cast of characters, a killer sense of place, and a scope that's truly cinematic in the best way. A hell of a fun read."
—William Boyle, author of A Friend Is a Gift You Give Yourself, The Lonely Witness, and Gravesend

"Ryan Wick is old school tough with a new school edge. Ruthless and fast paced, Safecracker is an instant crime classic that puts Wick solidly alongside giants of the genre. Maven is the rightful heir to Richard Stark's Parker." - John C. Foster, author of Mr. White & the Isle
"Ryan Wick is an authentic new voice in the crime fiction genre. Safecracker grabs you from the first sentence and keeps up a page-turning pace right to the end. A must read for fans of Don Winslow's early work." - Scott Caladon, author of Darke Mission, Winner of the 2015 People's Book Prize for Fiction
"...Wick's debut thriller is richly rewarding: witty, gritty dialogue, colorful characters, and enthralling, heart-pounding action, all set against a backdrop of fabulous wealth and intrigue. This is a book to devour." - Deborah Levison, author of the multi award-winning The Crate: A Story of War, a Murder, and Justice
"Wick's dark thriller is cinematic in its telling...Meet Michael Maven - an anti-hero who will keep you up past your bedtime..." - David M. Salkin, author of the "Team" series
"Fast-paced and ingenius, Safecracker is one hell of an adventure. Ryan Wick has written a gripping, high-octane page-turner that grabs you from the very start and doesn't let go." - Simon Gervais, bestselling author of Hunt Them Down

"Safecracker is a taut, fresh, well-written take on the complicated life of a master thief trying to stay one step ahead of the drug cartels. Once I picked it up, I could not put it down." —Mark Sullivan, bestselling author of Beneath a Scarlet Sky
"Safecracker is a blisteringly original slice of contemporary noir as channeled through both Donald Westlake and his alter ego Richard Stark. Ryan Wick's sterling crime thriller, also reminiscent of Lawrence Block and George Higgins at their level best, is part heist story and part cat-and-mouse game with a clock ticking loudly in the background. A wise and wonderful tale distinguished by razor-sharp dialogue and spot-on narration, Safecracker is a must for all readers who like their crime stories done fast and hard." —Jon Land, USA Today bestselling author of the Murder, She Wrote series