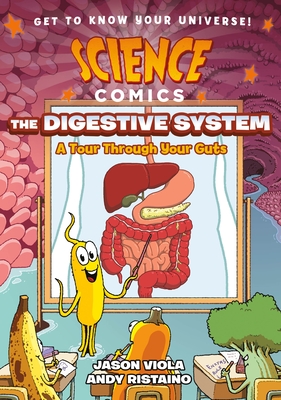 Science Comics (Paperback)
The Digestive System: A Tour Through Your Guts
First Second, 9781250204042, 128pp.
Publication Date: November 24, 2020
Other Editions of This Title:
Hardcover (11/24/2020)
* Individual store prices may vary.
Description
In Science Comics: The Digestive System, visit the inside of your mouth, stomach, liver, intestines, and other organs that make up the gastrointestinal tract! Your guide to the gut is a friendly bacterium who will take you on a journey beyond imagination. Uncover how food is transformed into nutrients! Explore strange and dangerous glands! Behold the wonders of saliva, mucus, and vomit! Writer Jason Viola and illustrator Andy Ristaino provide a trip to the toilet you will never forget!
Every volume of Science Comics offers a complete introduction to a particular topic—dinosaurs, the solar system, volcanoes, bats, robots, and more! Whether you're a fourth grader doing a natural science unit at school or a thirty-year-old with a secret passion for airplanes, these graphic novels are for you!
About the Author
Jason Viola grew up in small farm town in Massachusetts where he spent idle hours drawing comic strips about birds and cats. While his father's affinity for woodworking and storytelling encouraged his creativity, his mother managed a menagerie of pets which spurred an interest in animals that continues today. Continuing to find inspiration from biology and through the lens of pop culture, he has written about manatees, amoebas, and flowers with a modern, satiric twist. He's also written essays and reviews on independent comics, putting special emphasis on work that is often overlooked. Jason went to college in Buffalo, NY, where he met his wife Rebecca. They both help organize a Boston-area comics convention called MICE, and enjoy hiking together through the Middlesex Fells.
Jason is the co-author of Science Comics: Polar Bears.
Andy Ristaino
is an artist and writer living in Los Angeles. He has worked as a designer and story boarder on Adventure Time for Cartoon Network and in his spare time likes to draw all sorts of creatures and aliens. He's had several trade paperbacks published including
Night of the Living Vidiots
,
Escape from Dullsville
, and
The Babysitter
! andyristaino.com