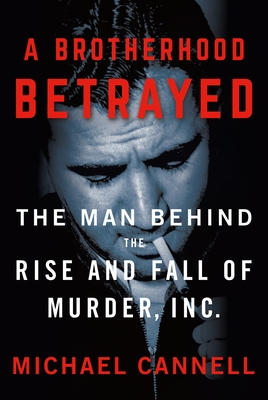 A Brotherhood Betrayed
The Man Behind the Rise and Fall of Murder, Inc.
Hardcover

* Individual store prices may vary.
Other Editions of This Title:
CD-Audio (10/6/2020)
Description
The riveting true story of the rise and fall of Murder, Inc. and the executioner-turned-informant whose mysterious death became a turning point in Mob history.

In the fall of 1941, a momentous trial was underway that threatened to end the careers and lives of New York's most brutal mob kingpins. The lead witness, Abe Reles, had been a trusted executioner for Murder, Inc., the enforcement arm of a coast-to-coast mob network known as the Commission. But the man responsible for coolly silencing hundreds of informants was about to become the most talkative snitch of all. In exchange for police protection, Reles was prepared to rat out his murderous friends, from Albert Anastasia to Bugsy Siegel—but before he could testify, his shattered body was discovered on a rooftop outside his heavily-guarded hotel room. Was it a botched escape, or punishment for betraying the loyalty of the country's most powerful mobsters?

Michael Cannell's A Brotherhood Betrayed traces the history of Murder, Inc. through Reles' rise from street punk to murder chieftain to stool pigeon, ending with his fateful death on a Coney Island rooftop. It resurrects a time when crime became organized crime: a world of money and power, depravity and corruption, street corner ambushes and elaborately choreographed hits by wise-cracking foot soldiers with names like Buggsy Goldstein and Tick Tock Tannenbaum.

For a brief moment before World War II erupted, America fixated on the delicate balance of trust and betrayal on the Brooklyn streets. This is the story of the one man who tipped the balance.
Praise For A Brotherhood Betrayed: The Man Behind the Rise and Fall of Murder, Inc.…
Praise for A Brotherhood Betrayed:

"A book that can whisk you away to another world – even the Mob underworld – has pronounced value...What Cannell has frozen in sparkling amber is a New York, and indeed a nation, from a century ago. It's a fascinating and punishing place worth visiting." --USA TODAY

"The definitive account of hit man Abe Reles…Cannell dials in the right level of detail in this grim story of violence, corruption, and the dogged efforts of law enforcement to break organized crime's hold on New York City. Readers interested in a non-sensationalized treatment of a major chapter in American crime will be riveted." –Publishers Weekly (starred)

"Cannell stuffs his eventful narrative full of murder and mayhem, featuring a cast of hard-boiled and corrupt cops, extremely nasty gangsters, sleazy politicos, and Reles, a true psychopath…Fans of Mario Puzo–style true crime will revel in Reles' deviant behavior and his comeuppance." –Kirkus Reviews

"Cannell expertly interweaves stories of Reles and other gangsters with those of the police, prosecutors, and even Mayor Fiorello La Guardia…will resonate with fans of the true crime genre, and mob and crime history." –Library Journal

"A riveting read from start to finish about notorious New York in the '30s and '40s when guns, gangsters, molls, and Murder Inc. ruled the shadowy streets and the politicians in their blood-stained pockets. Michael Cannell's impeccable research is exceeded only by compelling writing that has the staccato impact of a Thompson machine gun." —Tom Clavin, bestselling author of Wild Bill and Dodge City

"American mobster history is the gift that keeps on giving, and Michael Cannell's A Brotherhood Betrayed delivers the goods. A compelling and insightful resurrection of the Abe Reles story, when the Syndicate, for some people, was more insidious than the Internet. Read this book to rediscover a time when organized crime was a central narrative in the life of this country." —T.J. English, bestselling author of Havana Nocturne and The Westies

"In the sinister history of the Mafia, hitman-turned-snitch Abe Reles is a blood-spattered Judas. Journalist Michael Cannell chronicles an odious era of real-life godfathers and the stone-cold wiseguys who executed their wishes and their enemies—and the good guys who seemed to always be one step behind. Cannell deftly untangles the disturbing drama behind one of America's great Mafia mysteries. Mob books are never this elegant." —Ron Franscell, bestselling author of The Darkest Night

"Michael Cannell has brought this story alive with novel-like suspense and incredible research. You will love this book. Guaranteed." —D.P. Lyle, award-winning author of Deep Six

Praise for Incendiary:

"Gripping...riveting TV-paced chapters with a novel twist." —The New York Times

"Incendiary's explosive power come from Cannell's writing...With crisp yet compelling prose, Cannell takes readers back to mid-century New York...you can almost smell the asphalt and taste the Crackerjacks." —USA Today

"Exceptionally absorbing." —Adam Woog, Seattle Times

"Fascinating...[Cannell] aptly captures the state of terror created by explosions in random places such as movie theaters and train station restrooms." —Publishers Weekly

"Taut...the story holds its tension from start to finish through all those twists and turns. A fascinating study not just of a historical crime and its consequences, but also its unintended effects." --Kirkus Reviews

"An impressively researched and deeply engrossing book about a turning point in the investigation of crime in America." —Skip Hollandsworth, author of The Midnight Assassin: Panic, Scandal and the Hunt for America's First Serial Killer

"Thrilling...Cannell brilliantly assembles his facts with an artist's flair and poignancy." —William D. Cohan, bestselling author of The Price of Silence

"A mad bomber goes head-to-head with a pioneer of criminal profiling in this chilling work of narrative nonfiction. Michael Cannell has crafted a gripping and important book with a haunting resonance for our times." —Daniel Stashower, three time Edgar Award winner and New York Times bestselling author of The Hour of Peril
Minotaur Books, 9781250204387, 336pp.
Publication Date: October 6, 2020
About the Author
MICHAEL CANNELL is the author of Incendiary: The Psychiatrist, the Mad Bomber and the Invention of Criminal Profiling, The Limit: Life and Death on the 1961 Grand Prix Circuit, and I.M. Pei: Mandarin of Modernism. He was an editor at the New York Times for seven years and has written for The New Yorker, The New York Times Magazine, Sports Illustrated, and many other publications. He lives in New York City.