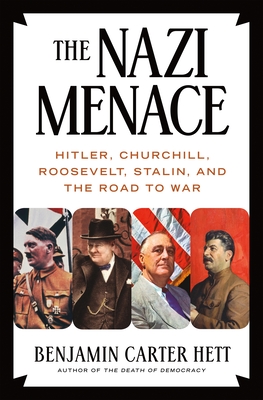 The Nazi Menace
Hitler, Churchill, Roosevelt, Stalin, and the Road to War
Hardcover

* Individual store prices may vary.
Other Editions of This Title:
Paperback (8/3/2021)
Description
A panoramic narrative of the years leading up to the Second World War—a tale of democratic crisis, racial conflict, and a belated recognition of evil, with profound resonance for our own time.

Berlin, November 1937. Adolf Hitler meets with his military commanders to impress upon them the urgent necessity for a war of aggression in eastern Europe. Some generals are unnerved by the Führer's grandiose plan, but these dissenters are silenced one by one, setting in motion events that will culminate in the most calamitous war in history.

Benjamin Carter Hett takes us behind the scenes in Berlin, London, Moscow, and Washington, revealing the unsettled politics within each country in the wake of the German dictator's growing provocations. He reveals the fitful path by which anti-Nazi forces inside and outside Germany came to understand Hitler's true menace to European civilization and learned to oppose him, painting a sweeping portrait of governments under siege, as larger-than-life figures struggled to turn events to their advantage.

As in The Death of Democracy, his acclaimed history of the fall of the Weimar Republic, Hett draws on original sources and newly released documents to show how these long-ago conflicts have unexpected resonances in our own time. To read The Nazi Menace is to see past and present in a new and unnerving light.
Praise For The Nazi Menace: Hitler, Churchill, Roosevelt, Stalin, and the Road to War…
"[World War II's] proximate origins are the subject of Benjamin Carter Hett's fast-moving, absorbing and aptly titled The Nazi Menace…Thanks to the author's knack for the capsule biography, we gain fascinating insights into less obvious figures, among them Hugh Dowding, an eccentric and canny architect of Britain's air defense network; Ernst von Weizsäcker, a senior German diplomat torn between his opposition to a general war and his support for German expansion; and Dorothy Thompson, the ferociously anti-Nazi American columnist and radio broadcaster." ­­—The New York Times Book Review

"Crisp and well-researched . . . Hett wisely introduces each chapter with vivid sketches of historical figures . . . humanizing his analysis of political and military developments . . . A solid contribution to our understanding of the driving forces behind WWII." —Publishers Weekly

"[An] authoritative story of the 1930s and '40s and the close parallels that exist with today's world… An excellent read for anyone who wants a deeper understanding of the thinking behind World War II." —Kirkus Reviews

"A remarkable, authoritative journey into the events and decisions that led to the calamity of World War II. With deft writing, keen insight, and moments of narrative thrill, Benjamin Carter Hett delivers for readers a triumph of scholarship. I, for one, will not look the same at Churchill, Hitler, Roosevelt, and Stalin—nor soon shake the shiver of fear over how resonant the past is to our present day." —Neal Bascomb, New York Times bestselling author of The Winter Fortress and Faster

"[A] lucid, vigorous and highly readable account of one of the great turning points of history... [Hett] is adept at extracting the colorful and telling details from the historical record and weaving them into a vast tapestry...an important and timely book."­—Jewish Journal

"Benjamin Carter Hett has taken a well-known subject and breathed new life into it. The Nazi Menace is narrative history at its gripping best: a thrilling, fast-paced read, full of vividly drawn characters, that is elegantly written, thoughtful, and wise. He also does a superb job of bringing out the many parallels between the past and our political present. Essential reading." —Henry Hemming, author of Agents of Influence: A British Campaign, a Canadian Spy, and the Secret Plot to Bring America into World War II

"Benjamin Carter Hett's book combines meticulous research with clarity of prose. It provides fascinating new insight into the dramatic rise of Hitler and serves as a timely reminder that democracies are fragile creatures that in the wrong hands are open to abuse." —Giles Milton, author of Churchill's Ministry of Ungentlemanly Warfare

"The Nazi Menace is thrilling—and chilling. In a work as panoramic as it is profound, Benjamin Carter Hett reveals how the Second World War emerged out of the crisis of democracy in the 1930s and shows that the forces at work are common to our age as well: vast disparities of wealth and need, xenophobia used to unite people, fake news, and the challenges of national security and technology. A stunning read about then, for now." —Anna Funder, author of Stasiland: Stories from Behind the Berlin Wall

"Thought provokingly, Hett notes that commonalities between the 1930s and today…he suggests that lessons learned by dealing with the Nazi regime could be applied today. This compelling work is highly recommended for those interested in World War II or in the history of fascism." —Library Journal
Henry Holt and Co., 9781250205230, 416pp.
Publication Date: August 4, 2020
About the Author
Benjamin Carter Hett is the author of The Death of Democracy, Burning the Reichstag, Crossing Hitler, and Death in the Tiergarten. He is a professor of history at Hunter College and the Graduate Center of the City University of New York, and holds a PhD in history from Harvard University and a law degree from the University of Toronto. He now lives in New York City.