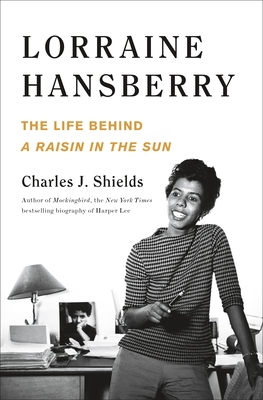 Lorraine Hansberry
The Life Behind A Raisin in the Sun
Hardcover

* Individual store prices may vary.
Other Editions of This Title:
Paperback (1/24/2023)
Description
The moving story of the life of the woman behind A Raisin in the Sun, the most widely anthologized, read, and performed play of the American stage, by the New York Times bestselling author of Mockingbird: A Portrait of Harper Lee

Written when she was just twenty-eight, Lorraine Hansberry's landmark A Raisin in the Sun is listed by the National Theatre as one of the hundred most significant works of the twentieth century. Hansberry was the first Black woman to have a play performed on Broadway, and the first Black and youngest American playwright to win a New York Critics' Circle Award.

Charles J. Shields's authoritative biography of one of the twentieth century's most admired playwrights examines the parts of Lorraine Hansberry's life that have escaped public knowledge: the influence of her upper-class background, her fight for peace and nuclear disarmament, the reason why she embraced Communism during the Cold War, and her dependence on her white husband—her best friend, critic, and promoter. Many of the identity issues about class, sexuality, and race that she struggled with are relevant and urgent today.

This dramatic telling of a passionate life—a very American life through self-reinvention—uses previously unpublished interviews with close friends in politics and theater, privately held correspondence, and deep research to reconcile old mysteries and raise new questions about a life not fully described until now.
Praise For Lorraine Hansberry: The Life Behind A Raisin in the Sun…
Featured in The New York Times's "16 New Books Coming in January"
Playbill's "7 Theatre Books to Read This Winter"
Lit Hub's "Most Anticipated Books of 2022"
Book Marks's "The Best Reviewed Books of the Week," 1/21/22
The Christian Science Monitor's "10 best books of January"
Essence's "New Year, New Reads" roundup

"[A] well-researched account of Hansberry's life and conscientious summaries of her literary and political work…Shields paints an evocative portrait of Hansberry's childhood in Chicago…[Lorraine Hansberry] fills a niche on the growing shelf of books devoted to her by offering a solid introduction to this important American artist and social critic."
—The Washington Post

"Shields's portrait is the latest attempt to expand our sense of the personal struggle behind the public figure, and to illuminate the many contradictions that [Lorraine Hansberry] sought to live and work through….Shields's biography lays out a more complex narrative."
—The New Yorker

"In his engrossing biography, Shields provides a contextualized portrait of Hansberry, the first Black woman to write a play staged on Broadway.…Shields has a knack for illuminating the lives of writers, and through his deep research, how Hansberry's play about a Black Chicago family in the 1950s is so resonant today. He captures Hansberry in her full complexity."
—The National Book Review

"[A] sparkling new biography by the acclaimed literary biographer Charles J. Shields. Shields has carefully sifted through not only Hansberry's play scripts but a wide array of her personal correspondence, allowing him to focus attention on aspects of the playwright's life analyzed less rigorously in previous scholarship…One of the most brilliant aspects of Shields's study is its nuance, a tone that is possible primarily because of the author's willingness to grapple with the inconsistencies and even contradictions he finds threaded through his subject's life."
—The Chicago Review of Books

"[A]n authoritative biography of one of the 20th century's most significant playwrights and Black History icons…[Shields] examine[s] the parts of Lorraine Hansberry's life that have escaped public knowledge…[A]nother landmark title to add to your collection."
—BET

"[C]arefully researched and highly readable…this biography sheds new light on a remarkable writer and intellectual."
—The Gay & Lesbian Review / Worldwide

"[Shields's] examination of Raisin's plot and influence is spot-on. He situates [Hansberry] among other midcentury American writers, artists, and activists, both white and Black, arguing she shouldn't be forgotten or critically disparaged."
—The Bay Area Reporter

"An admiring portrait of the great American playwright Lorraine Hansberry lays bare both her greatness and her complications…Shields raises interesting questions about others' contributions to Hansberry's work…[Lorraine Hansberry] is thoughtful and deftly rendered, a welcome corrective for the carefully curated and sanitized version that has long constituted fans' received wisdom."
—BookPage

"[A] rich ode to a trailblazer who refused to conform to society's expectations of Blackness, queer identity, and the role of a Black author."
—Literary Hub

"Bestselling author Charles J. Shields takes a sage and scholarly look at the life of playwright, activist and feminist Lorraine Hansberry…Shields has composed a remarkable work, his dedication to its central character depicted in intimate, almost daily vignettes…Shields gives readers the total picture, revealing Hansberry to be a thoughtful, often humorous and thoroughly human figure who chose to use her considerable artistic gifts to educate and touch the hearts of a wide, appreciative audience."
—Bookreporter

"Drawing on meticulously researched sources, including previously unpublished interviews and private correspondence, Shields offers an illuminating portrait of Lorraine Hansberry (1930-1965) and her tragically brief but formidable career…A revealing and rewarding biography documenting the life, work, and historical relevance of a great American author."
—Kirkus Reviews, *starred review*

"[N]oteworthy…This biography substantiates Hansberry's accomplishments, despite her short life. Recommended for all Hansberry enthusiasts and 20th-century literary scholars."
—Library Journal, *starred review*

"[W]ell-researched…Shields explores [Hansberry's] bifurcated youth in Chicago as a child who grew up as the daughter in a wealthy family yet was subjected to racism…[and] shows how an adult Hansberry became deeply attracted to communism…a fine introduction to Hansberry's world."
—Publishers Weekly

"[A] rich chronicle…All who admire or are curious about Hansberry will cherish this bracing and fascinating analysis of a life cut short."
—Booklist, *starred review*

"Lorraine Hansberry exhibits Shields's pertinacious research."
—Shelf Awareness

"[A] rich, edifying biography."
—The Christian Science Monitor

"Amid a welcome resurgence of interest in Lorraine Hansberry, Charles J. Shields's biography is distinguished by its narrative verve, its sweeping research, and its deep dive into the playwright's several families, given and chosen. The joint history of A Raisin in the Sun and its ever-young author has never been richer."
—William J. Maxwell, author of F.B. Eyes: How J. Edgar Hoover's Ghostwriters Framed African American Literature, and professor of English and African and African American Studies at Washington University in St. Louis
Henry Holt and Co., 9781250205537, 384pp.
Publication Date: January 18, 2022
About the Author
Charles J. Shields is the author of Harper Lee's New York Times bestselling biography Mockingbird, the Kurt Vonnegut biography And So It Goes, and the biography of John Edward Williams, The Man Who Wrote the Perfect Novel. Shields has spoken to hundreds of large audiences in schools, libraries, museums, and historic theaters and appeared in newspapers and magazines worldwide, including the Wall Street Journal, New Yorker, Huffington Post, and New York Times.