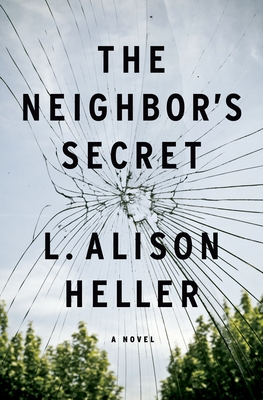 The Neighbor's Secret
A Novel
Hardcover

* Individual store prices may vary.
Other Editions of This Title:
Digital Audiobook (10/4/2021)
Paperback (8/16/2022)
Library Binding, Large Print (7/1/2022)
Description
"Addictive, suspenseful and masterfully written...will delight fans of Big Little Lies." —Michele Campbell

"[A] witty, hyperlocal mystery…With a light, Liane Moriarty-esque touch..." —New York Times

L. Alison Heller, whose work has been praised by Liane Moriarty as "warm, witty…refreshingly true to life," explores the ultimate sacrifices of parenting in The Neighbor's Secret, a propulsive and juicy novel filled with gripping twists and instantly recognizable characters.

How well do you really know your neighbors?

With its sprawling yards and excellent schools, Cottonwood Estates is the perfect place to raise children. The Cottonwood Book Club serves as the subdivision's eyes and ears, meeting once a month for discussion, gossip, and cocktails. If their selections trend toward twisty thrillers and salacious murder mysteries, it's only because the members feel secure that such evil has no place in their own cul-de-sacs.

Or does it?

What happened to Lena's family fifteen years ago was a tragic accident, and she will never admit otherwise. Devoted wife and mother Annie refuses to acknowledge—even to herself—the weight of a past shame. And new resident Jen wants friends, but as always, worry about her troubled son gets in the way.

When late-night acts of vandalism target the women of the book club in increasingly violent and personal ways, they will be forced to decide how far to go to keep their secrets. At least they all agree on what's most important: protecting their children at any cost—even if it means someone has to die.
Praise For The Neighbor's Secret: A Novel…
Book of the Month Club Selection
New York Times Editor's Choice

"Heller gives us a dishy tale of nosy neighbors, mysterious vandalism, family shame — and murder…Heller places a ticking time bomb inside each character's house, and locating them is half the fun of this book. The other half comes from Heller's sense of humor, which is wicked without being unkind."
—New York Times

"If you've been craving a Big Little Lies-esque thriller, then The Neighbor's Secret by L. Alison Heller is sure to be one of your favorite reads this year."
—PopSugar, The 55 Best New Books of October

"A complicated story of women and their secrets...that come together in an Oh-My-God ending… a first-rate Colorado mystery set around the challenges mothers face."
—The Denver Post

"Perfect for fans of Big Little Lies."
—The Sentinel Colorado

"With its imaginative plot, charismatic characters, and wealth of dramatic revelations, this addictive tale is one of those novels that demands to be gobbled up in a single sitting. Great for book clubs (whose members may or may not have their own secrets) and for domestic-thriller lovers in general."
—Booklist, starred review

"Heller excels at the complex characterization required to engage readers, resulting in a book that's truly impossible to put down. The myriad anxieties her characters feel—fear for their children, their reputation, their community—are entirely relatable...With such a wonderful buildup and a truly surprising finish, The Neighbor's Secret is a delight to read."
—BookPage, starred review

"Entertaining psychological thriller…Readers will relate to these appealing women, who toss off one-liners even as they wrestle with such issues as teen substance abuse, bullying, and workaholic spouses. This is perfect for Liane Moriarty fans—as well as potential book club catnip."
—Publishers Weekly

"Unfolding as delicately and suspensefully as the most finely crafted puzzle box, The Neighbor's Secret is chock-full of mysteries that are elegantly solved as the narrative unravels…L. Alison Heller has definitely knocked it out of the park."
—Criminal Element

"Addictive, suspenseful and masterfully written, The Neighbor's Secret kept me glued to the page. This searing portrait of the suburbs, where the perfect surface conceals deadly secrets, will delight fans of Big Little Lies." —Michele Campbell, bestselling author of The Wife Who Knew Too Much

"I love it when a thriller hits me in the funny bone, and The Neighbor's Secret did just that. Smart and darkly comedic, with nuanced characters delivering whip-smart dialogue, this story will have you grinning as you race through the pages. An absorbing tale that delivers some juicy surprises." —Kimberly Belle, bestselling author of Dear Wife and Stranger in the Lake

"The Neighbor's Secret is the rare thriller that actually leaves you feeling better about humanity. I had zero self-control when it came to inhaling chapters to uncover each delicious new secret. Buoyant and big-hearted, this will be an easy book to recommend to everyone I know—an absolute crowd pleaser!" —Chandler Baker, bestselling author of The Husbands

"Like the characters that populate it, The Neighbor's Secret is funny and engaging on the surface, but full of deliciously dark surprises underneath. Fans of Liane Moriarty just might read it all in one day — I certainly did." —Laura Hankin, author of A Special Place for Women

"An enjoyable satire on book clubs...The characters are well-defined with their flaws and foibles…An entertaining look at the question of how far some people will go to protect their children – and their secrets."
—Deadly Pleasures Magazine

"A book club becomes a lifeline for a group of women dealing with betrayal, gossip and secrets in this poignant and often amusing thriller."
—Shelf Awareness

"The Cottonwood Book Club is where the neighbors go to gossip, drink, and enjoy twisty thrillers, safe in the knowledge that nothing bad could ever happen in their own neighborhood. But when acts of vandalism start to target the members of the book club, everyone starts taking a look at their own secrets."
—The New York Post, This Week's Best New Books

"Heller is a master chef who blends her ingredients smoothly… The Neighbor's Secret has all the elements of an HBO or Hulu series—wealthy suburb, female friendships, troubled children, secret pasts, and murder. Fingers crossed that the book will get picked up soon."
—Chick Lit Central

"How well do you know your neighbors? That question has been asked time and time again in the book world, but Heller's latest offers something a bit more imaginative, with dramatic plot twists and smart characters who come to life when lies and cover-ups disrupt the lives of a suburban book club."
—Parade
Flatiron Books, 9781250205810, 336pp.
Publication Date: October 5, 2021
About the Author
L. Alison Heller is a lawyer and author of contemporary women's fiction novels THE NEVER NEVER SISTERS and THE LOVE WARS.
or
Not Currently Available for Direct Purchase