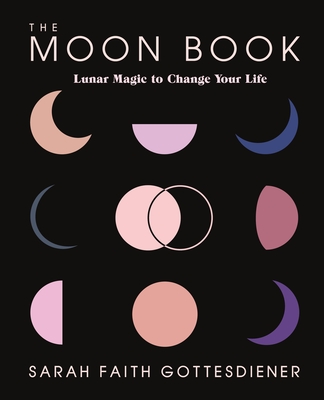 The Moon Book
Lunar Magic to Change Your Life
Hardcover

* Individual store prices may vary.
Other Editions of This Title:
Digital Audiobook (12/14/2020)
Compact Disc (11/24/2020)
MP3 CD (11/24/2020)
Description
A guide to conscious living through the moon and her phases, incorporating wellness rituals, spellwork, and witchcraft for the modern seeker.

We all know the moon. We all have a relationship with it. The earliest people obeyed her orbit, timed their months and holidays and celebrations and agriculture to the moon; the echoes of that system are still visible today, though the connection to the moon is often forgotten.

Sarah Faith Gottesdiener is the leader of a movement to remind us of that lineage, guiding our rhythms and our sleep, our energy and our emotions, reminding us of our humanity and our magic. In her self-published Many Moons Workbooks and Lunar Journals, as well as her sold-out classes, she has guided over 50,000 readers to a deeper relationship with the moon, and through it, with themselves.

This evergreen book will be an informative and comprehensive guide to lunar living, incorporating radical, self-empowering, and magical tools and resources for the beginner and experienced lunar-follower alike. Depending on where we are in our lives, depending on what we are feeling or what is happening around us, the moon allows us a space to invite ritual into our daily lives. The Moon Book will provide a framework on how to utilize the entire lunar cycle holistically, while offering ways for the reader to develop a personal relationship with their own cycles—energetic, personal, and emotional—through the lens of the moon's phases.
Praise For The Moon Book: Lunar Magic to Change Your Life…
"Filled with wisdom, depth and sweet, reassuring warmth that spills through every page, The Moon Book is the book every mystic, witch, feminist or anyone who wants a deeper understanding of self needs. Whether you've been working with lunar cycles for decades or are completely new to this sort of cyclical work, Gottesdiener offers a new perspective and incredibly comprehensive look at the ways in which working with the Moon can change your life and your magick in the best way possible."—Gabriela Herstik, author of Inner Witch and Bewitching the Elements

"Sarah is a dedicated witch, a reverent observer of the Moon, and a talented teacher of its cycles. This book is written from a place that is informed by decades of practice, study, and experience. It is packed full of practical magic."— Chani Nicholas, New York Times bestselling author of You Were Born For This

"Sarah Faith Gottesdiener is a kind, gentle soul who understands the deep connection to celestial energy and is a mindful guide through the lunar phases. She offers readers a journey into the wisdom that The Moon Book offers with in-depth knowledge and inspiration for both novices and experienced practitioners. This is an essential book for the spiritually curious and those seeking connection with the moon."--Shaman Durek, thought leader and author of Spirit Hacking

"I don't know where I would be if I hadn't been introduced to Sarah and her writings! ...Every time, I continue to learn more and more about myself and my connection to this existence. Sarah's writings are filled with the most fascinating facts from history, but also the language that speaks to your soul. I feel grounded, every time I open this book."—Mena Suvari, actor

"It's evident that Sarah Gottesdiener has spent a significant amount of time diving deeply into the mysteries and offerings of the moon, and, luckily for us, has resurfaced with a perspective that is fresh, alluring, and much needed in today's world. A perspective of Moon as teacher, reconnecting us to a world without patriarchal, industrialized control over our cycles, instincts, and true selves; inviting us to return to intuition and wildness.. A perspective of Moon as life goals, leading by example with her boundaries and honesty.. A perspective of Moon as mystic, "orbiting around a language beyond a language," casting her luminous spell over us each night in myriad ways. In her beautifully poetic yet forthright way, Gottesdiener guides us through the cycles of the moon as a creative process: from the somber dreams and seedling spells of the new moon, to the glowing transformation of the full. This book is a beacon of healing, illuminating our inner realms through ritual, introspection, and more. For someone who recognizes how challenging it is to encapsulate the wonder, sacredness, and spiralic nature of moon magick into words, Gottesdiener has certainly done a magnificent job of doing so."—Chelsea Wolfe, musician, witch

"I've been a follower and fan of Sarah's work for years. She writes beautifully about something that has been a part of every person's life every night of their life. The Moon, get to know her!"—Aidy Bryant, actor and comedian

You might think there were already enough books on magic and the moon, but you'd be wrong. The Moon Book, by Sarah Faith Gottesdiener, is a fabulous new addition that will take you on a journey that is both mystical and practical. Her lyrical writing style lifts the spirit and inspires the reader to reach for the skies. This is one you're going to want to add to your magical library."—Deborah Blake author of Modern Witchcraft: Goddess Empowerment for the Kick-Ass Woman

"THE MOON BOOK is a treasure chest of lunar wisdom that teaches us to honor our own shape-shifting, and reminds us that we, too, can radiate in the dark. Whether you're looking to tap into ancient knowledge or manifest a more just and joyful future, this is the guidebook for you. Sarah Faith Gottesdiener generates the radical magic we need now."—Pam Grossman, Author of Waking the Witch and Host of The Witch Wave podcast

"The Moon Book is the perfect guide for working with the energy of the moon while navigating life in the 21st Century. The best way to mix your magic with intersectional feminism, activism, and self-awareness."—Erica Feldman, Hauswitch Owner

"From the very first words of The Moon Book, I felt a magnetism I couldn't quite describe. Luckily Sarah's clear, simultaneously celestial and grounding guidance through our relationship to lunar wisdom kept washing over me. And now I can describe it: this book is a healing homecoming. It offers both a practical and magical insight into the astronomy, the spirituality, and even the politics of our intimate and infinite connection to the moon, and ultimately our universe, both external and internal."—Sarah Jones, actor/writer/performer

"I have a moon phase tattoo down my spine, full to new and back again, the dark moon right at the center. Every full moon I imagine my spine filing with creative potential as I find a way to stand in her light. Reading this book feels like that same kind of filling up, honoring the cyclical nature of each of us in relationship to our generous celestial friend of the night. Pragmatic and magical, and everything in between."—Adrienne Maree Brown, author of Emergent Strategy and Pleasure Activism

"The Moon Book brings us into the alignment that is already within us, our inherent worthiness, and how we can use the power of the moon to return to it when we forget. Sarah's own connection to the sky and to herself makes her the perfect guide for this inner work, the work that is vulnerable and messy and in the shadows, Sarah takes our hand to bring us into the light - both working with the changing light of the moon itself and the changing light within us. This book is a must for witches new and old who want to understand themselves better in service to people they love and the collective with the magical support of celestial waves."—Marlee Grace, author of Getting to Center

"Sarah clearly works for the moon and is here to help us remember what we already know: that moon work is radical work. This book is a beacon and invitation; Sarah, under the influence of moonlight, guides us (back) into relationship with the cycles and rhythms, the mystery and magic that support our personal and collective healing. For those of us dedicated to dismantling oppressive structures, within and without, it is essential that we dream up and live into new ways of being, while also rooting into ancient, non-appropriative practices. This luminous book, in all its self-determinist, feminist, rigorous glory, offers a map we so deeply need for these heartbreaking times. How I wish I had this book when I was a queer teenage witch!"—Dori Midnight, herbalist, teacher, witch

"The Moon Book offers an invitation to revel in the magic of slowing down, listening, reflecting and attuning ourselves to the cyclical forces that animate this planet - the lunar phases. Guided by Sarah, we are anointed in a new way of being, of walking in grace and vulnerability in a world designed to capitalize on our productivity, we learn that we can flourish when we align with the potency of the moon."—Latham Thomas, founder Mama Glow, bestselling author of Own Your Glow

"The Moon Book is a beautiful addition to the growing body of work that elucidates the essential, enriching work of re-incorporating the cyclical wisdom of the moon into our lives. It is experiential and flowing, like the tides of the sea. Gottesdiener warmly encourages everyone to discover and recover this wisdom and she clearly links our inner work with the vital task we face of shifting our culture into a life-sustaining one."--
Robin Rose Bennett, author of Healing Magic-A Green Witch Guidebook to Conscious Living and The Gift of Healing Herbs
St. Martin's Essentials, 9781250206183, 320pp.
Publication Date: December 15, 2020
About the Author
Sarah Faith Gottesdiener is an artist living in Los Angeles. Founder of the creative company Modern Women, for over ten years Sarah has provided guidance for tens of thousand of clients and students in her practice as a psychic tarot reader, a teacher of magic and feminist self-help, and through her cult class Many Moons workbooks and planners.