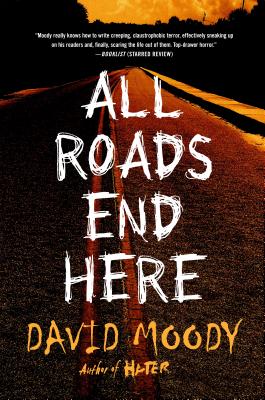 All Roads End Here (The Final War #2)
Paperback

* Individual store prices may vary.
Other Editions of This Title:
Digital Audiobook (2/11/2019)
Description
The second book in the new series from Hater author David Moody.

Set in the world of David Moody's Hater trilogy, All Roads End Here is the sequel to the "top drawer horror" (Booklist, starred review) One of Us Will Be Dead by Morning.

It's taken Matthew Dunne almost three months to get home. Never more than a few meters from the Haters at any time, every single step has been fraught with danger. But he's made it.

In his absence, his home city has become a sprawling, walled-off refugee camp. But the camp–and the entire world beyond its borders–is balanced on a knife-edge. During his time in the wilderness, Matt developed a skill which is in high demand: the ability to anticipate and predict Hater behavior. It's these skills that will thrust him into a web of subterfuge and danger. As the pressure mounts inside the camp, he finds himself under scrutiny from all sides.

He's always done his best to avoid trouble, but sometimes it can't be helped. The shit's about to hit the fan, and this time Matt's right at the epicenter.

All Roads End Here is a fast-paced, and wonderfully dark story about humanity's fight for survival in the face of the impending apocalypse.
Praise For All Roads End Here (The Final War #2)…
Praise for All Roads End Here:
"Moody's suspenseful second Final War horror novel, continuing the second series set in the bleak and anger-filled Hater world, is a gripping take on the zombie apocalypse.... Fans of zombie thrillers will not be disappointed." —Publishers Weekly

"Great characters, great story, nobody does the apocalypse like David Moody." —Craig DiLouie, author of One of Us

"Moody has once again delivered a great post-apocalyptic story, maintaining his position at the summit of British horror..." —This is Horror blog


Praise for One of Us Will Be Dead by Morning:

"A bloody fun ride... Another wetwork nightmare that should delight fans of Haters and intrigue writers who wallow in the genre." —Kirkus Reviews

"Moody really knows how to write creeping, claustrophobic terror, effectively sneaking up on his readers and, finally, scaring the life out of them. Top-drawer horror." —Booklist, starred review

"This gloomy psychological horror thriller contains a surprising twist of dystopia, a promising note for the series that it launches." —Library Journal

"Think of a mashup of George Romero and Agatha Christie, and you might have an idea of what awaits you." —The Book Report Network

"Fear stems from isolation and rumor, only to be reinforced by quick and brutal violence. This is gut-wrenchingly realistic survival horror." —Horror Underground blog

"David Moody has a knack for making me feel like a fly on the wall, right there amongst the action but not noticed by the players." —2 Book Lovers Reviews blog, five stars

"The novel rips you out of your safe and sung world and thrusts you into an environment where anyone can turn on you in the blink of an eye. It's hard-hitting, head-poundingly tense, and drenched from head to toe in blood-splattered cruelty." —DLS Reviews blog

"Moody truly excels at wicked pacing and sharp dialogue, and One of Us Will Be Dead by Morning is no exception." —Ghastly Grinning blog

"One of Us Will Be Dead by Morning is an insightful, rewarding look at physical and social isolation, trust and reaction to adversity when the flight part of "fight or flight" is taken away. It's clever, convincing fiction, claustrophobic fiction." —SFBook Reviews

"A gripping, visceral read, glistening with gore and studded with extreme brutality and with a relentlessly downbeat tone which will please lovers of hard-edged apocalyptic fiction. We await the arrival of book two in the series with considerable interest." —Starburst
St. Martin's Griffin, 9781250206275, 352pp.
Publication Date: February 12, 2019
About the Author
From the UK, DAVID MOODY first self-published Hater on the internet in 2006, and without an agent, succeeded in selling the film rights for the novel to Mark Johnson (producer, The Chronicles of Narnia film series) and Guillermo Del Toro (director, Hellboy, Pan's Labyrinth). With the publication of a new series of Hater stories, Moody is poised to further his reputation as a writer of suspense-laced SF/horror, and "farther out" genre books of all description.