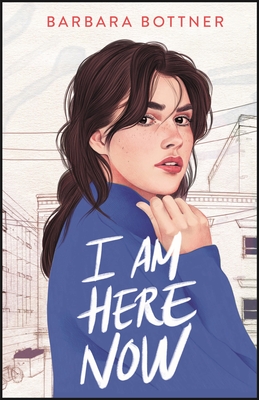 I Am Here Now
Hardcover

* Individual store prices may vary.
Description
Set in the 1960s, Barbara Bottner's I Am Here Now is a beautiful novel in verse about one artist's coming of age. It's a heartbreaking, powerful and inspiring depiction of what it's like to shatter your life—and piece it all back together.

You can't trust Life to give you decent parents, or beautiful eyes, a fine French accent or an outstanding flair for fashion. No, Life does what it wants. It's sneaky as a thief.

Maisie's first day of High school should be exciting, but all she wants is to escape.

Her world is lonely and chaotic, with an abusive mother and a father who's rarely there to help.

So when Maisie, who finds refuge in her art, meets the spirited Rachel and her mother, a painter, she catches a glimpse of a very different world—one full of life, creativity, and love—and latches on.

But as she discovers her strengths through Rachel's family, Maisie, increasingly desperate, finds herself risking new friendships, and the very future she's searching for.

An Imprint Book
Praise For I Am Here Now…
"Rife with teen-appealing domestic and relationship drama...Heartbreakingly rendered." –Horn Book, starred review

"Bottner (What a Cold Needs) draws on all five senses to evoke Maisie's chaotic world, using expressive verse...The book's subject matter and themes remain timeless." –Publishers Weekly

"Packing numerous themes of evolving teen self-identity amid the cityscape of a broken home, this turbulent, plot-driven tale shows how a miserable home life transcends ethnic, historical, and socio-economic bounds.Timeless lessons in how to find one's self-worth in the face of parental abuse" –Kirkus

"Maisie is a strong narrator who rings true, especially facing the totality of her challenges. Perfect for readers who are struggling to figure out their place in the world." –Booklist

"Not since The Catcher in the Rye has there been such a riveting depiction of adolescent angst. But unlike Holden Caulfield, Maisie Meyers embraces her disappointment in the adult world, turning her loss of innocence into a launching pad for the examined life. I Am Here Now is important and utterly riveting." -- Patricia Volk, author of Shocked and Stuffed

"This moving novel in spare, yet eloquent verse, transports today's teen reader to the 1960s Bronx. Readers will root for Maisie as she makes her compelling journey to maturity!" -- Alex Flinn, New York Times bestselling author of Beastly and Love, Jacaranda

"A deeply felt, beautifully written novel in verse about a fractured family and a gifted young woman's coming of age. Altogether captivating and compelling." —Michael Cart, Author, "Carte Blanche" Column in Booklist
Imprint, 9781250207692, 352pp.
Publication Date: August 4, 2020
About the Author
Barbara Bottner, a New York Times bestselling author, has written (and sometimes illustrated) more than forty titles for children, from wordless picture books to young adult novels. Her work has been translated, animated, and adopted into short musicals. Bootsie Barker Bites, Wallace's Lists (with Gerald Kruglik), Miss Brooks Loves Books, Priscilla Gorilla, and Amy is Famous are some of her favorites.

Barbara formerly worked in children's television and CBS prime time comedy, and has published short stories and essays in national newspapers and magazines. She walks her dog Petey and hangs with her husband, Gerald, in Los Angeles.
or
Not Currently Available for Direct Purchase