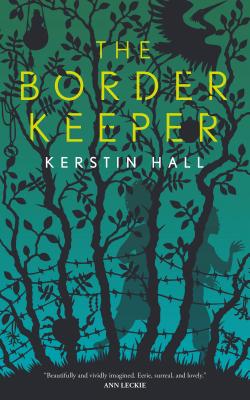 The Border Keeper (Paperback)
Tor.com, 9781250209412, 240pp.
Publication Date: July 16, 2019
* Individual store prices may vary.
Description
A 2019 Nommo Award Finalist
A Book Bub Best SFF Books of the Summer Pick

"A phantasmagorical picaresque through a lushly realised underworld, populated by a grotesque bestiary of fantastical creatures. . . . This twisty example of the new weird genre examines love, loss and loyalty, packing skilful world-building and a powerful emotional punch into a little over 200 pages."—The Guardian

She lived where the railway tracks met the saltpan, on the Ahri side of the shadowline. In the old days, when people still talked about her, she was known as the end-of-the-line woman.

Vasethe, a man with a troubled past, comes to seek a favor from a woman who is not what she seems, and must enter the nine hundred and ninety-nine realms of Mkalis, the world of spirits, where gods and demons wage endless war.

The Border Keeper spins wonders both epic—the Byzantine bureaucracy of hundreds of demon realms, impossible oceans, hidden fortresses—and devastatingly personal—a spear flung straight, the profound terror and power of motherhood. What Vasethe discovers in Mkalis threatens to bring his own secrets into light and throw both worlds into chaos.

Praise for The Border Keeper

"Beautifully and vividly imagined. Eerie, lovely, and surreal."—Ann Leckie

"A labyrinth of demons, dead gods, cranky psychopomps, and broken all-too-human lives. Hall is by turns wry and lush, genuine and venomous. So can I have the next one already?"—Max Gladstone
About the Author
KERSTIN HALL is a writer and editor based in Cape Town, South Africa. She completed her undergraduate studies in journalism at Rhodes University and, as a Mandela Rhodes Scholar, continued with a Masters degree at the University of Cape Town. Her short fiction has appeared in Strange Horizons, and she is a first reader for Beneath Ceaseless Skies. She also enjoys photography and is inspired by the landscapes of South Africa and Namibia.
Praise For The Border Keeper…
"There are no everyday elements to Kerstin Hall's debut novella. . . . A phantasmagorical picaresque through a lushly realised underworld, populated by a grotesque bestiary of fantastical creatures, with danger dogging our protagonists' every step. This twisty example of the new weird genre examines love, loss and loyalty, packing skilful world-building and a powerful emotional punch into a little over 200 pages."—The Guardian

"Beautifully and vividly imagined. Eerie, lovely, and surreal."—Ann Leckie

"A labyrinth of demons, dead gods, cranky psychopomps, and broken all-too-human lives. Hall is by turns wry and lush, genuine and venomous. So can I have the next one already?"—Max Gladstone

"A fantasy forged in the belly of dreams, blurring the lines between gods, demons, and humans as they grapple for control of a slippery narrative that keeps them moving through different realms, bodies and states of waking and death. A singular debut with no easy answers and beauty to spare."—Indrapramit Das

"Quite but intricate, shored up by rich prose. . . . The tangle of love, loss, grief, and regret that is gradually exposed as the book's emotional core feels tender and profound. Readers more interested in the journey than the destination will savor this venture into the underworld."—Publishers Weekly

"The underworld created here is rich and strange, populated with children transformed into translucent crabs, armored, cloven-hooved bird-faced creatures carrying masked riders, and glittering parties where the wrong word can kill."—Kirkus Reviews

"Lush prose weaves around a dark heart in this twisty debut from Kerstin Hall. A fantastical wonder on every page, but one coated in blood, death and suffering."—JY Yang

"Hall combines a sharp observational descriptive talent with brilliantly realised characters. The Border Keeper draws you deeply into every world it explores and keeps you on edge the whole way through. The story is dreamlike in the way of the most powerful dreams—vividly bright and crystal clear."—Emily Tesh

"The Dark Tower meets Ursula Vernon's 'The Tomato Thief' in a journey through abyssal realms as vivid and strange as Pan's Labyrinth, The Border Keeper is a captivating and moving read from a bright new voice."—Scott H. Andrews, Editor-in Chief of Beneath Ceaseless Skies

"The mysterious, dark, and often violent worlds envelop readers in a cacophony of mystery and fantasy."—Library Journal

"With parallels to a range of mythologies, Hall's elegant descriptive language evokes a vivid world of lost souls and revenge in this fast-paced fantasy debut."—Booklist

"The Border Keeper is Hall's debut into novella-length works, following on from her successful short story releases. Her poetic and crisp prose take the reader on a brisk-paced journey through a chilling landscape."—Aurealis