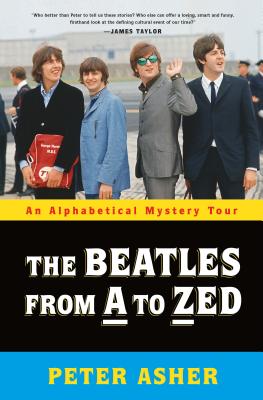 The Beatles from A to Zed
An Alphabetical Mystery Tour
Hardcover

* Individual store prices may vary.
Other Editions of This Title:
Digital Audiobook (10/28/2019)
Paperback (10/27/2020)
Description
A legendary record producer and performer takes readers on an alphabetical journey of insights into the music of the Beatles and individual reminiscences of John, Paul, George, and Ringo.

Peter Asher met the Beatles in the spring of 1963, the start of a lifelong association with the band and its members. He had a front-row seat as they elevated pop music into an art form, and he was present at the creation of some of the most iconic music of our times.

Asher is also a talented musician in his own right, with a great ear for what was new and fresh. Once, when Paul McCartney wrote a song that John Lennon didn't think was right for the Beatles, Asher asked if he could record it. "A World Without Love" became a global No. 1 hit for his duo, Peter & Gordon. A few years later Asher was asked by Paul McCartney to help start Apple Records; the first artist Asher discovered and signed up was a young American singer-songwriter named James Taylor. Before long he would be not only managing and producing Taylor but also (having left Apple and moved to Los Angeles) working with Linda Ronstadt, Neil Diamond, Robin Williams, Joni Mitchell, and Cher, among others.

The Beatles from A to Zed grows out of his popular radio program "From Me to You" on SiriusXM's The Beatles Channel, where he shares memories and insights about the Fab Four and their music. Here he weaves his reflections into a whimsical alphabetical journey that focuses not only on songs whose titles start with each letter, but also on recurrent themes in the Beatles' music, the instruments they played, the innovations they pioneered, the artists who influenced them, the key people in their lives, and the cultural events of the time.

Few can match Peter Asher for his fresh and personal perspective on the Beatles. And no one is a more congenial and entertaining guide to their music.
Praise For The Beatles from A to Zed: An Alphabetical Mystery Tour…
"Who better than Peter to tell us these stories? Who else can offer a loving, smart and funny, firsthand look at the defining cultural event of our time? He was there. With his eyes and ears open, an indelible feature of the landscape—musically, professionally, and personally. Enjoy the book." —James Taylor

"Peter Asher's fascinating insights, passion, charm, command of the English language, and musical expertise make his Beatles shows on SiriusXM the best. It is a pleasure to read this book and feel the same way." —Jerry Seinfeld

"At last, I finally understand the alphabet! I also love this book: secret Beatles knowledge from one of the closest insiders." —Steve Martin

"Fascinating and intriguing. I thought I knew all about the Beatles, but The Beatles from A to Zed is full of surprises. It reminded me of great tunes I had almost forgotten, and it led me to some wonderful tracks I'd never heard before. I read and listened simultaneously and had a great time." —Ken Follett

"I love Peter's music comments and the way he winds the stories into the songs. His voice is so authentically present that it's like having a conversation with him. I want to listen to all these songs again with this book on my lap." —Linda Ronstadt

"Asher . . . romps through the Beatles' song catalogue with glee and an insider's knowledge about the music and its times. . . . [His] inviting prose and knack for storytelling provide an entertaining tour of the Beatles' music." —Publishers Weekly

"Asher . . . includes plenty of stories that only he knows and that, in turn, personalizes his alphabetical romp. A fun, lighthearted book from one Beatles fan to many others." —Booklist

"[Asher] excels at excavating details and connections that sparkle and entertain." —The Washington Post

"Breezy and fun . . . combining insider tidbits with fresh and insightful looks at the Fab Four." —Milwaukee Journal Sentinel
Henry Holt and Co., 9781250209597, 272pp.
Publication Date: October 29, 2019
About the Author
Peter Asher is a singer, musician, record producer, broadcaster, and writer, and he is the winner of multiple Grammy Awards, including twice being named Producer of the Year. Born in London in 1944, he got his start as half of the duo Peter & Gordon and was the first head of A&R for Apple Records. As a producer he has worked with James Taylor, Linda Ronstadt, Neil Diamond, Robin Williams, Cher, and many other artists. He continues to perform regularly in addition to his ongoing music production for records and movies. He lives in Malibu, California with his wife, Wendy.
or
Not Currently Available for Direct Purchase