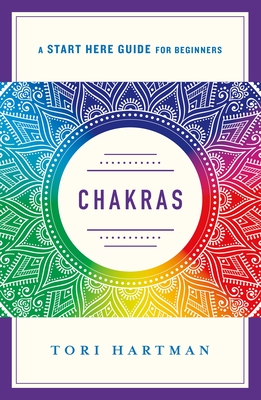 Chakras
Using the Chakras for Emotional, Physical, and Spiritual Well-Being (A Start Here Guide) (A Start Here Guide for Beginners)
Paperback

* Individual store prices may vary.
Description
Explore the power of the seven chakras in your own life

Chakras: An Introduction to Using the Chakras for Emotional, Physical, and Spiritual Wellbeing is a simple, modern guide to chakras, offering insight into how they function and how to access their healing energies in your own life. These seemingly mystical energy meridians are key centers of energy in our bodies; tapping into their power can promote health and happiness, physically, mentally, and spiritually.

Designed for complete beginners, this latest title in The Start Here Guide series is meant to be the first book you read on the subject. Chakras offers a simplified history of the chakras, their key areas of influence, and most importantly, how to work with the powerful energy flow in your own life.

Author Tori Hartman is a professional intuitive who has worked with chakra wisdom for years and is deeply familiar with the transformative power of chakra energies. Throughout the book, she will lead you through modern chakra practices and provide practical exercises that allow you to experience the chakras yourself. A thorough resources section provides beginners with all the information they need to learn more and to dive deeper into their study of the chakras. Chakras is a truly exceptional guide for any beginner.

Other books in the Start Here Guide Series:
Energy Healing: Simple and Effective Practices to Become Your Own Healer
Forest Bathing: Discovering Health and Happiness Through the Japanese Practice of Shinrin Yoku
Meditation: The Simple and Practical Way to Begin Meditating
Praise For Chakras: Using the Chakras for Emotional, Physical, and Spiritual Well-Being (A Start Here Guide) (A Start Here Guide for Beginners)…
"We are living in a time when many ancient, esoteric concepts of the East are being integrated into modern, Western life. It can be confusing! That is, until now. Along comes Tori Hartman with this precious gem of a book, to educate and demystify Chakras so you can work with your own. The wellbeing benefits of balancing and healing your chakras are enormous and now, with this information, easy to do! You'll learn what gems, meditations, journaling exercise and even spices can help you access the transformative power of the chakras. And ultimately, you'll learn more about yourself and that is a gift that will last a lifetime."

—Kris Ferraro, Energy Coach, Speaker, and Author of Energy Healing: Simple and Effective Practices to Become Your Own Healer

"Tori's fun and effortless read gives us a beautiful and comprehensive journey through the chakras.
Honoring eastern and western traditions, and drawing on her 20 plus years of experience with working with chakras, Tori provides a modern framework that gives the reader a deeply personal relationship with the chakra system, for wellness and transformation. An enjoyable and essential book to identify and work on imbalances, that would suit both practitioners and anyone interested in developing their knowledge of chakras for self development and inner work."

—Aisha Amfario, author of Crystals: A Guide to Using the Crystal Compass for Energy, Healing, and Reclaiming Your Power
St. Martin's Essentials, 9781250210029, 160pp.
Publication Date: November 5, 2019
About the Author
Tori Hartman is a professional intuitive. Following a near-death experience almost 20 years ago, Tori was visited by a spirit who told her a collection of brightly colored stories. These stories prompted her life-long fascination with color, the chakras and their power to transform and heal lives. Tori is based in Asheville, North Carolina.