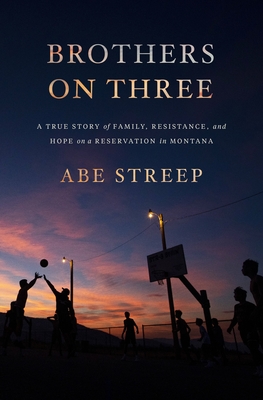 Brothers on Three
A True Story of Family, Resistance, and Hope on a Reservation in Montana
Hardcover

* Individual store prices may vary.
Other Editions of This Title:
Digital Audiobook (9/6/2021)
Paperback (3/7/2023)
Description
**Winner of the 2021 Montana Book Award**
**Winner of the 2021 New Mexico-Arizona General Nonfiction Book Award**
**Finalist for the Spur Award for Best Contemporary Nonfiction**
**A New York Times Editors' Choice Pick**

"A heart-stomping, heart-stopping read. Unsentimental. Unforgettable. Astonishing. Brothers on Three captures the roar of a community spirit powered by blood history, loyalty, and ferocious love."
—Debra Magpie Earling, author of Perma Red

From journalist Abe Streep, a story of coming-of-age on a reservation in the American West and a team uniting a community

March 11, 2017, was a night to remember: in front of the hopeful eyes of thousands of friends, family members, and fans, the Arlee Warriors would finally bring the high school basketball state championship title home to the Flathead Indian Reservation. The game would become the stuff of legend, with the boys revered as local heroes. The team's place in Montana history was now cemented, but for starters Will Mesteth, Jr. and Phillip Malatare, life would keep moving on—senior year was just beginning.

In Brothers on Three, we follow Phil and Will, along with their teammates, coaches, and families, as they balance the pressures of adolescence, shoulder the dreams of their community, and chart their own individual courses for the future.

Brothers on Three is not simply a story about high school basketball, state championships, and a winning team. It is a book about community, and it is about boys on the cusp of adulthood finding their way through the intersecting worlds they inhabit and forging their own paths to personhood.
Praise For Brothers on Three: A True Story of Family, Resistance, and Hope on a Reservation in Montana…
"[A]n immersive portrait of a small tribal town where shared history runs deep, opportunity feels elusive, and basketball is a visceral expression of collective pride, hope and grit...By the end of the book, you'll want to shout it from the rafters: Ar-LEE War-RIORS, Ar-LEE War-RIORS."
—The New York Times

"A heart-stomping, heart-stopping read. Unsentimental. Unforgettable. Astonishing. Brothers on Three captures the roar of a community spirit powered by blood history, loyalty, and ferocious love."
—Debra Magpie Earling, author of Perma Red

"Occasionally a sports team can reflect a community in all its complexity and beauty. The Arlee Warriors played with enormous grace under pressure, and this superb book—by being honest, real, and reflective—mirrors and honors that strength. You will not soon forget it."
—Bill McKibben, New York Times bestselling author of Falter and The End of Nature

Brothers on Three "is by turns a rousing tale of a singular basketball team pursuing a second and even more unlikely title, a chronicle of the persistent racism and college recruitment discrimination faced by the players and their families, and a snapshot of small-town life on the reservation... [Streep's] prose about the rugged landscape paints a portrait that will live in your mind long after you finish his book."
—5280 magazine

"Meticulously-reported and exquisitely-written, Abe Streep's Brothers On Three is a masterwork of immersive journalism. Streep's integrity as a journalist and as a human shines through on every page."
—Eliza Griswold, Pulitzer Prize winning author of Amity and Prosperity and The Tenth Parallel

"Brothers on Three is a terrific piece of reporting by a writer who went deep into the Flathead Reservation in Montana. The sports story is a page-turner and beautifully told, but what makes this book exceptional is its embrace of the texture, emotion, and drift of Indian life."
—S.C. Gwynne, New York Times bestselling author of Empire of the Summer Moon and Rebel Yell

"The very definition of a page-turner. In his book, Streep becomes equal parts reporter and poet, painting the illustrious beauty of Montanan landscapes overlooked by mainstream America and the complex people intimately connected to these landscapes' past, present, and future... Brothers on Three is a must read."
—Alexander Williams, Transmotion

"Beautiful. Extraordinary. Step up into this book, which like all great books leads us to the center of something of great importance. Who deserves a place in Montana, or for that matter, a place in America? To be not just the writer who wrote this book, but the person who could write this book, and ask these questions, took a sublime amount of humility and grace. Long live Arlee, its elders and its children. They bring honor to our world."
—Bob Shacochis, recipient of the National Book Award, author of Kingdoms in the Air and The Woman Who Lost Her Soul

"A rich, expansive portrait of modern Indigenous life."
—The Washington Post

"An action-packed yet reflective account of the quest for a high school basketball championship on and off a Montana Indian reservation... A thoughtful call for social justice as much as a story of striving for athletic excellence."
—Kirkus Reviews

"While the teens' hoop dreams are what push the narrative forward, the questions that arise in the natural course of their greater pursuits are what lingered with me, among them what it means to be a success in our society to those who are marginalized by it. Streep's incredible reporting, which spanned years, and the relationships he took care to cultivate and respect are evident."
—Tasha Zemke, Outside

"Streep is in top form with the on-court action and insights into the discrimination faced by Native athletes... This is a rousing portrait of a long-shot team beating the odds."
—Publishers Weekly

"A riveting portrayal of the Flathead Indian Reservation in Arlee, MT... In addition to being great sports journalism that will touch anyone who loves high school sports, Streep's book will appeal to readers interested in histories of generational trauma."
—Library Journal, starred review
Celadon Books, 9781250210685, 368pp.
Publication Date: September 7, 2021
About the Author
Abe Streep has written for The New York Times Magazine, The New Yorker, Outside, The California Sunday Magazine, WIRED, Columbia Journalism Review, and Harper's. His writing has been anthologized in Best American Sports Writing and noted by Best American Essays and Best American Science and Nature Writing. He is a recipient of the 2019 American Mosaic Journalism Prize for deep reporting on underrepresented communities.