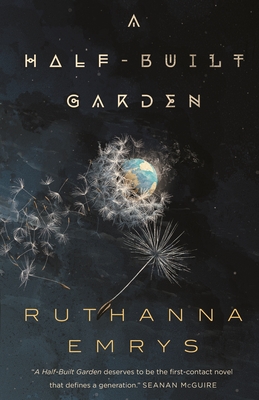 A Half-Built Garden
Hardcover

* Individual store prices may vary.
Other Editions of This Title:
Digital Audiobook (7/25/2022)
Paperback (6/27/2023)
Description
A literary descendent of Ursula K. Le Guin, Ruthanna Emrys crafts a novel of extra-terrestrial diplomacy and urgent climate repair bursting with quiet, tenuous hope and an underlying warmth. A Half-Built Garden depicts a world worth building towards, a humanity worth saving from itself, and an alien community worth entering with open arms. It's not the easiest future to build, but it's one that just might be in reach.

On a warm March night in 2083, Judy Wallach-Stevens wakes to a warning of unknown pollutants in the Chesapeake Bay. She heads out to check what she expects to be a false alarm—and stumbles upon the first alien visitors to Earth. These aliens have crossed the galaxy to save humanity, convinced that the people of Earth must leave their ecologically-ravaged planet behind and join them among the stars. And if humanity doesn't agree, they may need to be saved by force.

But the watershed networks that rose up to save the planet from corporate devastation aren't ready to give up on Earth. Decades ago, they reorganized humanity around the hope of keeping the world livable. By sharing the burden of decision-making, they've started to heal our wounded planet.

Now corporations, nation-states, and networks all vie to represent humanity to these powerful new beings, and if anyone accepts the aliens' offer, Earth may be lost. With everyone's eyes turned skyward, the future hinges on Judy's effort to create understanding, both within and beyond her own species.
Praise For A Half-Built Garden…
A Locus Recommended Reading Pick!

A Goodreads Most Anticipated Summer Read!

"This complex, complicated, gorgeous musing on the future of humanity and the power of connection, the things we owe to each other and the essential strength of consensus, deserves to be the first contact novel that defines a generation." —Seanan McGuire

"Emrys creates such an optimistic view of what the future could be and does so using some of the best ideas of where humanity is headed. She doesn't shy away from the devastation to come, but she does offer rays of hope for both humanity and nature." —Booklist

"A fascinatingly rich and original vision of our future world, explored at a moment of crisis; a vitally important exploration of the meaning of family and community; and a refraction of today's conundrums through a fresh interpretation of first contact." —Malka Older

"Emrys' fast-paced and fun story paints a picture of a future that's imaginable within our lifetimes. Hers is a unique and ultimately hopeful vision of the world we might bequeath to our grandchildren." —Karl Schroeder

"Emrys presents a fascinating future full of possibilities in conversation with the more popularly imagined stark dystopian future of environmental collapse and corporate control." —Buzzfeed News

"A spectacular first-contact novel about complicated utopias and networked conflict - it's a wild ride, and a perfect example of one of the smartest structural analyses of sf I ever heard." —Corey Doctorow

"Rigorously imagined, gentle and terrifying by turns, this book is a visit to a hopeful near future filled with bright possibilities and intriguing characters who hope to draw Earth beyond the brink of Anthropocene ruin."
—L. X. Beckett

"An incisive, meaty, dive into an imperfect future shaped by the hard truth that escaping a bad system is the easy part, building better is where the work begins. Emrys masterfully demonstrates how a medium-good future can send more chilling warnings than dystopia about how hard making a good world truly is." —Ada Palmer

"Thought-provoking." —Publishers Weekly
Tordotcom, 9781250210982, 352pp.
Publication Date: July 26, 2022
About the Author
RUTHANNA EMRYS lives in a mysterious manor house on the outskirts of Washington, DC with her wife and their large, strange family. Her stories have appeared in a number of venues, including Strange Horizons, Analog, and Tor.com. She is the author of the Innsmouth Legacy series, which began with Winter Tide. She makes home-made vanilla, obsesses about game design, gives unsolicited advice, and occasionally attempts to save the world.
or
Not Currently Available for Direct Purchase