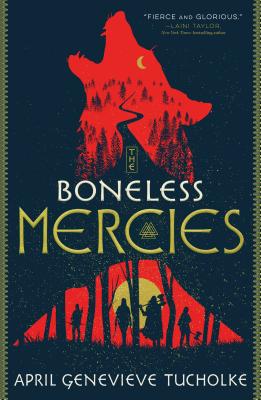 The Boneless Mercies
Paperback

* Individual store prices may vary.
Other Editions of This Title:
Digital Audiobook (10/1/2018)
Hardcover (10/2/2018)
Paperback, Spanish (8/1/2019)
Description
*A Publishers Weekly Best Book of the Year*, April Genevieve Tucholke's The Boneless Mercies is a dark and gorgeously drawn standalone YA fantasy about a band of mercenary girls in search of female glory.

Frey, Ovie, Juniper, and Runa are the Boneless Mercies—girls hired to kill quickly, quietly, and mercifully. But Frey is weary of the death trade and, having been raised on the heroic sagas of her people, dreams of a bigger life.

When she hears of an unstoppable monster ravaging a nearby town, Frey decides this is the Mercies' one chance out. The fame and fortune of bringing down such a beast would ensure a new future for all the Mercies. In fact, her actions may change the story arc of women everywhere.

Full of fierce girls, bloodlust, tenuous alliances, and unapologetic quests for glory, this elegantly spun tale challenges the power of storytelling—and who gets to be the storyteller. Perfect for fans of Maggie Stiefvater, V.E. Schwab, and Heidi Heilig.
Praise For The Boneless Mercies…
*A Publishers Weekly Best Book of the Year*

"The Boneless Mercies feels like a cathartic war cry advocating for the power of girls and women. [...] A dynamic critique of the hero's journey: Who is granted honor and glory, and at what cost does it come?" —The New York Times Book Review

"Tucholke injects close intimacy into her lush saga, interweaving love and murder, mercy and glory into her portrayal of life and death. It is a beautiful, haunting modern-day epic that stars a bold and resourceful sisterhood of heroines unafraid to claim agency." —Publishers Weekly, starred review

"Frey embodies the pursuit of glory through quest to become a hero remembered in story and myth. Fans of The Hobbit and Lord of the Rings will find similar themes and elements. This is a must-have for avid fantasy readers who enjoy action-packed plots. VERDICT An excellent choice for any YA fantasy collections." —School Library Journal, starred review

"Narrator and protagonist Frey is quite unusual among female heroes: hungry for glory — bloodthirsty, even . . . These fierce, honorable adolescent female warriors hold their own and break all the rules. Marked by flawless worldbuilding. Wow." —Kirkus Reviews, starred review

"It's easy to call this a gender-swapped retelling of the epic Beowulf, but that fails to convey its true charm . . . There is room in this world for more than one epic, and we can hope that Tucholke will return to it to tell us more about this ongoing feud." —NPR.org

"[T]his story heroically contemplates female strength and agency, compassion
versus vengeance, and the value of glory." —Booklist

"Frey's earnest narrative voice creates a strong sense of the center of this fantasy: female solidarity. Bodily closeness, a shared quest for justice, and sheer joy in physical capacity are only part of it: collaboration and attentive respect are the true underpinning of Tucholke's creation. This is the quiet force behind a plot of conquest and adventure, and of the diverse religions, cultures, terrains, and tales that make up Tucholke's invented world. A dark and vivid story, with what-happens-next? momentum." —The Horn Book

"April Genevieve Tucholke's genderbent Beowulf is as dark and quietly mysterious as the fantastical winter in which it takes place. Her alternate Scandinavia is a land of powerful magics and eerie landscapes, bloodlust and genuine, deep friendships, that is full of foreboding, menace and eventual (though not unfettered) glory." —Shelf Awareness

"Fierce and glorious, this story of outcast girls defying fate utterly bewitched me. Tucholke is a gorgeous writer." —Laini Taylor, New York Times-bestselling author of Strange the Dreamer

"The Boneless Mercies maintains the mystical, haunting flavor of an ancient ballad across the length of a novel. Its every page hints at a deeper magic at work; it contains a whole world and all its myths and histories within its skin." —Melissa Albert, New York Times-bestselling author of The Hazel Wood

"Ruthless and lyrical, heart-warming and blood-chilling, and beautifully redolent of ancient tales and history. It will sing to a new generation of heroes." —Samantha Shannon, New York Times-bestselling author of The Bone Season
Square Fish, 9781250211507, 368pp.
Publication Date: April 28, 2020
About the Author
April Genevieve Tucholke is the author of Between the Devil and the Deep Blue Sea, Between the Spark and the Burn, Wink Poppy Midnight, and The Boneless Mercies. Her books have been published in fourteen countries, and have received eight starred reviews. They have been selected for the Junior Library Guild, Kids' Indie Next picks, and YALSA Teens Top Ten. When she's not writing, April likes walking in the woods, exploring abandoned houses, and drinking expensive coffee. She currently resides in the Pacific Northwest with her husband.