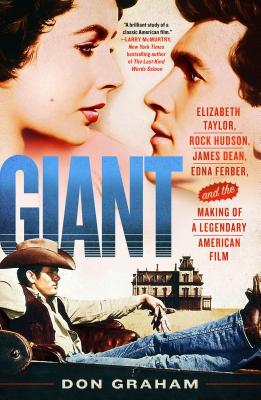 Giant
Elizabeth Taylor, Rock Hudson, James Dean, Edna Ferber, and the Making of a Legendary American Film
Paperback

* Individual store prices may vary.
Other Editions of This Title:
Hardcover (4/10/2018)
Description
Don Graham's Giant is a larger-than-life narrative of the making of the classic film, marking the rise of America as a superpower, the ascent of Hollywood celebrity, and the flowering of Texas culture as mythology.

Featuring James Dean, Rock Hudson, and Elizabeth Taylor, Giant is an epic film of fame and materialism, based around the discovery of oil at Spindletop and the establishment of the King Ranch of south Texas. Isolating his star cast in the wilds of West Texas, director George Stevens brought together a volatile mix of egos, insecurities, sexual proclivities, and talent. Stevens knew he was overwhelmed with Hudson's promiscuity, Taylor's high diva-dom, and Dean's egotistical eccentricity. Yet he coaxed performances out of them that made cinematic history, winning Stevens the Academy Award for Best Director and garnering nine other nominations, including a nomination for Best Actor for James Dean, who died before the film was finished.

In this compelling and impeccably researched narrative history of the making of the film, Don Graham chronicles the stories of Stevens, whose trauma in World War II intensified his ambition to make films that would tell the story of America; Edna Ferber, a considerable literary celebrity, who meets her match in the imposing Robert Kleberg, proprietor of the vast King Ranch; and Glenn McCarthy, an American oil tycoon; and Errol Flynn lookalike with a taste for Hollywood. Drawing on archival sources Graham's Giant is a comprehensive depiction of the film's production showing readers how reality became fiction and fiction became cinema.
Praise For Giant: Elizabeth Taylor, Rock Hudson, James Dean, Edna Ferber, and the Making of a Legendary American Film…
"A noted authority on all things Texas, Graham turns his attention to film with this authoritative tale of 'Big Texas Oil' and the epic movie Giant . . . A delightful work of film/cultural history for movie fans." —Kirkus Reviews

"Don Graham digs into Giant like a wildcatter drilling for oil...He provides colorful tales with minimal Texas exaggeration and a plethora of facts and anecdotes...a book that will satisfy fans of the film."—Philadelphia Enquirer

"One of the joys of reading Graham is his ability to tell a complete tale, a scene from life, and cap it with a laconic statement of a theme."—Texas Observer

"A lively study of a book and movie that helped define the image of Texas in the last century."—Dallas News

"A compelling, behind-the-camera look at one of the 1950s' most unusual—and successful mainstream Hollywood productions…so thorough it should have come with its own stage directions."—Houston Chronicle

"An entertaining case study...Graham makes the most of the toil and trouble behind Giant, bringing to life an era of filmmaking that's gone with the West Texas wind." –Associated Press

"Splendid…A sharp, insightful look at a legendary film."—Booklist (starred review)

"A solid historical context…opening the pages of this book is like breaking into a time capsule."—Washington Post

"Lively . . . deeply researched and efficiently paced." —Publishers Weekly

"Don Graham is a masterful storyteller . . . Just as Giant the movie was the talk of the town back in 1956, I know Don's lively narrative will be the talk of the town today. He captures West Texas and the big screen stars perfectly." —Mrs. Laura Bush

"Don Graham, long a keen student of Texas literature, has given us a brilliant study of a classic American film." —Larry McMurtry, New York Times and USA Today bestselling author of The Last Kind Words Saloon

"Don Graham goes far behind the scenes to deftly capture the fragile egos and sexual misadventures of the legendary cast, the extraordinary determination of Stevens, and the reaction of Texans who warily embraced a cinematic self-portrait they found both troubling and irresistible." —Glenn Frankel, Pulitzer Prize-winning journalist and author of The Searchers and High Noon

"Graham breathes new life into the gripping story behind one of mid-century America's great epics, retold with invaluable insight drawn from the wells of cultural history, Hollywood dish and Texan lore." —Noah Isenberg, Los Angeles Times bestselling author of We'll Always Have Casablanca

"Some films are so vital they become part of American history. Giant is one of them. Don Graham shows us how a volatile mix of some of Hollywood's biggest, most troubled, personalities — Elizabeth Taylor, Rock Hudson, the doomed James Dean — came together under the brilliant direction of George Stevens to create an epic that rivals Texas in size, scope, and sheer impact. With insight and wit, Graham gives us a highly entertaining saga of how movies are made and why they become iconic." —Nancy Schoenberger, author of the critically acclaimed Dangerous Muse: The Life of Lady Caroline Blackwood and Wayne and Ford: The Films, the Friendship, and the Forging of an American Hero

"Giant is a page-turning tale of giant talents and egos toiling in a remote Texas location with the legendary director George Stevens to create a classic in American film. Especially Dean is poignantly portrayed as a tortured young man whose career and life flamed out much too soon. Essential reading for every fan of the silver screen." —Tom Clavin, New York Times bestselling author of Dodge City

"You've seen the movie, of course? If not, you'll rush to get the Blu-ray when you're a few pages into Don Graham's riveting book that tells the story of Giant from start to finish. That story involves half of Hollywood, and not only the stars — Elizabeth Taylor, Rock Hudson, James Dean — but those other superstars considered for the roles: Audrey Hepburn, William Holden, Grace Kelly, Clark Gable, and many others. This brilliant chronicle will grab you like a thriller." —Sam Staggs, author of All About All About Eve
St. Martin's Griffin, 9781250212573, 336pp.
Publication Date: May 28, 2019
About the Author
Don Graham, whom the Dallas Morning News has called "Our premier scholar and critic on Texas literature, films and pop culture," is J. Frank Dobie Regents Professor of English at the University of Texas at Austin. He is also a writer-at-large with Texas Monthly magazine. He received the Carr P. Collins Prize for Best Nonfiction Book of the Year, awarded by the Texas Institute of Letters, and has served as that organization's president.

Don is the author of Kings of Texas and Giant.