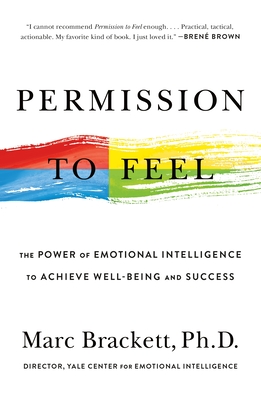 Permission to Feel
The Power of Emotional Intelligence to Achieve Well-Being and Success
Paperback

* Individual store prices may vary.
Other Editions of This Title:
Hardcover (9/3/2019)
Paperback, Korean (8/25/2020)
Paperback, Chinese (4/1/2020)
CD-Audio (11/5/2019)
Description
The mental well-being of children and adults is shockingly poor. Marc Brackett, author of Permission to Feel, knows why. And he knows what we can do.

"We have a crisis on our hands, and its victims are our children."

Marc Brackett is a professor in Yale Universitys Child Study Center and founding director of the Yale Center for Emotional Intelligence. In his 25 years as an emotion scientist, he has developed a remarkably effective plan to improve the lives of children and adults a blueprint for understanding our emotions and using them wisely so that they help, rather than hinder, our success and well-being. The core of his approach is a legacy from his childhood, from an astute uncle who gave him permission to feel. He was the first adult who managed to see Marc, listen to him, and recognize the suffering, bullying, and abuse hed endured. And that was the beginning of Marcs awareness that what he was going through was temporary. He wasnt alone, he wasnt stuck on a timeline, and he wasnt wrong to feel scared, isolated, and angry. Now, best of all, he could do something about it.

In the decades since, Marc has led large research teams and raised tens of millions of dollars to investigate the roots of emotional well-being. His prescription for healthy children (and their parents, teachers, and schools) is a system called RULER, a high-impact and fast-effect approach to understanding and mastering emotions that has already transformed the thousands of schools that have adopted it. RULER has been proven to reduce stress and burnout, improve school climate, and enhance academic achievement. This book is the culmination of Marcs development of RULER and his way to share the strategies and skills with readers around the world. It is tested, and it works.

This book combines rigor, science, passion and inspiration in equal parts. Too many children and adults are suffering; they are ashamed of their feelings and emotionally unskilled, but they dont have to be. Marc Bracketts life mission is to reverse this course, and this book can show you how.
Praise For Permission to Feel: The Power of Emotional Intelligence to Achieve Well-Being and Success…
"More than any other book on human feelings, Permission to Feel integrates psychological research, educational practice, and compelling stories, including Marc Bracketts own life experiences, to make emotional intelligence come alive. This is one book that leaders, educators, parents, students, and researchers will all find valuable . . . and fun to read."
Peter Salovey, President of Yale University and Chris Argyris Professor of Psychology

"We often create a false dichotomy between thinking and feeling. In this dichotomy, thinking is important, strong, and adaptive, but feeling is not. Marc Brackett shows us how emotions and our ability to feel, understand, and use them are key to fulfilling our potential."
Carol Dweck, Author of Mindset: The New Psychology of Success and Professor of Psychology, Stanford University.

"Permission to Feel is a deeply insightful and compelling examination of one of the most important but ignored dimensions of the human experience. In his honest, funny, and illuminating way, Marc Brackett helps us to understand how emotions influence our health, performance, and overall well-being, and how we can leverage their power to transform our lives.
Vivek Murthy, MD, MBA. 19th Surgeon General of the United States

"A compelling and complete journey that delivers on its promise of giving us permission to feel. Marc Brackett shows us that emotional intelligence is not a gift but a skillone that we can all learn, and benefit from immensely."
Angela Duckworth, Author of Grit, CEO, Character Lab, and Professor of Psychology, University of Pennsylvania

I love this book! Marc Brackett has inspired me to be more open; taught me how to become an emotion scientist; and given me the tools to heal wounds in my own life. Permission To Feel is raw, insightful, accessible, and in the end, empowering.
Timothy Shriver, Chairman, Special Olympics

This book is groundbreaking, eye opening, practical, and perhaps even life changing. Weaving together powerful stories and provocative research, Marc Brackett brilliantly conveys how social and emotional skills can improve the quality of our lives, relationships, and work. With compassion, humor, and wisdom Brackett shares perspectives that challenge us all to be better people.
Roger Weissberg, Distinguished Professor Emeritus of Psychology, University of Illinois at Chicago; Chief Knowledge Officer, Collaborative for Academic, Social, and Emotional Learning

There is a dire need to cultivate social and emotional skills in our nations youth. That starts with cultivating emotional intelligence in everyone involved in the education of children. Permission to Feel lays a framework for what adults need to learn in order to support childrenand themselvesin achieving academic and life success.
Carmen Faria, Chancellor Emeritus, New York City Department of Education

"In business, we are often pressured to withhold or suppress emotions, ultimately creating toxic environments and interpersonal conflict. In Permission to Feel, Marc Brackett teaches essential skills and tools for bringing our best selves forward. The results? Enhanced personal and professional outcomes, and healthier and more engaging workplaces. A must-read for every entrepreneur and their investors."
Deborah Quazzo, Managing Partner GSV AcceleraTE Fund
Celadon Books, 9781250212832, 304pp.
Publication Date: August 4, 2020
About the Author
Marc Brackett, Ph.D., author of Permission to Feel, is the founding director of the Yale Center for Emotional Intelligence and a professor in the Child Study Center at Yale University. Marc has published 125 scholarly articles on the role of emotions and emotional intelligence in learning, decision making, creativity, relationships, health, and performance. He is the lead developer of RULER, an evidence-based, systemic approach to social and emotional learning that has been adopted by more than two thousand schools, pre-K through high school, across the United States and in other countries. Marc has received numerous awards and is on the board of directors for the Collaborative for Academic, Social, and Emotional Learning (CASEL). He is co-founder of Oji Life Lab, a digital emotional intelligence learning system for businesses. Marc also consults regularly with corporations like Facebook, Microsoft, and Google on integrating emotional intelligence principles into employee training and product design.