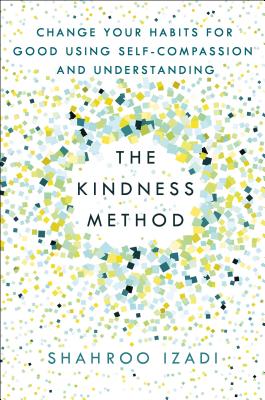 The Kindness Method (Paperback)
Change Your Habits for Good Using Self-Compassion and Understanding
St. Martin's Essentials, 9781250214072, 208pp.
Publication Date: July 9, 2019
* Individual store prices may vary.
Description
The Kindness Method is the key to breaking unwanted habits—for good! Combining her own therapeutic style, personal experiences, and techniques learned from working in the field of substance abuse, Shahroo Izadi shares simple steps that strengthen your willpower like a muscle, allowing you to sustain your motivation and make lasting change in your life.
Shahroo's completely non-judgmental process for mapping and channeling your habits is based on the principle of treating yourself with the compassion and understanding that it is often only reserved for other people. From procrastination to issues of body image, this method works by creating a custom plan—mapped by you, for you, and driven by self-motivation.
About the Author
Shahroo Izadi is a Behavioral Change Specialist. She provides relapse prevention coaching and support groups at a recovery house for young women in addition to delivering sold-out workshops designed to help people change any habit on their own terms. Her work has drawn attention from BBC Radio 1, The Telegraph, Red Magazine, The Pool, and more. Her laid-back, non-judgmental style that rejects the traditional professional-patient dynamic has proven to be a huge success and her ambition is to make evidence-based psychological tools accessible to the public.