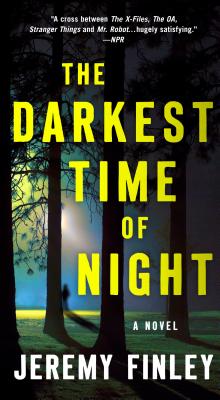 The Darkest Time of Night
A Novel
Mass Market

* Individual store prices may vary.
Other Editions of This Title:
Digital Audiobook (6/25/2018)
Hardcover (6/26/2018)
Compact Disc (6/26/2018)
MP3 CD (6/26/2018)
Compact Disc (6/26/2018)
Description
"X-Files fans will eat up this TV reporter's book: It's out there." —People

When the seven-year-old grandson of a U.S. Senator vanishes in the woods behind his home, the only witness is his older brother. "The lights took him," he says—and never utters another word again. As the FBI and National Guard launch a massive search, the boys' grandmother, Lynn, comes to realize that her greatest fear has come back to haunt her and her family.
In the late 1960s, before she became the devoted wife of a politician, Lynn worked in the astronomy department at the University of Illinois. As secretary for a prominent professor, Lynn took messages from people desperate to find their missing loved ones who had vanished into beams of light. Now, determined to find her grandson, Lynn must return to the work she once abandoned to unravel the existence of a place long forgotten by the world. It is there, buried deep beneath the bitter snow and the absent memories of its inhabitants, where the darkest secrets may finally come to light. But there are forces that wish to silence her. And Lynn will find how far they will go to stop her…and how the truth about her own forgotten childhood could reveal the greatest mystery of all time.
"A must-read."—New York Post
"Outstanding." —Publishers Weekly (starred review)

"Hugely satisfying, while still mystifying." —NPR
Praise For The Darkest Time of Night: A Novel…
"Outstanding debut... Finley's complex portrayal of his heroic lead will carry readers through plot developments that would come across as unconvincing in the hands of a lesser writer. X-Files fans will be enthralled." —Publishers Weekly (starred review)
"Darkest Time of Night will keep you turning pages...If this sounds like a cross between The X-Files, The OA, Stranger Things, and Mr. Robot, that's because it is...[A] hugely satisfying, while still mystifying, suspense novel." —NPR
"X-Files fans will eat up this TV reporter's debut, about a senator's wife searching for her grandson – and suspecting an alien abduction. "The lights took him," the boy's brother says, leading Lynn Roseworth to try tracking down her ex-boss, a UFO maven, for the truth. This book: It's out there." —People magazine
"The Darkest Time of Night is a gripping and graceful thriller that conjures moody atmosphere and haunting circumstances into a rich read. Perfect for fans of the X-Files, Whitley Strieber, and Stranger Things, author Jeremy Finley delivers the goods in this compelling novel that will have you turning pages -- and turning up the lights." —Michael Koryta, New York Times Bestselling Author of Rise the Dark and So Cold The River

"Strange disappearances, mysterious lights, flocking ladybugs, a single gravestone in the woods – Jeremy Finley weaves it all together into a delightful mystery with a sci-fi twist that makes the unbelievable seem totally plausible. Fasten your seatbelt, lock your doors, and don't go into the woods!" —Jennifer McMahon, New York Times bestselling author
"A long-overdue Close Encounters for the modern age, The Darkest Time of Night is a top notch, scary and all-too-real debut with Hollywood written all over it. Thrilling speculative fiction at its finest. Finley is a talented new name to watch." —J.T. Ellison, New York Times bestselling author of Lie to Me
"I can say without reservation that The Darkest Time of Night is an absolute must for anyone who has enjoyed The X-Files. Even if you are not an X-Files devotee (and I am not), you will find yourself engrossed until the last page. The Darkest Time of Night combines science fiction and mystery with family drama and wins on all fronts. A compelling read." —F. Paul Wilson, New York Times bestselling author
"The X-Files meets The Good Wife. With a twisty surprise on every page, this seamlessly written and captivating thriller is edgy, unique and incredibly thought-provoking. Jeremy Finley is a star." —Hank Phillippi Ryan, Agatha, Anthony, and Mary Higgins Clark Award winning author
"From the first page, I was hooked on Jeremy Finley's action-packed thriller. Tension crackles, mysteries abound, and conspiracies escalate in this crisply-written and imaginative novel. As the indomitable heroines (think Thelma and Louise) race against time and UFOs to find a missing child, Finley's unerring sense of pacing and suspense will make you read far into the darkest time of night." —Ann Weisgarber, author of The Personal History of Rachel DuPree and The Promise

"The Darkest Time of Night is a truly remarkably written story. It is fast-paced and suspenseful … a thriller that is a combination of science fiction and government cover-up. Once you start, you can't put this one down. A little bit scary, a whole lot heartrending; a complex plot, and many brave people make this a book that will make you question what might or might not actually exist." —Nancy McFarlane, Fiction Addiction bookstore (South Carolina)
St. Martin's Paperbacks, 9781250214317, 400pp.
Publication Date: May 28, 2019
About the Author
JEREMY FINLEY is the chief investigative reporter for WSMV-TV, the NBC-affiliated station in Nashville. Jeremy Finley's investigative reporting has resulted in some of the highest honors in journalism, including more than a dozen Emmys, Edward R. Murrow awards and a national certificate from Investigative Reporters and Editors. He lives with his wife and daughters in Nashville, TN. The Darkest Time of Night is his first novel.
or
Not Currently Available for Direct Purchase