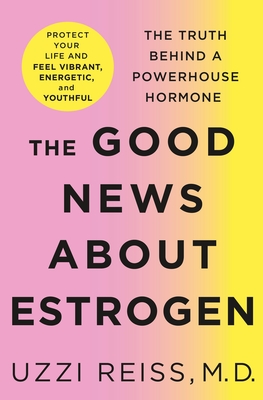 The Good News About Estrogen
The Truth Behind a Powerhouse Hormone
Hardcover

* Individual store prices may vary.
Description
The latest information about estrogen, the body's enlivening powerhouse hormone.

Why is estrogen crucial—and so misunderstood? How do I know if my estrogen level is "normal"? What is the best treatment for a hormonal imbalance? How does estrogen impact my reproductive cycle? Is hormone replacement therapy right for me? Is it only useful at menopause? How can I be my best, healthiest self now and in the future?

Understanding estrogen—its function and interplay with all your other hormones and body systems—is key to a healthy, vibrant life. But far too many women remain unaware of the benefits of estrogen, and how it can be supplemented in natural, bioidentical form.

This book, written by an expert in the field of OB-GYN and integrative medicine, offers an authoritative yet accessible approach to hormonal health. In The Good News About Estrogen, Dr. Uzzi Reiss draws upon the most up-to-date scientific research, as well as women's stories from his decades of practice, to explain:

- How hormones—and your levels of estrogen—change over time, and what you can do to achieve balance naturally or with hormone replacement therapy (HRT).
- The good news about estrogen—how it can enhance energy, sexuality, and memory; alleviate premenstrual syndrome (PMS) or the side effects of menopause; help fight weight gain, anxiety, depression, and more.
- Bioidentical hormones—why they are safe and crucial to your well-being at any age or stage, and how to choose which treatment plan is right for you.
- How your everyday habits—what you eat, drink, wear, and breathe—can affect hormonal health, and which small lifestyle changes can make a big difference.
- Nutrition and exercise—learn how each works hand-in-hand with hormones and can help you to achieve maximum physical and emotional fitness, promote bone health, prevent cardiovascular disease, and boost brain power.
St. Martin's Press, 9781250214539, 288pp.
Publication Date: March 10, 2020
About the Author
UZZI REISS, M.D. has practiced nutrition and hormone-based gynecology since 1980. In 1982, he was the first doctor to open a PMS health clinic and in 1997, he opened the popular Beverly Hills Anti-Aging Center. He lives in Los Angeles, California.
Billie Fitzpatrick is a seasoned publishing professional who has collaborated on over thirty books in the areas of both fiction and nonfiction, in the areas of diet & wellness, fitness, sexual health and relationships, parenting, and memoir.

She has written numerous New York Times and international bestsellers, and specializes in working closely with expert authors, including medical doctors, psychologists, neuroscientists, nutritionists, fitness and wellness professionals, elite athletes, and other celebrities.

Billie's cowritten books include Chastity Bono's Family Outing, Wendy Suzuki's Healthy Brain, Happy Life: A Personal Program to to Activate Your Brain and Do Everything Better, and Tosca Reno's The Start Here Diet: Three Simple Steps That Helped Me Transition from Fat to Slim...for Life.
or
Not Currently Available for Direct Purchase