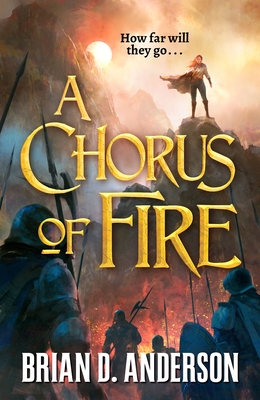 A Chorus of Fire (The Sorcerer's Song #2) (Paperback)
Tor Books, 9781250214669, 448pp.
Publication Date: August 11, 2020
* Individual store prices may vary.
Description
A Chorus of Fire is the second installment of the Sorcerer's Song fantasy adventure series from Brian D. Anderson, bestselling author of The Godling Chronicles and Dragonvein.

A shadow has moved across Lamoria. Whispers of the coming conflict are growing louder; the enemy becoming bolder. Belkar's reach has extended far into the heart of Ralmarstad and war now seems inevitable.

Mariyah, clinging to the hope of one day being reunited with Lem, struggles to attain the power she will need to make the world safe again. But a power like this is not easily acquired and will test the limits of her mind and body. She will need to look deep inside herself to find the strength to achieve what even the Thaumas of old could not.

Lem continues his descent into darkness, serving a man he does not trust in the name of a faith which is not his own. Only Shemi keeps his heart from succumbing to despair, along with the knowledge that he has finally found Mariyah. But Lem is convinced she is being held against her will, and compelled to do the bidding of her captors. He is determined to free her, regardless the cost.

Their separate roads are leading them to the same destination. And once they arrive they will have to confront more than the power of Belkar. They will have to face themselves and what Lamoria has forced them to become.
About the Author
BRIAN D. ANDERSON is the indie-bestselling fantasy author of The Godling Chronicles, Dragonvein, and Akiri (with co-author Steven Savile) series. His books have sold more than 500,000 copies worldwide and his audiobooks are perennially popular. After a fifteen year long career in music, he rediscovered his boyhood love of writing. It was soon apparent that this was what he should have been pursuing all along. Currently, he lives in the sleepy southern town of Fairhope, Alabama with his wife and son, who inspire him daily.
Praise For A Chorus of Fire (The Sorcerer's Song #2)…
Praise for The Bard's Blade:

"Magic, music, assassinations, and betrayal . . . a successful mix of some of the finest elements of James Islington's The Shadow of What Was Lost, Patrick Rothfuss's The Name of the Wind, and Anderson's own Behind the Vale . . . everything fans of epic fantasy will be looking for on their next big adventure. Highly recommended."—Grimdark Magazine

"One of the best books I've read this year . . . a true page-turner that delivers on all fronts."—BookNest

"Damn entertaining and engrossing . . . The alluring song that Anderson orchestrated with his words enchanted me, and I absolutely loved every second of reading The Bard's Blade."—Novel Notions

"Filled with twists and turns, likable characters, and rich worldbuilding. Natural pacing provides an equal mix of colorful descriptions, character development, and exciting action scenes."—Library Journal

"Ambitious, enjoyable . . . surprising twists [and] plenty to be explored in further installments."—Publishers Weekly