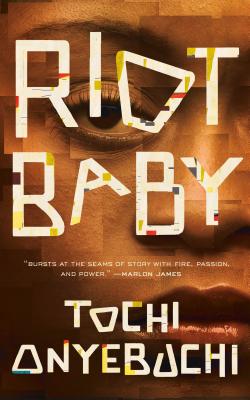 Riot Baby (Hardcover)
Tor.com, 9781250214751, 176pp.
Publication Date: January 21, 2020
Other Editions of This Title:
Compact Disc (4/21/2020)
Pre-Recorded Audio Player (7/21/2020)
MP3 CD (4/21/2020)
* Individual store prices may vary.
Description
"Riot Baby, Onyebuchi's first novel for adults, is as much the story of Ella and her brother, Kevin, as it is the story of black pain in America, of the extent and lineage of police brutality, racism and injustice in this country, written in prose as searing and precise as hot diamonds."—The New York Times

"Riot Baby bursts at the seams of story with so much fire, passion and power that in the end it turns what we call a narrative into something different altogether."—Marlon James

Ella has a Thing. She sees a classmate grow up to become a caring nurse. A neighbor's son murdered in a drive-by shooting. Things that haven't happened yet. Kev, born while Los Angeles burned around them, wants to protect his sister from a power that could destroy her. But when Kev is incarcerated, Ella must decide what it means to watch her brother suffer while holding the ability to wreck cities in her hands.

Rooted in the hope that can live in anger, Riot Baby is as much an intimate family story as a global dystopian narrative. It burns fearlessly toward revolution and has quietly devastating things to say about love, fury, and the black American experience.

Ella and Kev are both shockingly human and immeasurably powerful. Their childhoods are defined and destroyed by racism. Their futures might alter the world.

"[Tochi] Onyebuchi has woven a story as uplifting as it is heartbreaking, an epic ode to the future and past, tiny acts of resistance, love, and the wild unstoppable sweep of revolution."—Daniel José Older
About the Author
Tochi Onyebuchi holds a BA from Yale, an MFA in screenwriting from Tisch, a master's degree in global economic law from L'institut d'études politiques, and a JD from Columbia Law School. His writing has appeared in Asimov's Science Fiction and Ideomancer, among other places, and he is the author of the novels Beasts Made of Night and Crown of Thunder. Tochi resides in Connecticut, where he works in the tech industry.
Praise For Riot Baby…
"Onyebuchi's voice work is magnificent, sharp and whipping. . . . This book recognizes that intimate knowledge of suffering can be a source of strength, can be sustaining as well as depressing — that we can grieve the inheritance of generations of ancestors' pain while marveling at their endurance, and recognize that resilience as part of their legacy."—The New York Times

"Urgent, brutal. . . . Onyebuchi's unexpectedly hopeful ending is just as powerful as his unflinching, heartbreaking depictions of racism and cruelty. This staggering story is political speculative fiction at its finest."—Publishers Weekly, starred review

"Onyebuchi sheds light on a world of harsh familiarity and fantastical originality with his incredible worldbuilding and devastating prose. Stark, sharp, and brutal, this story will burn in readers' minds long after the last page."—Library Journal, starred review

"There is a richness and depth to Onyebuchi's prose that delivers an intricate and textured world at once rife with violence and teeming with familial love. . . . Onyebuchi demonstrates that dystopia for African-Americans in the U.S. resides in the recent past and continues today."—Booklist

"A thrilling, intense, nail-biting read that transcends genre and has an ending of biblical proportions."—Grimdark Magazine

"Riot Baby bursts at the seams of story with so much fire, passion and power that in the end it turns what we call a narrative into something different altogether."—Marlon James

"Onyebuchi has woven a story as uplifting as it is heartbreaking, an epic ode to the future and past, tiny acts of resistance, love, and the wild unstoppable sweep of revolution."—Daniel José Older

"Tochi Onyebuchi is, primarily, a generous world-builder. His journey into this is honed and sharpened with Riot Baby, which asks a reader to care deeply for the interior of its characters, and the fights they have taken on."—Hanif Abdurraqib

"Riot Baby is the burning embers of a revolution. . . the quiet rage of generations of people who have been told they are lesser than others. It's the flash of accelerant in a genre that needs the burn."—Mark Oshiro

"Onyebuchi welds a graphic novel sensibility to a searing look at structural inequity in America today. This isn't Jack Womack or J.G. Ballard's broken near future: it's our own photorealistic broken present. Riot Baby is an important book."—Elizabeth Bear

"Stunningly original, brutal, and electric. Onyebuchi's prose scorches. It's hard to put this book down, and when you do, it stays with you."—R. F. Kuang

"Onyebuchi's adult debut is a stunningly, vitally harrowing story and genre at its very best."—Kiersten White

"Onyebuchi's Riot Baby is thrilling and harrowing in the tradition of Ward's Sing, Unburied, Sing."—Fran Wilde

"Powerful. Furious. Riot Baby carries the full weight of black American fury and grief, woven together with a masterful story of two siblings and a magic so powerful it will change the face of everything they know."—K. B. Wagers