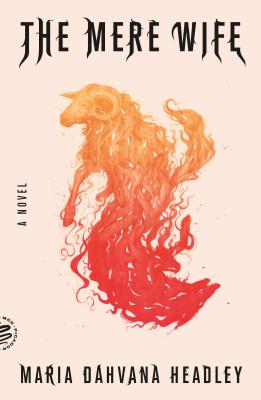 The Mere Wife
A Novel
Paperback

* Individual store prices may vary.
Other Editions of This Title:
Digital Audiobook (7/16/2018)
Hardcover (7/17/2018)
CD-Audio (7/17/2018)
Description
New York Times bestselling author Maria Dahvana Headley presents a modern retelling of the literary classic Beowulf, set in American suburbia as two mothers—a housewife and a battle-hardened veteran—fight to protect those they love in The Mere Wife.

From the perspective of those who live in Herot Hall, the suburb is a paradise. Picket fences divide buildings—high and gabled—and the community is entirely self-sustaining. Each house has its own fireplace, each fireplace is fitted with a container of lighter fluid, and outside—in lawns and on playgrounds—wildflowers seed themselves in neat rows. But for those who live surreptitiously along Herot Hall's periphery, the subdivision is a fortress guarded by an intense network of gates, surveillance cameras, and motion-activated lights.

For Willa, the wife of Roger Herot (heir of Herot Hall), life moves at a charmingly slow pace. She flits between mommy groups, playdates, cocktail hour, and dinner parties, always with her son, Dylan, in tow. Meanwhile, in a cave in the mountains just beyond the limits of Herot Hall lives Gren, short for Grendel, as well as his mother, Dana, a former soldier who gave birth as if by chance. Dana didn't want Gren, didn't plan Gren, and doesn't know how she got Gren, but when she returned from war, there he was. When Gren, unaware of the borders erected to keep him at bay, ventures into Herot Hall and runs off with Dylan, Dana's and Willa's worlds collide.
Praise For The Mere Wife: A Novel…
"So: I loved The Mere Wife and I bet lots of other people will too . . . Everyone should read The Mere Wife. It's a wonderfully unexpected dark/funny/lyrical/angry retelling of Beowulf; what's not to like?" —Emily Wilson, translator of The Odyssey

"Smart, tough modern flip of Beowulf, told through Grendel's mother." —Margaret Atwood, author of The Handmaid's Tale

"Fan-fucking-tastic . . . this book! Oh, this book! It's brutal and beautiful and unflinching." —Justina Ireland, author of Feral Youth

"Headley's jabs at suburban smugness are fun . . . [and her] prose can be stark, lacerating, insightful . . . The role reversals Headley devises—and the way she adapts an ancient tale into a 21st-century struggle between haves and have-nots, brown-skinned and white, damaged and intact—are largely effective." —Michael Upchurch, The New York Times Book Review

"The most surprising novel I've read this year. It's a bloody parody of suburban sanctimony and a feminist revision of macho heroism. In this brash appropriation of the Anglo-Saxon epic, Headley swoops from comedy to tragedy, from the drama of brunch to the horrors of war." —Ron Charles, The Washington Post

"Spiky, arresting . . . The novel plays ingeniously with its ancient source."
—Sam Sacks, The Wall Street Journal

"A sly satire of suburbia, wittily detailed and narratively bold . . . with its roots in ancient legend [The Mere Wife] proves especially relevant in this time of heightened fear of the Other." —Michael Berry, San Francisco Chronicle

"The lives of two protective mothers in American suburbia collide in [this] fascinating contemporary retelling of Beowulf." —Entertainment Weekly

"Headley (whose own translation [of Beowulf] comes out next year) brings the story of the hero, the monster, and the monster's mother into contemporary times with uncommon vigor and depth." —Boris Kachka, Vulture

"Headley's divergences and additions, descriptions of glittering scenery and bloody battles, keep us entranced as those who once gathered round the fire to hear of heroic deeds and shudder at the monsters among us." —Kathleen Alcala, The Cascadia Subduction Zone

"The world needs this book . . . In Headley's hands, Beowulf is revealed to be the perfect story to bring forward from the depths of Western history. Headley has turned it over, poked its squishy underbelly, asked it a bunch of questions, and come out with an entirely new version of the tale, exploring new perspectives and revealing truths new and old. It's also a great, heart-wrenching read . . . If you enjoy battling monsters, I can't recommend this book enough." —Leah Schnelbach, Tor.com

"Maria Dahvana Headley's new novel, The Mere Wife, is much more than a simple recasting of the ancient epic poem Beowulf in the suburbs . . . Headley, who is also working on a new translation of Beowulf, subverts the epic by exploring its good-versus-evil battle from the perspective of women who were largely left on the margins by the ancient bards." —Jennifer Kay, The Associated Press

"The Mere Wife is a book on par with Lidia Yuknavitch's The Book of Joan: electric, feminist, literary retellings of famous tales, but with dystopian spins. The Mere Wife reimagines Beowulf by setting it in a suburban landscape of intense economic disparity . . . Headley's language is exquisite and imaginative, the contemporary adaptation on-point and thought provoking--essentially, this is how to retell a classic." —Elena Nicolaou, Refinery29

"Bestselling author Maria Dahvana Headley takes a significant gamble in recasting Old English epic Beowulf in the American suburbs—but the gamble pays off. She enhances the themes of the classic with contemporary and feminist accents, creating a work that is both unique and worthy." —The Christian Science Monitor, Best Books of July

"[A] stunner: a darkly electric reinterpretation of Beowulf that upends its Old English framework to comment on the nature of heroes and how we 'other' those different from ourselves... A strange tale told with sharp poetic imagery and mythic fervor." —Booklist, starred review

"There's not a false note in this retelling, which does the Beowulf poet and his spear-Danes proud." —Kirkus Reviews, starred review

"Headley (Magonia) applies the broad contours of the Beowulf story to her tale but skillfully seeds her novel with reflections on anxieties and neuroses that speak to the concerns of modern parenting." —Publishers Weekly

"The Mere Wife [is] an intense, visceral reading experience. . . [the book is] a revisioning of Beowulf, and Maria finds the bones, the sharp edges, the bleeding heart of that story, and tells it against a modern context." —Kat Howard, author of An Unkindness of Magicians

"Maria Dahvana Headley is a gift, a genius, and an absolute wonder; I would follow her anywhere." —Carmen Maria Machado, author of Her Body and Other Parties

"The Mere Wife is a work of magic. A wild adventure; a celebration of monsters, myths, and the power of mother-love. Imagine a writer so bold, so ambitious, so about it that she challenges Beowulf to arm wrestle. That writer is Maria Dahvana Headley and let me tell you something, she is here to win." —Victor LaValle, author of The Changeling

"Maria Dahvana Headley translates the excesses of contemporary life into the gloriously mythic. This is not just an old story in new clothes: this is a consciousness-altering mind trip of a book." —Kelly Link, author of Get in Trouble

"Maria Dahvana Headley writes with crackling headlong sentences that range among old plots and news observations about a world that earlier today seemed too familiar. Master story teller, brilliant stylist, a writer with this sort of command of language is a delight to read. Here's a book to call up an old story in the newest possible way." —Samuel R. Delany, author of Dhalgren and Dark Reflections

"The Mere Wife is an astonishing reinterpretation of Beowulf: Beowulf in suburbia—epic, operatic, and razor-sharp, a story not of a thick-thewed thegn, but of women at war, as wives and warriors, mothers and matriarchs. Their chosen weapons are as likely to be swords as public relations, and they wield both fearlessly. They rule, and they fight." —Nicola Griffith, author of Hild

"With a sharp eye and a deft flourish, Maria Dahvana Headley reimagines one of our oldest stories to give us a chilling, elemental vision of our latest selves. The Mere Wife is a bold, stunning riptide of a book." —Téa Obreht, author of The Tiger's Wife
Picador, 9781250214942, 320pp.
Publication Date: July 16, 2019
About the Author
Maria Dahvana Headley is a #1 New York Times-bestselling author and editor. Her novels include Magonia, Aerie, and Queen of Kings, and she has also written a memoir, The Year of Yes. With Kat Howard, she is the author of The End of the Sentence, and with Neil Gaiman, she is co-editor of Unnatural Creatures. Her short stories have been shortlisted for the Shirley Jackson, Nebula, and World Fantasy Awards, and her work has been supported by the MacDowell Colony and by Arte Studio Ginestrelle, where the first draft of The Mere Wife was written. She was raised with a wolf and a pack of sled dogs in the high desert of rural Idaho, and now lives in Brooklyn.