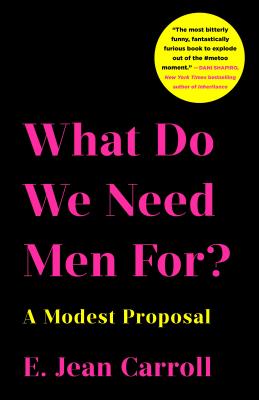 What Do We Need Men For?
A Modest Proposal
Hardcover

* Individual store prices may vary.
Other Editions of This Title:
Digital Audiobook (7/1/2019)
Description
A The Washington Post 50 notable works of nonfiction in 2019

"A work of comic genius." —Mary Norris, The New Yorker

"Darkly humorous and deadly serious." –Sibbie O'Sullivan, Washington Post

"A compulsively interesting feminist memoir." –Virginia Heffernan, Slate

"Somehow hilarious, in the way that only E. Jean could have written it" –Leigh Haber, Oprah Magazine


America's longest running advice columnist goes on the road to speak to women about hideous men and whether we need them.

When E. Jean Carroll—possibly the liveliest woman in the world and author of the "Ask E. Jean" advice column in Elle Magazine, realized that her eight million readers and question-writers all seemed to have one thing in common—problems caused by men—she hit the road. Crisscrossing the country with her blue-haired poodle, Lewis Carroll, E. Jean stopped in every town named after a woman between Eden, Vermont and Tallulah, Louisiana to ask women the crucial question: What Do We Need Men For?

E. Jean gave her rollicking road trip a sly, stylish turn when she deepened the story, creating a list called "The Most Hideous Men of My Life," and began to reflect on her own sometimes very dark history with the opposite sex. What advice would she have given to her past selves—as Miss Cheerleader USA and Miss Indiana University? Or as the fearless journalist, television host, and eventual advice columnist she became? E. Jean intertwines the stories of the fascinating people she meets on her road trip with her "horrible history with the male sex" (including mafia bosses, media titans, boyfriends, husbands, a serial killer, and a president), creating a decidedly dark yet hopeful, hilarious, and thrilling narrative. Her answer to the question What Do We Need Men For? will shock men and delight women.
Praise For What Do We Need Men For?: A Modest Proposal…
A Washington Post TEN BOOKS TO READ IN JULY | A The Washington Post 50 NOTABLE WORKS OF NONFICTION IN 2019 | Los Angeles Times' 7 BUZZWORTHY BOOKS TO READ THIS JULY | TOP 5 HOT BOOKS by The National Book Review| Refinery 29's GET YOUR HANDS ON THESE JULY 2019 BOOKS | Bustle's 27 NEW BOOKS OUT IN JULY 2019 TO GET YOU THROUGH THE SWEATY DAYS OF SUMMER | A Dallas Morning News 100 best books of 2019 pick | 6 BEST BOOKS TO READ THIS JULY by Town and Country

"Every chapter, every paragraph, every sentence contains some fresh, good-humored turn of phrase." —Mary Norris, The New Yorker

"Roving, curious, compassionate, whimsical." –Megan Garber, The Atlantic

"Carroll's lively prose careens in constant pursuit of pleasure...indefatigably funny and full of life." –Lindsay Zoladz, The Ringer

"Carroll has never been interested in fulfilling expectations ... You can read the tale in her book, and you should." —Next Tribe

"With lively prose, Carroll analyzes women's experiences while driving her polka-dotted Prius through American towns with female names. When her own personal narrative grows dark, she bounces back with merry chapters devoted to quizzes and traveling expenses...This jarring structure is a metaphor for how the 'Silent Generation' made girls swallow the abuse they couldn't reveal..." —Ann Votaw, The Journal Gazette

"Fans of her longtime "Ask E. Jean" column in Elle will recognize her original voice ...Carroll's descriptions of the "hideous men" in her life stand out." —Elizabeth Taylor and Adam Cohen, The National Book Review

"An entertaining and rage making romp of a read." –Clara Bingham, The Guardian

"Whimsical...a book that approaches its high-concept road trip with tongue firmly in cheek." —Constance Grady, Vox

"Politically and socially urgent." —Cristina Arreola, Bustle

"Quirky" —Kim Hubbard, People

"ELLE's own agony aunt, the incomparable E. Jean Carroll, went on a road trip to ask women a very simple question... Perfection." —Estelle Tang, ELLE

"Explosive" —Elena Nicolau, Refinery 29

"A fun-fueled feminist response to the current cultural and political climate, and I expected to laugh my way through its pages. I wasn't wrong about the laughter." —Melanie Rock, Bustle

"A memoir by way of an old-fashioned American road trip...No reader of Carroll's column will be surprised to find that such violent moments are interspersed with huge helpings of levity." —Keziah Weir, Vanity Fair

"What [the book] offers, though, is a kind of literary impressionism, based on 75 years of lived experience—a sense of what it feels like to have pulsing veins and fiery nerves and a teeming mind and be caught within the cold infrastructures of sexism." —Megan Garber, The Atlantic

"The writing… is just riveting. But it's also journalistically very powerful, very precise, very careful" —Lawrence O'Donnell

"E. Jean is a terrific writer; she has mastered the difficult task of making her words sound like they're delivered in person, over a cocktail. " —Monica Hesse, The Washington Post

"Very funny" —The Brian Lehrer Show

"Fantastically written but so friendly to follow...Carroll's book is readable in a way the Great Thinkers are not and can never be." —B. David Zarley, Paste Magazine

"Thoughtful, powerful" —Adam Rathe, Town and Country

"The most bitterly funny, fantastically furious book to explode out of the #metoo moment." —Dani Shapiro, bestselling author of Family History

"Buy this book." —Ed Kosner, former Editor-in-Chief of Newsweek, New York, and Esquire

"There isn't another voice out there like E Jean's." —Lorraine Candy, Editor-in-Chief, London Sunday Times

"E. Jean is a know it all." —Jane Smiley

"E. Jean Carroll is a force of nature, whose natural vibrancy has held readers in rapture for decades." —Nina Garcia, Editor-in-Chief, ELLE
St. Martin's Press, 9781250215437, 288pp.
Publication Date: July 2, 2019
About the Author
E. Jean Carroll writes the longest, currently-running advice column in the U.S., Ask E. Jean. It has 8 million readers. She has been published in New York, Rolling Stone, GQ, Glamour, and was a contributing editor at Esquire and Outside. She wrote for Saturday Night Live, was the host of the Ask E. Jean TV show, and has been a frequent guest on The Today Show. She is the founder of Tawkify, Inc. E. Jean lives in a cabin on an island in the Wawayanda Mountains in Upstate New York.