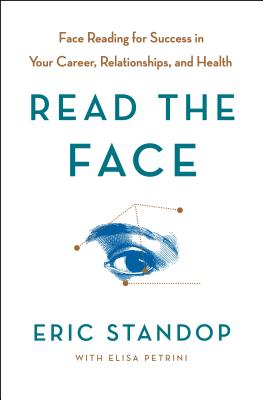 Read the Face
Face Reading for Success in Your Career, Relationships, and Health
Hardcover

* Individual store prices may vary.
Other Editions of This Title:
Digital Audiobook (9/30/2019)
CD-Audio (11/26/2019)
Description
Relearn the intuitive language of face reading

From birth, face is our first language. We are born face readers—knowing to seek out human features and faces from the moment our eyes open. We all have the intuitive ability to read and interpret the feelings and expressions of those around us.

In Read the Face, master face reader Eric Standop unlocks the power of this innate human ability, sharing his own journey to become a face reading master, along with stories that illustrate the power of this unique language. Using a combination of three different schools of face reading, along with a scientific accuracy to detect the most fleeting microexpressions, Standop is able to read personality, character, emotions, and even the state of a person's health—all from simply glancing at their face.

The book is divided into sections focusing on specific ways that face reading can offer insight, such as Health, Love, Communication, Work and Success. The stories are accompanied by detailed black and white illustrations of faces, allowing readers to observe the same features that Standop interpreted. The final section of the book outlines the meanings of dozens of facial features and face shapes, so that readers can recognize their own innate intuitive powers and develop them. Read the Face is a guide to using the ancient art and science of face reading to go beyond the surface and create the boldest life possible.
Praise For Read the Face: Face Reading for Success in Your Career, Relationships, and Health…
"In our former careers as intelligence officers, we routinely found ourselves conducting behavioral analyses on individuals, just as we do now in the private sector. In each of those worlds we've been tasked with answering a fundamental question: Who is this person? We've learned along the way that taking a conventional approach to answering it can lead to failure. In his captivating book, Eric Standop underscores that fact with a compelling presentation of a craft that is at once fascinatingly unconventional and irrefutably ageless."—Phil Houston, twenty-five year veteran of the Central Intelligence Agency and co-author of Spy the Lie


Read The Face, by Eric Standop, is a well-researched step-by-step guide that reveals the secrets behind the ancient art of face reading. Being able to read the hidden story that each face tells may not only give you a deeper understanding of those around you, their hidden motivations, true personalities and histories, but it may also provide you profound insights into your own health. Eric's breadth of experience and years of practice in face reading, combined with a gift for making the complex simple, results in a joyous journey into this fascinating and timeless skill.
- Dr. Bradley Nelson, Author of The Emotion Code: How to Release Your Trapped Emotions for Abundant Health, Love and Happiness
St. Martin's Essentials, 9781250217059, 320pp.
Publication Date: October 1, 2019
About the Author
Eric Standop is the Founder of the Face Reading Academy and has been a regular speaker and lecturer worldwide in over 20 countries to c-suite executives, thought leaders, educators, and even law enforcement officials. His clients span various industries form finance and technology to health and wellness.
or
Not Currently Available for Direct Purchase