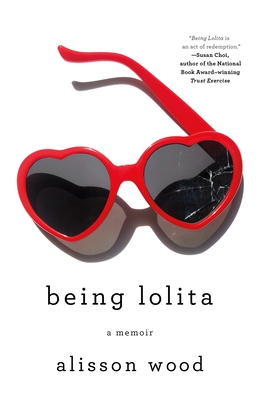 Being Lolita
A Memoir
Paperback

* Individual store prices may vary.
Other Editions of This Title:
Digital Audiobook (8/3/2020)
Hardcover (8/4/2020)
Description
AS FEATURED IN THE HULU DOCUMENTARY KEEP THIS BETWEEN US

A dark relationship evolves between a high schooler and her English teacher in this breathtakingly powerful memoir about a young woman who must learn to rewrite her own story.

"Have you ever read Lolita?"

So begins seventeen-year-old Alisson's metamorphosis from student to lover and then victim. A lonely and vulnerable high school senior, Alisson finds solace only in her writing—and in a young, charismatic English teacher, Mr. North.

Mr. North gives Alisson a copy of Lolita to read, telling her it is a beautiful story about love. The book soon becomes the backdrop to a connection that blooms from a simple crush into a devastating and dangerous bond. But as Mr. North's hold on her tightens, Alisson is forced to evaluate how much of their narrative is actually a disturbing fiction.

In the wake of what becomes a deeply abusive relationship, Alisson is faced again and again with the story of her past, from rereading Lolita in college to working with teenage girls to becoming a professor of creative writing. It is only with that distance and perspective that she understands the ultimate power language has had on her—and how to harness that power to tell her own true story.

Being Lolita is a stunning coming-of-age memoir that shines a bright light on our shifting perceptions of consent, grooming, vulnerability, and power. This is the story of what happens when a young woman realizes her entire narrative must be rewritten—and then takes back the pen to rewrite it.
Praise For Being Lolita: A Memoir…
"A chilling and propulsive debut about the danger of being captive inside someone else's story, and the power of choosing your own." —Melissa Febos, author of Whip Smart and Abandon Me

"Being Lolita is a book of deep insight and bravery—and ultimately one of power. In the era of #MeToo, Wood's voice will change things for the better." —Darin Strauss, bestselling author of Half a Life

"Being Lolita is an unflinching depiction of grooming and a searing indictment of exploitative teachers, but most of all it's an act of redemption—a powerful realization of Wood's vow 'to do the little I can to make sure what happened to me doesn't happen again.'" —Susan Choi, author of the National Book Award-winning Trust Exercise

"It is incredible that Alisson Wood can write a story of such brutality and still make room for hope. But she does. Wood's debut is a celebration of survival, teaching us that in the end, we are the most reliable narrators of all, the hero of our own stories. Being Lolita is an incisive reckoning, a work of art, a new education." —T Kira Madden, author of Long Live the Tribe of Fatherless Girls

"In Being Lolita, Alisson Wood traces one story of a teenage girl falling in love with her teacher, and then traces it again through the open lens of time and reflection. Each click of the aperture in this beautifully told memoir lets in more light, until the clouds of the past begin to part, allowing an image of a young woman to form on the page that is not fated to simply suffer at the hands of her abusers, but is able to break through the glass and live a life she can call her own." —Hannah Tinti, author of The Twelve Lives of Samuel Hawley

"Being Lolita is a book of rare resonance, simultaneously heartbreaking and hopeful in its ongoing desire for a world of integrity, sanity, and respect. You won't forget it any time soon." —Paul Lisicky, author of Later: My Life at the Edge of the World

"Wood reminds us that stories still have the power to change the world. This is a fascinating story of survival and purpose, yet it is also a story of interpretation. How we read the world changes how we live in it. A fantastic debut." —Garrard Conley, author of Boy Erased

"An unflinching account . . . Wood's potent memoir doubles as a cautionary tale that indicts literary and social tropes of irresistible, sexualized youths. It's an impressive, provocative outing." —Publisher's Weekly

"A remarkable feat of self-awareness . . . Incredibly powerful and important literary criticism . . . Wood's memoir is a triumph over heartbreak, trauma, and metamorphosis." —Paperback Paris

"Deeply rich in language and perspective, Being Lolita is a haunting page-turner that puts readers on the edge of their seats, much like the original Lolita by Vladimir Nabokov. Wood is a talented writer and engaging narrator, bravely sharing her story in the most eloquent of ways. You will never read Lolita the same again." —San Francisco Book Review
Flatiron Books, 9781250217233, 304pp.
Publication Date: August 3, 2021
About the Author
Alisson Wood is an award-winning writer whose essays have been published in the New York Times, Catapult, and Epiphany. She holds an M.F.A. in fiction from New York University. Alisson teaches creative writing at her alma mater and at Sackett Street Writers' Workshop. She is the founder and editor in chief of Pigeon Pages, a New York City literary journal and reading series. Alisson was a winner of the inaugural Breakout 8 Award from the Author's Guild and Epiphany. Being Lolita is her first book.