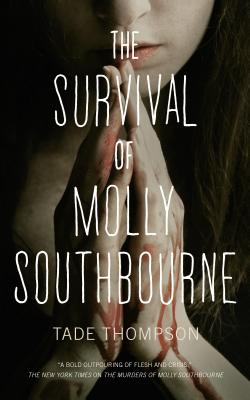 The Survival of Molly Southbourne (The Molly Southbourne Trilogy #2)
Paperback

* Individual store prices may vary.
Description
Tade Thompson returns to his "bloody exploration of of identity and self in a changed world" (Publishers Weekly) in The Survival of Molly Southbourne.

Who was Molly Southbourne? What did she leave behind?

A burnt-out basement. A name stained in blood. Bodies that remember murder, one of them left alive. A set of rules that no longer apply.

Molly Southbourne is alive. If she wants to survive, she'll need to run, hide, and be ready to fight. There are people who remember her, who know what she is and what she's done. Some want her alive, some want her dead, and all hold a piece to the puzzles in her head. Can Molly escape them, or will she confront the bloody history that made her?
Praise For The Survival of Molly Southbourne (The Molly Southbourne Trilogy #2)…
"Thompson's terrifying and poignant follow-up to 2017's The Murders of Molly Southbourne poses thoughtful questions about identity and what it means to be human, and packs in all the tension of a crackerjack thriller." —Publishers Weekly

"Just as chilling as its predecessor, exploring identity and nature in a captivatingly bloody manner. This distinctive horror novella will linger in readers' minds long after they finish." —Library Journal

"Give this to readers who like stories that cross the borders between horror, dystopian tales, and science fiction." —Booklist

"A must read for any lover of dark fantasy fiction." —Aurealis


Praise for The Murders of Molly Southbourne

"The Murders of Molly Southbourne is so strange and well-written and well-conceived. I read it in one sitting and yet it follows me around wherever I go. I loved it." —Paul Tremblay, author of Disappearance at Devil's Rock

"A bold outpouring of flesh and crisis at once horrifying and familiar." —The New York Times

"Inventive, chilling, and professionally rendered." —Elizabeth Bear, author of Karen Memory

"This premise fleshes out the strangeness and the grace of the human condition as well as anything I've read." —Stephen Graham Jones, author of Mongrels and Mapping the Interior

"Tade Thompson's writing is as inexorable as a march to the executioner's block, layered with cold dread and an exquisite understanding of body horror." —Cassandra Khaw, author of the Persons Non Grata series

"The Murders of Molly Southbourne is bloody, quiet, haunting, and sharp—a book worth savoring." —Max Gladstone, author of the Craft Sequence

"This bloody exploration of identity and self in a changed world will stay with readers long after they finish the last page." —Publishers Weekly

"A bloody, intriguing puzzle of a novella." —Kirkus

"An enormously vivid, enormously peculiar novel... compellingly written." —Locus

"Excellent, bloody, unsettling." —The Book Smugglers

"The Murders of Molly Southbourne reaches deep into the heart of existence and drags our fears into the sunlight. An excellent, terrifying read." —Fran Wilde, award-winning author of Updraft, Cloudbound, and Horizon

"Tade Thompson weaves a subtle, surreal tale of life, death, love and damnation around an absolutely unforgettable heroine. Molly will terrify you, even as she breaks your heart." —Stephanie Saulter, author of the (R)Evolution books

"By turns disturbing, fascinating and heartbreaking, and mesmerizing from first to last." —Simon Bestwick, author of the Black Road series and The Feast Of All Souls

"Viciously real. Chillingly absurd. There's a visceral, bloody logic to Tade Thompson's tale of self murder." —Jon Courtenay Grimwood, author of The Fallen Blade

"A story to make your skin crawl and your veins feel full of dark secrets." —Sophia McDougall, author of the Romanitas trilogy, Mars Evacuees and Space Hostages

"A darkly compelling, offbeat tale punctuated by memorable characters and an endlessly fascinating mystery. The dark imagination of Tade Thompson is a wondrous thing to behold." —Maurice Broaddus, author of Buffalo Soldier

"A novella that showcases the emotional depth of this writer, Tade Thompson's The Murders of Molly Southbourne is utterly compelling, dark and disturbing." —Kaaron Warren, author of Slights
Tordotcom, 9781250217264, 128pp.
Publication Date: July 9, 2019
About the Author
TADE THOMPSON is the author of the MOLLY SOUTHBOURNE BOOKS, the ROSEWATER novels, MAKING WOLF and FAR FROM THE LIGHT OF HEAVEN. He has won the Arthur C Clarke Award, the Nommo Award, the Prix Julia-Verlange and been a finalist for the John W. Campbell award, the Locus awards, the Shirley Jackson Award and the Hugo Awards among others. He was born in south London but considers himself a citizen of the world. He lives and works on the south coast of England.