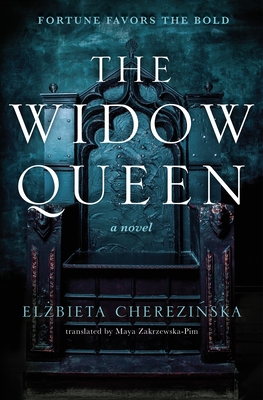 The Widow Queen (The Bold #1)
Hardcover

* Individual store prices may vary.
Other Editions of This Title:
Digital Audiobook (4/5/2021)
Paperback (3/15/2022)
CD-Audio (4/6/2021)
Description
Elzbieta Cherezinska's The Widow Queen is the epic story of a Polish queen whose life and name were all but forgotten until now.

The bold one, they call her—too bold for most.

To her father, the great duke of Poland, Swietoslawa and her two sisters represent three chances for an alliance. Three marriages on which to build his empire.

But Swietoslawa refuses to be simply a pawn in her father's schemes; she seeks a throne of her own, with no husband by her side.

The gods may grant her wish, but crowns sit heavy, and power is a sword that cuts both ways.
Praise For The Widow Queen (The Bold #1)…
"Elzbieta Cherezinska writes with great depth and imagination, bringing to life seductive and detailed worlds."—Olga Tokarczuk, Nobel Prize Laureate and Man Booker Prize winning author of Flights

"The Widow Queen is the story of a woman standing strong in a world run by men, and of the sacrifices we must make for power and love. Elzbieta Cherezinska brings epic history to life with her own unique and recognizable voice. Her stories have emotion, drama, and make even the most well-known historical events feel exciting and fresh."—Tomek Baginski, Executive Producer, The Witcher, Netflix

"A fascinating and forgotten corner of history . . . Cherezinska brings to life a world of violence and beauty, superstition and intrigue."—Linnea Hartsuyker, author of The Half-Drowned King

"Fascinating, authentic, and beautifully told, The Widow Queen is the story of a forgotten Polish princess in an era of warriors, the headstrong, clever Swietoslawa—twice a queen, mother of kings. An impressive and compelling story brought vividly to life!"—Susan Fraser King, author of Lady Macbeth and Queen Hereafter

"THE WIDOW QUEEN is a genuine gift for historical fiction enthusiasts: a deeply-detailed story of power, politics, and love—and the impossibility of keeping all three. In Swietoslawa, Elzbieta Cherezinska reveals to us a complex woman who was ignored by historians, rightfully elevating her to an equal standing with her more-famous allies and enemies. This carefully-crafted novel lives up to its protagonist's title: the Bold One."—Nathan Makaryk, author of Nottingham

"Look no further for your next great adventure. The Widow Queen unspools the true history of two courageous siblings, Boleslaw—the first and future King of Poland, and his daring sister Swietoslawa, fated to a royal destiny in a great Norse kingdom. Ranging across Baltic shores to the northern reaches of Scandinavia, and far West to King Ethelred's England, Cherezinska propels us through a tale of great personal and social transformation, from pagan to Christian, and private to political. This hidden history of a forgotten yet vitally important heroine brings Swietoslawa into the limelight she so richly deserves."—Octavia Randolph, author of The Circle of Ceridwen Saga
Forge Books, 9781250218001, 512pp.
Publication Date: April 6, 2021
About the Author
Elzbieta Cherezinska is the #1 bestselling and award-winning author of more than a dozen novels. She was born in Pila, a small town in the west of Poland, and currently resides on the Baltic coast in Kolobrzeg, Poland. The Widow Queen is her first novel to be translated into English.
1. As you were reading the opening scenes depicting Świętosława's youthful rule-breaking and her brother Bolesław's excruciating tests of resilience, what did you observe about the differences between how girls and boys were treated? How was Świętosława able to overcome the limitations imposed on her?
2. What does Świętosława learn from Oda about survival? Did your opinion of Oda shift throughout the novel?
3. Sven and King Harald exemplify father-son rivalries involving military might, while other characters reflect the use of marriage to achieve political alliances. How is humanity affected when dynasties, not democracies, make the rules?
4. What does the novel show us about the spread of Christianity in Europe? What teachings does the monk Ion impart beyond religious doctrine?
5. When the author depicted slavery and polygamy, how did you respond to the often-brutal cultural line drawn between the powerful and the powerless?
6. In chapter 5, Mieszko declares, "A woman dons a crown only as the wife of a ruler. And a ruler's wife must be smart enough not to be dismissed and replaced by another. And, above all, she must give birth to an heir." Do the stories of Empress Theophanu, the Saxon leader who survived Otto and ruled as a regent, reflect the truths in that statement?
7. What strategies does Świętosława use to quash her potential rival, Thordis? Are these strategies useful only to women?
8. Olav's path to glory is arduous; though he is the rightful heir to the Norwegian throne, he owes his freedom to Vladimir and sees his life as a continual state of indebtedness. When he raids the Wolverine to avenge his mother, is he justified, or is he showing emotional weakness?
9. Do Bolesław's early relationships—from his sexual awakening with Jaga to his engagement to Gerd and eventual marriage to Karolda—predict his fate?
10. If you had been a judge, how would you have interpreted Mieszko's final document? Was it a will or a testament? Was his intention to empower church leaders or merely appease them?
11. How did you react to the scene at Odin's temple and the rituals of a Viking funeral? How does the author's vivid depiction compare to the way you had previously imagined a Viking's path to Valhalla?
12. What makes Świętosława's lynxes an ideal companion for her, just as the hawk is for her father?
13. How would you have responded to Olav's proposal if you had been the widow queen? Would you have been willing to dutifully marry Eric and, later, Sven? What surprising forms of love does she experience in those marriages?
14. The achievements of King Cnut are well documented, but the identity of his mother is unclear to historians. What do you predict for the fictional Sven, Świętosława, and their sons in The Last Crown? What universal lessons are imparted by these cycles of life, from birth and youth to wisdom and legacy?
15. Elżbieta Cherezińska conducted painstaking research while writing The Widow Queen, but in the book's dedication, she pays homage to "the anonymous, forgotten princesses . . . marked in biographies of dynasties with a sad 'N.N.'" Why didn't those early chroniclers want to preserve the story of the real-life Świętosława (whose actual name cannot be confirmed)? In what ways can a contemporary fiction writer enhance our understanding of historical truth?
Guide written by Amy Root Clements