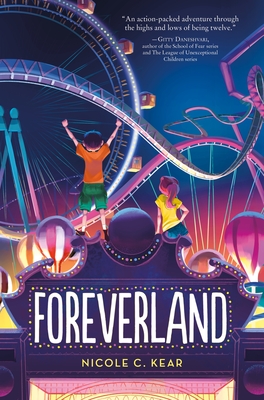 Foreverland
Hardcover

* Individual store prices may vary.
Other Editions of This Title:
Paperback (4/20/2021)
Description
"Endless rides, endless junk food, and endless adventure? Who wouldn't want to live in an amusement park? Foreverland is sure to be a big hit with young readers."
—Suzanne Selfors, national bestselling author of Wish Upon a Sleepover and Fortune's Magic Farm

Nicole C. Kear's Foreverland is a bighearted coming-of-age story about being lost, and finding your way back home again.

Margaret is tired of everything always changing. Middle school has gone from bad to worse. Her best friend is becoming a stranger. And her family—well, it's not even a family anymore.

So Margaret is running away to Foreverland, her favorite amusement park. Hiding out there is trickier than she expects--until she meets Jaime, a thrill-seeking, fast-thinking runaway who teaches Margaret how to stay one step ahead of the captain of security.

At first, this after-hours, all-access pass to the park is a dream come true: sleepovers in the Haunted House, nonstop junk food, and an unlimited ticket to ride. But as the runaways learn each other's secrets, they must face the reasons they left their normal lives behind. With the Captain closing in and Jaime's future on the line, can Margaret finally take control?

Foreverland is an exhilarating story about riding life's rollercoaster—figuring out how to hang on and learning when to let go.

An Imprint Book
Praise For Foreverland…
"A tale of friendship and courage for anyone who's ever felt lost and left behind—Foreverland reminds us that we are never too far from home."
—Kathleen Lane, author of The Best Worst Thing

"A pitch-perfect roller coaster ride through the inevitable awkwardness of adolescence, this book is a tender and joyful reminder that the dizzying twists leave us wiser at the end."
—Matthew Swanson, author of The Real McCoys series

"An action-packed adventure through the highs and lows of being twelve."
—Gitty Daneshvari, author of the School of Fear series and The League of Unexceptional Children series

"Fun fact: Like your favorite amusement park ride, you'll want to return to Kear's captivating, heartfelt book again and again."
—Courtney Sheinmel, author of The Kindness Club and Stella Batts

"Foreverland is a rollercoaster of a ride, a heartbreaking—and heartwarming—book about bravery, friendship, family and the magic that exists in the real world. Margaret takes in hand the heart of the reader and holds on to the end."
—Nicole Panteleakos, author of Planet Earth is Blue

"This alternatingly touching and suspenseful adventure captures some real-life magic." -- Kirkus

"Well wrought and relatable, and the mystery of Jaime's story will keep readers turning pages...This heartwarming, briskly paced adventure offers a ride worth taking." -- Publishers Weekly
Imprint, 9781250219831, 256pp.
Publication Date: April 21, 2020
About the Author
Nicole C. Kear grew up in New York City, where she still lives, with her husband, three firecracker kids and a ridiculously fluffy hamster. She's written lots of essays and a memoir, Now I See You, for grownups; and The Fix-It Friends series and Foreverland for kids. She also co-wrote The Startup Squad series with Brian Weisfeld. She has a bunch of fancy, boring diplomas, and one red clown nose from circus school. Seriously.
or
Not Currently Available for Direct Purchase