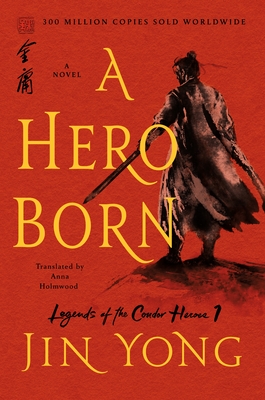 A Hero Born
The Definitive Edition (Legends of the Condor Heroes #1)
Paperback

* Individual store prices may vary.
Other Editions of This Title:
Digital Audiobook (9/16/2019)
Hardcover (9/17/2019)
Description
Now in English for the first time!

Set in ancient China, in a world where kung fu is magic, kingdoms vie for power and the battle to become the ultimate kung fu master unfolds, an unlikely hero is born… in the first book in the epic Legends of the Condor Heroes by the critically acclaimed master of the genre, Jin Yong.

After his father—a devoted Song patriot—is murdered by the Jin empire, Guo Jing and his mother flee to the plains of Ghengis Khan and his people for refuge. For one day he must face his mortal enemy in battle in the Garden of the Drunken Immortals. Under the tutelage of Genghis Khan and The Seven Heroes of the South, Guo Jing hones his kung fu skills. Humble, loyal and perhaps not always wise, Guo Jing faces a destiny both great and terrible.

However, in a land divided—and a future largely unknown—Guo Jing must navigate love and war, honor and betrayal before he can face his own fate and become the hero he's meant to be.

Legends of the Condor Heroes
A Hero Born
A Bond Undone
A Snake Lies Waiting
A Heart Divided
Praise For A Hero Born: The Definitive Edition (Legends of the Condor Heroes #1)…
Praise for LEGENDS OF THE CONDOR HEROES:

"A delightful entertainment." - Kirkus on A Bond Undone

"Jin Yong's work is undoubtedly worth reading." - Publisher's Weekly

"Fans of sword-and-sorcery fantasy and historical fiction alike will enjoy this hard-hitting yarn." - Kirkus

"Filled to the brim with characters and action, this translation will allow English-speaking readers to finally enjoy a classic of the wuxia fantasy genre, and hopefully whet their appetites for more." - Booklist

"Pick [A Hero Born] up as soon as you can and check out its majesty for yourself." - SyFy Wire, 10 SFF Books You Shouldn't Miss This September

"Full of noble heroes and pitched battles, Cha's stories were epic, featuring not just fantastical kung fu swordsmen who can fly and walk on water, but also complex characters and plots woven into dramatic historical events." – CNN

"Widely known by his pen name, Jin Yong, his work, in the Chinese-speaking world, has a cultural currency roughly equal to that of 'Harry Potter' and 'Star Wars' combined." - The New Yorker

"[A Hero Born is] actually one of the most famous works by author Louis Cha (commonly known as Jin Yong), a Hong Kong writer beloved across the Chinese-speaking world." – NPR

"...his works were loved by generations - both in China and worldwide." - BBC

"The Hong Kong writer, Louis Cha, writing under the pen name Jin Yong from the mid-1950s through the rise of a movie star named Bruce Lee, created what have become the world's greatest and most beloved martial arts novels. When he passed in 2018, he left behind epic stories of betrayal and honor, intrigue and amour, slashing blades and flashing fists, and a dazzling parade of indelible characters that hundreds of millions of readers have come to love. The arrival of the U.S. edition of The Legends of the Condor Heroes is a major event. Welcome to the world of Jin Yong. Once you've entered, you may never want to leave." — Jeff Chang, American Book Award Winner and author of Can't Stop Won't Stop: A History of the Hip-Hop Generation

"A Chinese Lord of the Rings." - Irish Times

"The world's biggest kung fu fantasy writer." – The Guardian

"In Anna Holmwood's spirited translation, this action-packed and ideas-laden saga is as revealing of modern as of ancient China." – economist.com

"…the novel makes use of hundreds of characters to create an epic world of martial arts and entangled human stories, not just about familial bonds and romance, but also brotherhood and patriotism." – Global Times


"A Hero Born reads like…an early legend, such as the Death of King Arthur." - GeekDad

"A Hero Born is a stirring epic, full of gravity-defying kung fu, treachery, loyalty and love." – The Times

"The plot includes betrayal and allegiance in different martial arts schools, and the rise and fall of dynasties." – Telegraph UK

"…[Jin Yong's novels have] become a touchstone for generations of readers, and an influence on authors such as Ken Liu." – The Verge

"The world imagined by Chinese writer Jin Yong is one which celebrates loyalty, courage, and the triumph of the individual over a corrupt and authoritarian state – carried out by no less than heroes who fly through trees and deliver deadly blows to their enemies with a single finger." – Quartzy.com

"You'll be rooting for the heroes to the end." – SFX Magazine, 4 starred review

"Cha…created an imaginary world in his 15 novels – one featuring martial arts, poetry and plots with deep roots in Chinese history, culture and beliefs." – South China Morning Post

"Prepare to be swept along as our champion gallops towards his nemesis and destiny." – Daily Mail

"Jin Yong's stories have been passed down in the East from generation to generation and thus nurture people of all ages." - Yan Lianke, Man International Booker-shortlisted author
St. Martin's Griffin, 9781250220622, 432pp.
Publication Date: March 10, 2020
About the Author
Jin Yong (pen name of Louis Cha) was a true phenomenon in the Chinese-speaking world. Born in Mainland China, he spent most of his life writing novels and editing newspapers in Hong Kong. His enormously popular martial arts novels, including the epic Legends of the Condor Heroes series--beginning with A Hero Born--have become modern classics and remain a must-read for readers looking for danger and adventure.

Anna Holmwood is a producer and translator from Chinese and Swedish into English. She is co-founder of the Emerging Translators' Network in the UK.