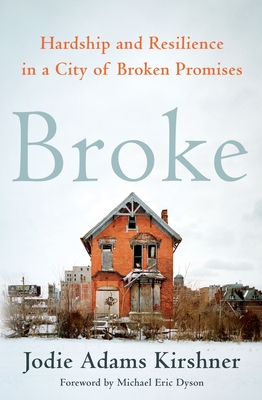 Broke
Hardship and Resilience in a City of Broken Promises
Hardcover

* Individual store prices may vary.
Other Editions of This Title:
Digital Audiobook (1/11/2021)
MP3 CD (1/12/2021)
Compact Disc (1/12/2021)
Description
"Essential...in showcasing people who are persistent, clever, flawed, loving, struggling and full of contradictions, Broke affirms why it's worth solving the hardest problems in our most challenging cities in the first place. " —Anna Clark, The New York Times

"Through in-depth reporting of structural inequality as it affects real people in Detroit, Jodie Adams Kirshner's Broke examines one side of the economic divide in America" —Salon

"What Broke really tells us is how systems of government, law and finance can crush even the hardiest of boot-strap pullers." —Brian Alexander, author of Glass House

A galvanizing, narrative account of a city's bankruptcy and its aftermath told through the lives of seven valiantly struggling Detroiters

Bankruptcy and the austerity it represents have become a common "solution" for struggling American cities. What do the spending cuts and limited resources do to the lives of city residents? In Broke, Jodie Adams Kirshner follows seven Detroiters as they navigate life during and after their city's bankruptcy. Reggie loses his savings trying to make a habitable home for his family. Cindy fights drug use, prostitution, and dumping on her block. Lola commutes two hours a day to her suburban job. For them, financial issues are mired within the larger ramifications of poor urban policies, restorative negligence on the state and federal level and—even before the decision to declare Detroit bankrupt in 2013—the root causes of a city's fiscal demise.

Like Matthew Desmond's Evicted, Broke looks at what municipal distress means, not just on paper but in practical—and personal—terms. More than 40 percent of Detroit's 700,000 residents fall below the poverty line. Post-bankruptcy, they struggle with a broken real estate market, school system, and job market—and their lives have not improved.

Detroit is emblematic. Kirshner makes a powerful argument that cities—the economic engine of America—are never quite given the aid that they need by either the state or federal government for their residents to survive, not to mention flourish. Success for all America's citizens depends on equity of opportunity.
Praise For Broke: Hardship and Resilience in a City of Broken Promises…
Oakland Press/Macomb Daily' Michigan Bestseller List | New York Times, Editors Choice: 11 New Books We Recommend This Week, January 16, 2020

"Kirshner's writing cuts to the bone... This is a book is worth reading for its essential story as well as its eloquence of style." —NY Journal of Books

"The book examines the reality of municipal distress, not just on paper but in practical, personal terms... Success for all America's citizens depends on equity of opportunity." —American Bar Foundation

"Kirshner pulls back the curtain on the Detroit Renaissance to reveal an alternate African-American universe." —Star Tribune

"A lesson of special relevance for Detroit." —Detroit Free Press

"'Broke' can mean ... someone who is penniless or something that doesn't work. In her new book Kirshner deftly explores both definitions ... and its daily impact on residents." —City Pulse

"Powerful human-interest stories [with] an unforgettable cast of characters… Kirshner is clear about her desire to expose the myth of the American dream." —Columbia Magazine

"[An] eye-opening and sometimes heartbreaking narrative." —Kirkus, Starred Review

"This is a powerful view of the seldom-seen victims of financial calamity." —Booklist

"[Kirshner] counter[s] the prevailing narrative that Detroit has revived since bankruptcy. She performed hundreds of interviews in the city, hearing heartrending stories of locals ... While these snapshots provide readers an emotional connection to Kirshner's subjects, the author buttresses her points with statistics that reveal Detroit's dire realities... makes a strong case for caring about the fates of the resilient citizens of Detroit." —Chapter16

"Kirshner's humane focus on individual stories illuminates underreported problems with housing, employment, and transportation." —Library Journal

"After reading the poignant, heartbreaking, defiant pages of Broke, no one should question the need for moral referendum on how policy is created in and for urban America." —Michael Eric Dyson, from the Foreword

"A valuable cautionary tale." —Publisher's Weekly

"[A] rich, full, and a powerful answer to anyone who believes that austerity and job cuts are a necessary path to prosperity. At turns, heartbreaking, enraging and inspiring, Broke gives us close-up, vivid, portraits of real people." —Andrew Cockburn, Washington Editor, Harper's Magazine

"The current narrative of Detroit is that it's like a phoenix rising from the ashes. What Broke does is show Detroiters who aren't benefiting from corporate tax subsidies much less fine dining downtown. The stories in Broke show fortitude but also the misfortune of people who do their best to navigate amid housing and job challenges." —Natalie Moore, author of The South Side

"Broke provides a humane but clear-eyed account of the collapse and rebirth of Detroit that reveals what a court can and cannot accomplish via a well-managed municipal bankruptcy." —Paul Romer, co-recipient, 2018 Nobel Memorial Prize in Economic Sciences and founding director, Marron Institute of Urban Governance, NYU

"Jodie Adams Kirshner has given us a deep and detailed look at how an event most of us know as a few newspaper headlines—the bankruptcy and vaunted resurgence of Detroit—has reached into the lives of those who lived there. But what Broke really tells us is how systems of government, law and finance can crush even the hardiest of boot-strap pullers." —Brian Alexander, author of Glass House

[Broke has] so many lessons there for urban librarianship and the role of libraries in aiding the reskilling of a workforce. —Tracie D. Hall, head of the American Library Association
St. Martin's Press, 9781250220639, 368pp.
Publication Date: November 19, 2019
About the Author
Jodie Adams Kirshner is a research professor at New York University. Previously on the law faculty at Cambridge University, she also teaches bankruptcy law at Columbia Law School. She is a member of the American Law Institute, past term member of the Council on Foreign Relations, and technical advisor to the Bank for International Settlements. She received a prestigious multi-year grant from the Kresge Foundation to research Broke.

MICHAEL ERIC DYSON—Distinguished University Professor of African American and Diaspora Studies, College of Arts & Science, and of Ethics and Society, Divinity School, and NEH Centennial Chair at Vanderbilt University—is one of America's premier public intellectuals and the author of numerous New York Times bestsellers including Tears We Cannot Stop, What Truth Sounds Like, JAY-Z, and Long Time Coming. A winner of the 2018 nonfiction Southern Book Prize, Dr. Dyson is also a recipient of two NAACP Image awards and the 2020 Langston Hughes Festival Medallion. Former president Barack Obama has noted: "Everybody who speaks after Michael Eric Dyson pales in comparison."
or
Not Currently Available for Direct Purchase