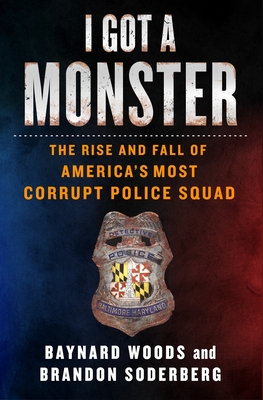 I Got a Monster
The Rise and Fall of America's Most Corrupt Police Squad
Hardcover

* Individual store prices may vary.
Other Editions of This Title:
Paperback (9/14/2021)
Description
The explosive true story of America's most corrupt police unit, the Gun Trace Task Force (GTTF), which terrorized the city of Baltimore for half a decade.

When Baltimore police sergeant Wayne Jenkins said he had a monster, he meant he had found a big-time drug dealerone that he wanted to rob. This is the story of Jenkins and the Gun Trace Task Force (GTTF), a super group of dirty detectives who exploited some of Americas greatest problems: guns, drugs, toxic masculinity, and hypersegregation.

In the upside-down world of the GTTF, cops were robbers and drug dealers were the perfect victims, because no one believed them. When the federal government finally arrested the GTTF for robbery and racketeering in 2017, the stories of victims began to come out, revealing a vast criminal enterprise operating within the Baltimore Police Department.

Cops planted heroin to cover up a fatal crash that resulted from a botched robbery. They stole hundreds of thousands of dollars, faked video evidence, and forged a letter trying to break up the marriage of one of their victims to keep his wife from paying a lawyer. And a homicide detective was killed the day before he was scheduled to testify against the crooked cops.

I Got a Monster is the shocking history of the rise and fall of the most corrupt cops in America from Baynard Woods and Brandon Soderberg.
Praise For I Got a Monster: The Rise and Fall of America's Most Corrupt Police Squad…
"This book made me want to cry and scream at the same time. Its the story of an elite group of police officers in Baltimore who spent years stealing, lying and physically attacking people in the city. The FBI prosecuted the officers with the same statutes that it uses to take down organized crime, and the book reads like a mob story. Except its not the mob its the police." NPR, Best Books of 2020

The nearly unbelievable tale of widespread police corruption in a squad whose leader ran it like a war machine. Woods and Soderberg meticulously reveal a group within the Baltimore Police Department that became a criminal enterprise all its own...Few readers will close this page-turner doubting that the Gun Trace Task Force was anything but the most corrupt police group in the U.S. Kirkus Reviews

"A meticulously researched tale of greed, public pressure, and absolute power. Fans of The Wire, The Shield, and Training Day will devour, as will readers of true crime and students of urban affairs and public policy." Library Journal (starred review)

"Baltimore journalists Woods and Soderberg cut to the heart of corruption with precision and impartiality. This is an important book about community and the police intended to protect and serve it. True crime with humanity at its core." Booklist

"I Got a Monster is a gem, a sobering look at the most corrupt police unit in the most corrupt police department in Americaand the miracle it took to bring them down. Baynard Woods and Brandon Soderberg brilliantly guide us through this journey with a diligent on-the-ground reporting style that has become rare, holding up a mirror to our broken system and forcing us to see that the few bad apples theory is a mythcrooked cops are supported by crooked prosecutors and crooked politicians. The whole system needs reform. Their research is as remarkable as the way in which this book was craftedthis was the best investigative journalism book Ive read in a long time and its truly a must read." D. Watkins, New York Times bestselling author of The Cook Up and We Speak For Ourselves

"A sobering and unflinching story of corruption, a city plagued by poor leadership, and a citizenry that has always deserved better....A reminder that corruption is the result of people making choices to benefit themselves at the expenses of the general public. It is an important and necessary read. DeRay McKesson, author of On the Other Side of Freedom: The Case for Hope

"The Wire is a Mother Goose fairytale compared to stories revealed by Soderberg and Woods. Baltimore is a favorite punching bag of reactionaries who wouldn't know their way around Fells Point. If you really want to understand both the horror and hope in this remarkable city, you need to read I Got A Monster" Dave Zirin, The Nation

"A deeply researched and artfully written look at the blighted and benighted city of Baltimore, as seen through the dismal prism of the last decade. No matter if youre a police drama enthusiast or an activist against racism and law enforcement corruption, this is a book for you. Think The Wire, only all true and with footnotes."
Mike Sager, author of The Devil and John Holmes, contributing editor to Esquire

I Got a Monster tells a vivid story that cuts through the turbulent events that have shaken Baltimore in recent years. In doing so, it shows everything that is wrong with policing in the inner cities of America. Ioan Grillo, Author of El Narco and Gangster Warlords

"At once a page-turning account of the dramatic rise and fall of a criminal enterprise disguised as a police squad and a portrait of a city struggling against entrenched corruption. Woods and Soderberg's meticulous, gripping narrative moves from high-end waterfront condos to the vacant rowhouses of West Baltimore to police headquarters as it unspools a story of extravagant criminality, greed, and betrayal." Rachel Monroe, author of Savage Appetites: Four True Stories of Women, Crime and Obsession

"A masterpiece of reporting" Laura Wexler, author Fire in a Canebrake

"Riveting, propulsive, and illuminating. Woods and Soderberg take readers deep inside the world of police corruption. With exhaustive reporting, trenchant analysis, and lyrical storytelling, this is literary journalism at its best." Wil S. Hylton, author of Vanished: The Sixty-Year Search for the Missing Men of World War II

"Talk about a real life horror story. I Got a Monster tells the history of cops who preyed on the poor and vulnerable black folks of Baltimore and the system that made them feel free enough to do it. Told with narrative power and journalistic precision this book should be required reading for anyone interested in understanding how and why so many people in this country fear the police and their unchecked power." Victor LaValle, author of The Changeling
St. Martin's Press, 9781250221803, 320pp.
Publication Date: July 21, 2020
About the Author
BAYNARD WOODS is a freelance writer living in Baltimore. His work has appeared in The New York Times, The Guardian, The Washington Post, and many other publications. He is coauthor, with Brandon Soderberg, of I Got a Monster: The Rise and Fall of America's Most Corrupt Police Squad.

BRANDON SODERBERG is a reporter living Baltimore and was previously the Editor in Chief of the Baltimore City Paper and a contributing writer to SPIN. His work has appeared in The New York Times, Vice, The Village Voice and many other publications. He is coauthor, with Baynard Woods, of I Got a Monster: The Rise and Fall of America's Most Corrupt Police Squad.