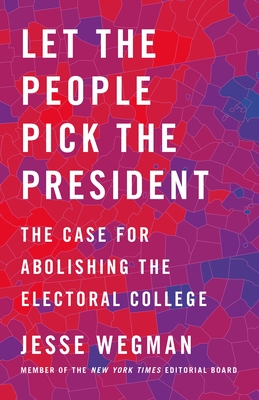 Let the People Pick the President
The Case for Abolishing the Electoral College
Hardcover

* Individual store prices may vary.
Other Editions of This Title:
Digital Audiobook (3/16/2020)
Paperback (11/2/2021)
CD-Audio (3/17/2020)
Description
"Wegman combines in-depth historical analysis and insight into contemporary politics to present a cogent argument that the Electoral College violates America's 'core democratic principles' and should be done away with…" —Publishers Weekly

The framers of the Constitution battled over it. Lawmakers have tried to amend or abolish it more than 700 times. To this day, millions of voters, and even members of Congress, misunderstand how it works. It deepens our national divide and distorts the core democratic principles of political equality and majority rule. How can we tolerate the Electoral College when every vote does not count the same, and the candidate who gets the most votes can lose?

Twice in the last five elections, the Electoral College has overridden the popular vote, calling the integrity of the entire system into question—and creating a false picture of a country divided into bright red and blue blocks when in fact we are purple from coast to coast. Even when the popular-vote winner becomes president, tens of millions of Americans—Republicans and Democrats alike—find that their votes didn't matter. And, with statewide winner-take-all rules, only a handful of battleground states ultimately decide who will become president.

Now, as political passions reach a boiling point at the dawn of the 2020 race, the message from the American people is clear: The way we vote for the only official whose job it is to represent all Americans is neither fair nor just. Major reform is needed—now. Isn't it time to let the people pick the president?

In this thoroughly researched and engaging call to arms, Supreme Court journalist and New York Times editorial board member Jesse Wegman draws upon the history of the founding era, as well as information gleaned from campaign managers, field directors, and other officials from twenty-first-century Democratic and Republican presidential campaigns, to make a powerful case for abolishing the antiquated and antidemocratic Electoral College. In Let the People Pick the President he shows how we can at long last make every vote in the United States count—and restore belief in our democratic system.
Praise For Let the People Pick the President: The Case for Abolishing the Electoral College…
"Was it a mistake to create the Electoral College? Jesse Wegman argues that it was. This timely and erudite work should interest all who are interested in the future of the United States." —Annette Gordon-Reed, author of The Hemingses of Monticello

"Jesse Wegman's urgent and ultimately irrefutable call to action is the most readable and fully informed explanation of how the Electoral College is wrecking America's great experiment in government of, by, and for the people. It's not too late to rescue our democracy from destruction. But it soon will be. Wegman makes a compelling case that we must act now—and he explains what to do." —Laurence H. Tribe, Carl M. Loeb University Professor, Harvard Law School

"Jesse Wegman is a shrewd analyst, brilliant researcher and passionate writer, and here he tackles an issue important to our system's legitimacy." —Nicholas Kristoff

"People have been arguing against the Electoral College from the beginning. But no one, at least in recent years, has laid out the case as comprehensively and as readably as Jesse Wegman does in Let the People Pick the President." —Josh Chafetz, New York Times Book Review

"Wegman combines in-depth historical analysis and insight into contemporary politics to present a cogent argument that the Electoral College violates America's 'core democratic principles' and should be done away with…this urgent and lucidly presented plea for change will resonate with progressives." —Publishers Weekly

"A methodical, well-reasoned compilation of arguments on a pertinent subject; recommended for readers interested in historical and contemporary U.S. politics." —Library Journal

"Throughout, the author's confidence in his argument shines through...An illuminating history and analysis." —Kirkus

St. Martin's Press, 9781250221971, 304pp.
Publication Date: March 17, 2020
About the Author
JESSE WEGMAN is a member of The New York Times editorial board, where he has written about the Supreme Court and legal affairs since 2013. He previously worked as a reporter, editor and producer at outlets including National Public Radio, The New York Observer, Reuters, The Daily Beast and Newsweek. He graduated from New York University School of Law in 2005.
Coverage from NPR